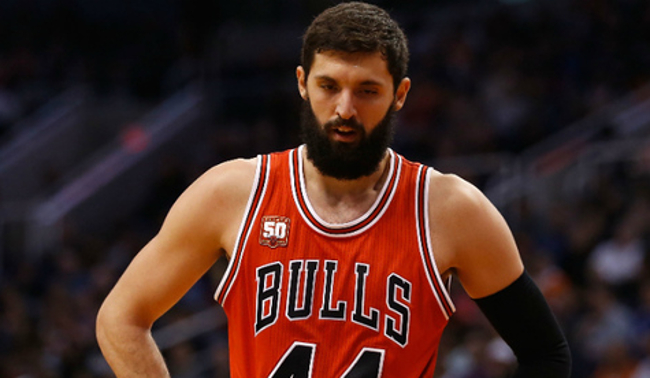 Throughout NBA history, there have been all sorts of myths and legends about physical altercations among teammates behind the scenes — for example, Michael Jordan infamously punched Steve Kerr in the face one time after a particularly heated scrimmage.
In the past, these sorts of things were often swept under the rug only later to become popular among the rumor mill, but with social media and the 24-hour news-cycle, it's nearly impossible for situations like that to fly under the radar in 2017.
Case in point, it now appears that two current Bulls teammates have been involved in a fight that reportedly sent one of them to the hospital. As the story goes, Nikola Mirotic and Bobby Portis got into a "serious altercation," and Portis connected with a "cheap shot" to Mirotic's face.
Via Shams Charania of The Vertical:
Mirotic was taken to the hospital Tuesday after their shoving altercation during practice ended with an alleged cheap shot from Portis to Mirotic's face, league sources told The Vertical. Mirotic is undergoing tests, but is expected to be out for the foreseeable future, league sources said.
This is a terrible look for everybody involved and will assuredly result in significant suspensions and fines. Given the way today's contracts are structured, the consequences could be even more serious than that.

ESPN's Adrian Wojnarowski recently offered this update on Mirotic's condition, which as initially reported, while likely cause him to miss significant time.
(Via The Vertical)