TORONTO – The first round of the 2014-15 playoffs hung over the start of this year's rematch between the Washington Wizards and the Toronto Raptors. In the earlier edition, the Wizards swept the Raptors, sending them to large-scale changes and setting up a narrative that will persist at least until the end of the current rematch, depending on how things go: The Raptors can't win in the playoffs, because their perennially excellent regular-season offense dries up there.
That probably wasn't fair or predictive given the roster churn for both sides since then, but that narrative won't be shaken until the Raptors fulfill the full promise of their roster in the postseason. There was a subplot from that earlier series that maybe didn't carry enough weight entering this one, though: The 2015 playoffs were essentially the education of Otto Porter, a trial-by-fire defensive test in the form of four games opposite DeMar DeRozan.
To that point, Porter had yet to consistently deliver on the promise of his 6'9 frame with a 7-foot-2 wingspan, strong block, steal, and rebound rates for a wing, and the second-best WARP projection in the class that made him the No. 3 pick in 2013. He was just a sophomore, after all, and after playing sparingly as a rookie, his second season provided occasional, if irregular, flashes. In the playoffs, though, Porter would be paramount.
"That was my first time really being out on the court in the playoffs," Porter told Dime at shootaround Tuesday. "I was just trying to do whatever it takes to stay out there on the court. And then I had to guard an All-Star in DeMar DeRozan, which was hard. Like, nothing was easy about it. He's an All-Star for a reason, and he's only gotten better since then. He's gotten way better since then. But it was just a great experience to play against a top-notch player like that in a time where everything counts. Like, this is what you've been playing for. This is what you worked for. Playing against him really helped me out, to develop."

Porter averaged 31.9 minutes over the four games (a big spike from 19.4 in the regular season), the bulk of them spent guarding DeRozan. DeRozan wasn't yet the multifaceted player then that he is now. In 2015, he was still largely a midrange jump-shooter with a strong in-between game but a nascent left hand and only decent playmaking instincts. Still, he was an All-Star the year prior, had the ball a ton, and had averaged over 20 points for a second consecutive year.
For four games, Porter helped frustrate DeRozan with his size and length. For the series, he shot 40 percent on 20 attempts per game, staying in line with his season scoring average and bumping his assists rate but at a notable cost to his scoring efficiency. He made life hard for DeRozan, and he got the ball out of his hands – DeRozan posted a 41-percent true-shooting mark with Porter on the court in the series and the Wizards outscored Toronto by 38 in those 93 minutes.
Porter did his job as well as any sophomore could be asked, and he picked up a wealth of experience in the process. The playoffs are an entirely different beast for learning on the fly, and that's especially true for a defender tasked almost singularly with stopping an All-Star. Possession after possession, a scorer shows the defender something, and while the offensive player always has the benefit of his own will and creativity, a defender can prepare better and better each successive time out.
He was still developing as a defender when tasked with the DeRozan assignment, and young players take time to turn defensive tools into production. It wasn't until the next season that Porter became a defensive positive based on Jacob Goldstein's Player Impact Plus-Minus metric, and over the last three years, he's been worth between 1.4 and 2.2 points per-100 defensive possessions, good enough to grade out as a top-50 defender in the league through that multi-year lens.
In other words, Porter has made good on that experience and DeRozan's noticed.
"Long, got great awareness, and a guy like that over the years of experience of guarding the best players in the league, you gain that confidence of feeling like you a great defender," DeRozan said before the series. "Over the years of playing him, you seem him getting better and better, with his hands, his awareness, all the small things that it takes to be a good defender, he has."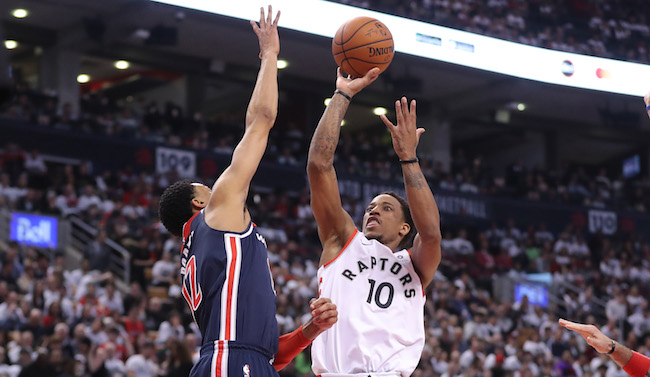 A big part of Porter's value comes from versatility. According to matchup data estimates from Krishna Narsu, Porter was one of just eight players in the league to defend 600 or more possessions at point guard, shooting guard, small forward, and power forward. Here, though, DeRozan will be his primary check regardless of position, and the lessons from three years ago – and everything Porter's picked up since – will be in play.
"When I first came in, it was more being versatile, getting up and down the court, using my length. Offensively and defensively," Porter says. "I'm just a lot smarter, you know, pick and choose, really, attention to details instead of just going out there and playing. Just real, real paying close attention to details."
In the regular season, Porter spent 156 possessions guarding DeRozan (the most he spent on any one player), and DeRozan modestly under-performed relative to his season averages in that time (in terms of scoring efficiency and volume), per matchup data from NBA.com. He's guarded him for 62 possessions through two playoff games, and despite DeRozan's 37-point explosion in Game 2, DeRozan's numbers are actually below his custom opposite Porter in the series – DeRozan's scored just 13 points on those possessions, shooting 26 percent less often.
The minutes Porter does spend stuck to DeRozan are ones he's prepared for. No angle of preparation is without value. Whereas the regular season is more about sticking to the scheme and just defending as you do, game by game, the playoffs are a time for granularity – film, shooting tendencies, opponent plays, right down to which spots on the floor a player will try to get to going in each direction. And there's one big factor laid on top of all of that preparation Porter sees as one of his advantages, too.
"You know, you play to each other's tendencies," he says, noting that DeRozan being less effective going left plays into Washington's base defense. "But at the end of the day it comes down to who wants it more, and that's always the greatest thing about the playoffs: Who wants it more?"
So far the answer is Toronto and the Wizards are trying to regroup. The Raptors have scored at the second most prolific rate of any playoff team so far, and Washington is heading home down 2-0 as a result.
Porter's done his best within the definition of his role, but DeRozan is facilitating well and cooking non-Porter defenders on switches and cross-matches. Scott Brooks has talked about potentially downsizing the starting lineup, and a lack of rim protection behind him might change how Porter has to approach DeRozan one-on-one. It's those kind of tweaks that excite Porter, even if they're more difficult after losses.
"We've played against him before, but it's the playoffs," Porter says. "Each game is gonna be different. He's a great player. He's gonna make adjustments just like we're gonna make adjustments, too. He's gonna start figuring our defense out, and what we have to do is make sure that we continue to adjust to him, you know, show him different looks and not just stay the same throughout the playoffs.
"It's a challenge that I love," Porter adds. "I get to play against the best talent every day. So of course I want to do that. And it makes me better, that much better."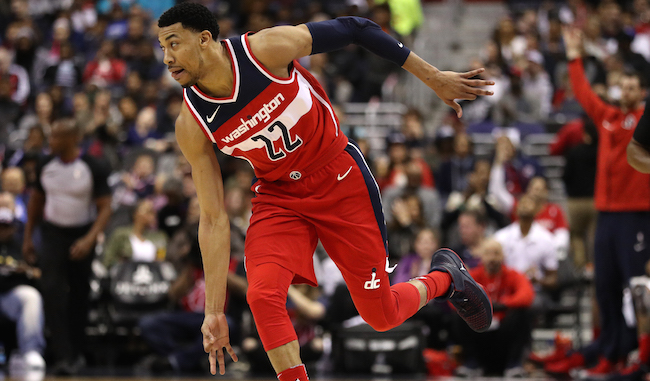 This experience has certainly made Porter better, at both ends. Porter's PIPM suggests he's been even more valuable on offense, and his impact is a little more obvious through traditional lenses at that end. To wit, the Wizards scored more points per possession with Porter on the floor than any other player, largely because he ranked third in the NBA in 3-point percentage. He canned 44.1 percent of over four attempts from distance per game, the second year in a row he's hit at a top-five clip on moderate volume. That he almost never turns the ball over, even as his assist rate spiked to a career-high 10.1 percent, speaks to non-shooting growth, too.
He attributes a lot of the improvement to getting to defend the league's best players. Every little trick that works against him, he wants to be able to add to his own game. There's a sort of mental black book that informs Porter's summer workouts. Beat him with one move, and he wants to take it for himself, a sort of inverse basketball Mega Man.
"Exactly. That's how I've gotten better every year," he says. "Like, I've watched DeMar DeRozans, Kevin Durants, (James) Harden. I watch all those guys 'cause I wanna be in that position. And when I'm guarding 'em, I see, like, okay, quick jab here, quick jab there, get the defense to move, body language, footwork. I'm looking at all that while I'm guarding them. So that only makes me better."
As much as DeRozan needs slowing down, the Wizards also need more out of Porter on offense, as well. Through two games, the Wizards are scoring at a reasonable clip, but the Raptors are doing a solid job on Beal and John Wall needs help. The Raptors are betting that Beal and Wall can't beat them alone, just like the Wizards did to Toronto's backcourt three years ago, and so far they are right. Porter has used just 14 percent of offensive possessions when on the floor, and the Raptors have stayed at home on him to limit him to just three 3-point attempts in 57 minutes.
Porter rarely gets to show off potential growth on that end, working primarily as an elite spot-up threat, and Washington could be well-served to empower him to do a little more. That's his lot alongside two All-Stars for now, providing ancillary help on offense and trying to slow opposing All-Stars at the other end. He'll be spending that time absorbing the lessons those stars betray in trying to beat him, ready to use them himself if the opportunity comes.