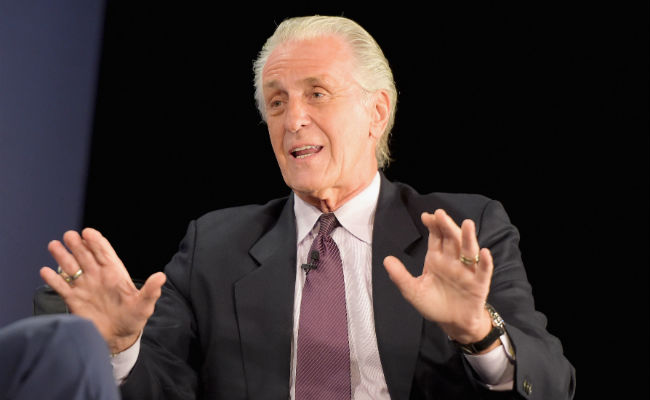 Pat Riley and the Miami Heat want Jimmy Butler, but apparently they don't agree with what he's worth, according to the Minnesota Timberwolves. Long thought to be the favorites for the disgruntled guard, talks between the Heat and Timberwolves reportedly cooled earlier this week.
Part of that report included the tidbit that an upset Riley used some foul language about negotiations with Timberwolves president Tom Thibodeau, who is not among those in Minnesota who actually want to trade Butler in the first place.
According to a report, Riley called Thibodeau a "motherf*ucker" during the talks, and that rumor had enough merit, or perhaps generated enough buzz, that the Heat and Riley himself had to issue a statement denying such a word were uttered. The statement, in and of itself, is stupendous because, well, it just ends in the middle of things.
That's it. There was room for more in the tweets, but that was the entirety of the statement, according to multiple sources, including the Heat itself.
What Riley and the Heat are alluding to is a moment where he said that Celtics general manager Danny Ainge needed to "shut the f*ck up" during the LeBron era of Heat basketball. Ainge said it was "embarrassing" for James to complain about officiating, which made Riley reply with an official Heat statement that Ainge had no place to talk about complaining to the refs.
"Danny Ainge needs to shut the f*ck up and manage his own team. He was the biggest whiner going when he was playing and I know that because I coached against him," said Riley via a Heat spokesman.
It's a reference from a while ago, and one that's a bit self-depreciating to boot. It's a hilarious reminder that Riley has done something similar in the past, but bringing it up does illustrate a strong point for Riley: He's not above using profanity when the moment calls for it, but apparently negotiations for Butler have never reached that point.
That means we don't know exactly what happened between the Heat and Timberwolves to break trade talks down, other than the fact that Minnesota wanted more than Miami was willing to give. Still, we did get reminded of one fun Heat story on a Friday night in October. Truly, the NBA remains the best.