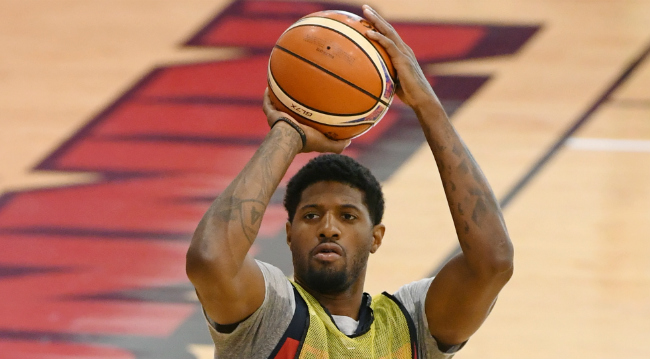 Paul George ending up on the Los Angeles Lakers seemed like a foregone conclusion about 14 months ago. Since then, George was traded from Indiana to Oklahoma City, spent a year suiting up for the Thunder, and decided that his long-term future involves competing against the Lakers rather than taking the floor for them, as he signed a four-year extension with Oklahoma City at the onset of free agency.
It was quite the change for George, which he's admitted recently. George openly said that he wanted to join the Lakers prior to becoming a member of the Thunder, and that spending a year in Oklahoma City changed his mind.
During the USA Basketball minicamp on Thursday, George went into even more depth about his decision to stay put. George told Sam Amick of USA TODAY Sports that his mind was made up heading into free agency, and that he didn't even want to meet with the Lakers because it would have been a waste of everybody's time.

Via USA TODAY Sports:
"The reason why I didn't (take a meeting) is that coming down to free agency and before it was about to open (on July 1), I felt really good where I was at," George said. "I felt I was in a good place with Oklahoma. I wanted to come back to LA. That story was true. The narrative on that was true.

"That's where my heart was. But this year, being in Oklahoma, I felt really good about the situation, I felt really good going forward, and I didn't want to waste nobody's time and take a meeting. And now I'm straddling the fence, putting more stress and more pressure on the situation. I felt good about it. I felt great where we were at, so I decided to do it early, to get it over with, and start to build. I didn't get that chance to last summer, because I got traded late in the summer. So I never got that chance to start fresh, to work to get better with Russ and work to get better with the Thunder. So I wanted to attack that early and get ready for my career."
This is one of those things that makes a ton of sense when you remember how George kicked off the free agency period — he appeared on stage with Russell Westbrook at a party put on by the former MVP prior to Nas performing. It was there where he told the world that he was staying in Oklahoma City, meaning the Lakers never got a chance to sit down with him in the first place.
(Via USA TODAY Sports)