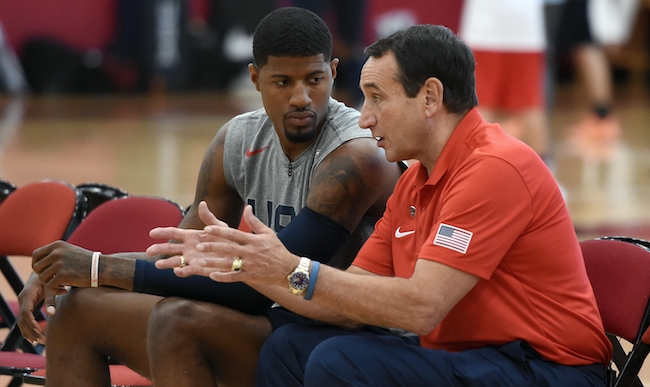 After cruising to two early victories over China and Venezuela in group play, Team USA has gotten a serious wake-up call in their last two games, barely eking out a win over Australia on Wednesday, and then holding on for dear life on Friday to escape Serbia.
Despite the fact that they remain undefeated, there is clearly something off about Team USA right now, and they have to get their issues figured out before the knockout round if they want to win the gold for the third consecutive Olympics.
One issue that USA Today's Sam Amick suggests is that teams like Australia and Serbia operate much better as a unit, while Team USA has a bunch of individually great players who are used to taking over games on their own and don't know how to play off of one another.
When asked about what exactly he thought the problem was, Paul George echoed that sentiment and said the team has to trust one another to get the job done.
"As good as we are, we can't continue to keep playing like this," George said. "We're still scoring 100 points taking one-on-five shots, but we're too good for that. The toughest part is that each and every one of us is confident with the ball in our hands that we can make those shots. It just comes down to a trust factor, not letting one guy have that feeling that he has to do it alone."
Whatever the issues are, Coach K and the team better work through them quickly, as they have only one more game in group play against France before it is win or go home in the knockout rounds.
(Via USA Today)