The Suns surprised the NBA world on Saturday night when they took down the L.A. Clippers 130-122 for their second win of the young season.
Phoenix was expected to be better this year given their additions of solid veterans like Ricky Rubio, Dario Saric, and Aron Baynes into a rotation that had previously lacked stability and experience. Few thought the Suns would look this good this soon, however, under new coach Monty Williams, and the win over L.A. was particularly jarring with Deandre Ayton suspended for 25 games for a failed drug test and Ricky Rubio out with a knee injury.
This training camp was their third straight with a new coach and fourth in the last five years — Earl Watson made it through a second training camp and not much more — and the question was how would Williams and this new, more veteran group make things different. The vibe in Flagstaff, Arizona was a bit different from a year ago. Williams didn't serve up the same platitudes you hear at camps around the league about how everyone's getting better every day. He admitted to overloading them with information and when asked how they were handling it, would simply say you'll have to ask them.
The team seemed to embrace that, most notably Devin Booker, who is on his fifth coach in as many years in the league. His maturation is critical to the Suns early success, accepting a slightly lesser starring role that will benefit the team when Rubio is on the floor — and still being able to be the ball-dominant usage monster he's been when he's not. We've seen that through three games, as in the first two he had the ball 9.5 percent of the time he was on the floor (down from 17.1 percent last year), but jumped back to 16.6 percent with Rubio out against the Clippers, per Seth Partnow of The Athletic.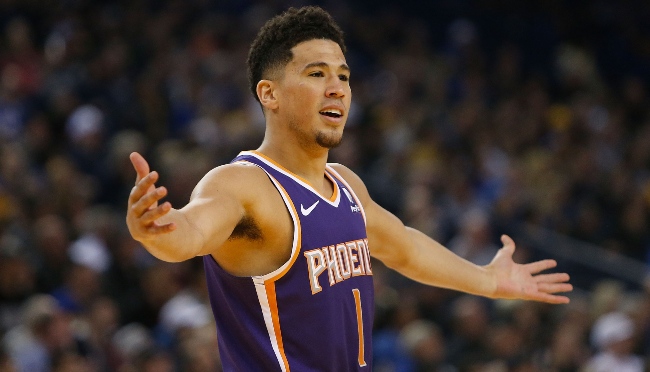 Booker doesn't carry the greatest reputation around the league, as there are those that view him as a high-volume shooter who posts big scoring numbers that have done little to actually help his team win. The way he got his 70-point game remains a sour note in the mouths of many, and his objection to double teams in pickup only exacerbated his issues this summer. But it's been hard to figure out whether that's a fair assessment of Booker's game or not, as he's never had much around him to help out. That is why this season was, for many, going to serve as a benchmark for whether Booker belongs in the conversation of legitimate star players in the NBA or not, as he finally has at least some semblance of a decent supporting cast around him.
For Booker, it's not just about changing the perception people have of him, but of the Suns organization as a whole, which he understands is an uphill climb but made that his stated goal during camp.
"It's a lot of my responsibility, but as a team collectively it's all of our responsibility in holding each other accountable," Booker said during training camp in Flagstaff. "I think we have to change the perception of how the Phoenix Suns are built around the league and the reputation that we have. And that's not going to come easy. We've talked about it with coach, we're going to have to change that and it starts Day 1. It started two days ago and every time we touch the floor the way the Phoenix Suns are viewed has to change."
Accountability came up a lot during Suns camp. Aron Baynes is the elder statesman in Phoenix at 33 years old, and having spent his career in San Antonio and Boston gives him ample experience to share with the young Suns. He pointed to attention to detail as something he was impressed with from the new staff in Phoenix, and that the team seemed to embrace the daily grind.
"Just being competitive every time we step on the court. I know what it takes to get to the next level. I've been lucky enough to be a part of it and also lucky enough to be on a team that was right on the cusp as well. So, I know what it will take for us to get there," Baynes said. "It's a daily attitude of getting better every time we step on the floor, and taking care of the little things and not letting things slip. Monty's the best guy to lead us in terms of staying focused on what we need to day-in, day-out. He's put it on us to hold each other accountable and we don't take it personally on the court."
Tyler Johnson, when asked what he learned from his time in Miami about what's needed to create a good organizational culture, highlighted the importance of having a coach who could keep everyone, from stars to role guys, accountable.
"Monty, he's been through the fire and he's been through a lot of different situations, so I believe that the stability aspect has been found," Johnson said. "When you find somebody that's going to hold people accountable down the line, it really doesn't matter who it is or what aspect of the game or outside the game it is, that's somebody that's going to be able to have their fingerprints on the organization for a long time."
The biggest factor in making Williams' tenure in Phoenix longer and more successful than that of Earl Watson and Igor Kokoskov may just be time and experience. This is Williams' second head coaching job and the second time he's found himself trying to build something new, as he was in New Orleans for the Chris Paul trade and subsequent rebuild around Anthony Davis. He says the biggest difference for him is being more "patient when it comes to the process." That kind of approach is needed in Phoenix, and it seems as though he's gotten his team to buy in.
All of the talk of setting a tone and keeping guys accountable didn't really mean anything until we saw what they did in actual games. One of Williams favorite refrains in camp was that they won't know much of anything about the Suns until the team "runs into a little hard," noting the true test for a group of guys that don't have lots of chemistry is what happens when they find themselves in a tough situation.
So far through three games, Williams has to be pleased with his team's effort and response. Defensively, they've been very solid — their 100.9 DRtg is 10th in the league, in admittedly an incredibly small sample size — and, as he noted in camp, if they play defense he knows on the other end they're more than capable of scoring. Against the Kings, they blew open a lead in a game in which Booker was arguably a better facilitator than scorer. They pushed the Nuggets to overtime on the road and, against the Clippers, they fought off Kawhi Leonard and company, staying calm even in the face of a comeback effort from arguably the best team in the league.
That moment when "the hard" arrives in earnest is surely coming and then we'll learn even more about this Suns team, but thus far they've been impressive. They seem to have a mentality and approach that's different from years past, led by a star who appears finally fed up with his team being a laughing stock and buoyed by a new coach and new veterans on the roster that can help him change the perception of the franchise.