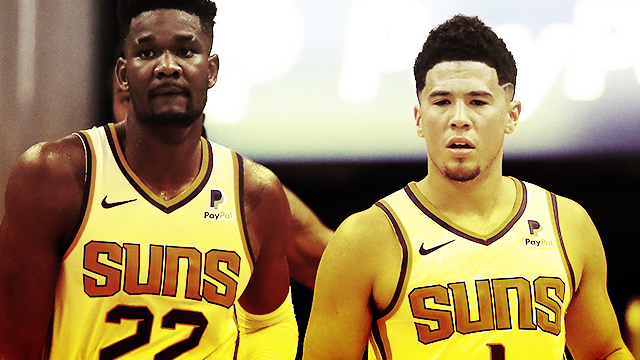 Rudy Gay is calm. Dribbling, waiting, readying himself. The clock continues to dwindle down. Eight, seven, six …
With 5.5 seconds left, LaMarcus Aldridge sprints towards half court as Gay switches hands with his dribble. Josh Jackson, fresh off a game-tying tomahawk slam, concedes a switch to his partner, Kelly Oubre, as Aldridge sets the screen.
Oubre mirrors Gay as he treks to his left, knowing a pull-up is coming. Sure enough, Gay rises up for the shot, and Oubre contests without fouling. He does everything right, but sometimes, that doesn't matter.
The net snaps, the buzzer sounds, and another L is handed to the Phoenix Suns. It's a heartbreaking way to lose, but, in a counter-intuitive way, it's encouraging to see.
A great scholar once said, "If you ain't first, you're last." That ethos is widely accepted in sports, but there's room for nuance if winning isn't the primary goal. For the Suns, winning feels secondary. It certainly isn't common; they're losers of 12 in a row, and currently hold the league's second-worst record at 11-45. This loss to the Spurs counts the same as the others, but there are rays of hope that haven't always shone through.
Devin Booker is on one all night long, torching the Spurs to the tune of 38 points and seven assists. Mikal Bridges is his usual pesky self on defense (four steals for good measure), but finishes with an efficient 17 points on a mix of timely drives and triples. Jackson is a ball of energy that fills the stat sheet (14 points, six boards, five dimes), highlighted by his game-tying dunk late in the fourth quarter.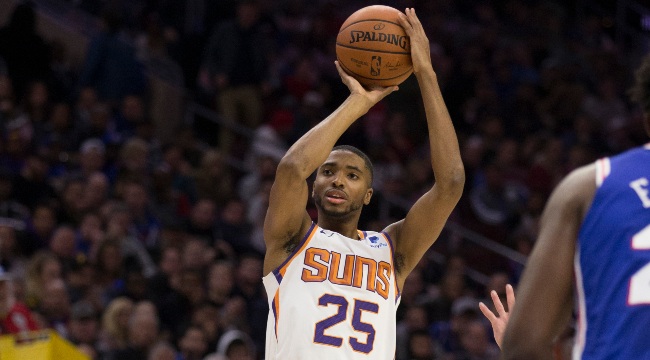 Above the numbers, the Suns flat-out compete all night. They mostly play the Spurs to a standstill in the first half. Things get shaky midway through the third. A barrage of missed shots and turnovers turned an 80-all game into a 94-82 Spurs lead. But instead of letting the game get away, the Suns fight back. Even Gregg Popovich is impressed, and equally annoyed, at the disparity in effort between the two teams during his post-game interview.
"I thought they outplayed us," Popovich begins. "Out-coached us, out-physicalled us, out-executed us. We had no respect for them or for the game. We didn't play with each other. It was a pathetic performance, and Phoenix got robbed."
That wasn't the case on Jan. 19.
The Suns are in Charlotte for a 5 p.m. matchup with the Charlotte Hornets. In theory, the makings of a fun, uptempo game are there. Both teams rank near the top of the league in pace, and are quarterbacked by shifty pull-up threats: Booker for the Suns, and ankle-breaker Kemba Walker for the Hornets. It becomes painfully evident, though, that the Suns are in no way prepared for this game.
More specifically, Booker isn't ready to be attacked as mercilessly, and as often, as he is.
The Hornets go after Booker early in the pick-and-roll. On Charlotte's first possession, Jeremy Lamb runs Booker off a screen, forcing a switch before getting a shooter's bounce on a turnaround jumper.

A minute later, the Hornets are in semi-transition after a Suns miss. The ball finds a trailing Lamb. Booker finds Lamb too, but he does so late and lazy.
Another minute later, Lamb attacks Booker in pick-and-roll again. The Suns attempt to ICE it, but Booker is beat anyway. Deandre Ayton steps up in containment, but that leaves a window for Lamb to thread a pass to Bismack Biyombo.
The failure to set the tone defensively puts Phoenix in a hole they can't dig themselves out of. The Hornets would score 39 points with a 61/50/75 shooting split in the first quarter, and eventually tie their non-overtime season-high of 135 points.
There are some bright spots in this game. Booker shrugs off a cold start to finish with 32 points and 11 assists without committing a turnover. Oubre cans four of his eight triples and showcase some secondary playmaking. Bridges gets the Walker assignment and holds his own, using his length and defensive instincts to force a steal on this possession.

But there will be many more negatives than positives. The sloppiness on both ends bury the Suns before Walker has a chance to do it himself. Ayton ends up being a virtual non-factor, only attempting seven shots and finishing with 10 points. Frustrated and, as it turns out, hurt, Ayton wants no part of post-game interviews.
Oubre, on the other hand, addresses Phoenix's issues head on.
"I think consistency is something we learn and grow into," Oubre tells Dime after the game. "The best teams play consistent each and every night, from the coaches to the players. A lot of times [for us], it's up-and-down because we're still learning and growing. I feel as if .. once we lock in on the little details of being great, everything else will follow suit."
The Suns have an impressive young nucleus in Booker, Ayton, and Bridges. Time will tell if Oubre, Jackson, and T.J. Warren are long-term fixtures or trade chips, but they're solid wings in a league that prioritizes having them. There's an argument to be made that the Suns are still a point guard short, and while LaVar Ball thinks he knows what the solution to this problem is, the team will certainly try to address this at some point in the coming months. For the most part, though, the young talent acquisition stage of the rebuild should be nearing its end.
Now, it's time for the Suns to establish good habits and build upon them.
Playing hard all the time is probably the most important part of establishing a winning culture. For a rebuilding team, particularly a small market one, having that standard in place matters just as much as finding young talent to build around. If the environment isn't conductive to growth, the cycle of mediocrity will continue.