Prior to the start of each NBA season, the basketball intelligentsia make their win projections for all 30 teams. The Portland Trail Blazers didn't fair too well among the experts going into the 2015-2016 campaign, and that was understandable given that their roster had just been gutted. When their consensus best player, LaMarcus Aldridge, skipped town for San Antonio, it triggered a mass exodus that ended with the Blazers losing four out of five starters. Kevin Pelton of ESPN.com, who covers the Blazers locally and has watched them up close and personal for some time now, picked them to win 31 games. Ananth Pandian over at CBS Sports predicted they'd win as few as 18.
With 17 games remaining, however, the Blazers are 34-31, good for seventh in the Western Conference standings, and have won six out of their last 10 games. Conservatively speaking, if they play .500 ball the rest of the way, they'll end up with more than 40 wins this season, which would far exceed even the wildest expectations. Hindsight being what it is, all the clues were there from the start.
No longer having to defer to Aldridge, Damian Lillard has become a bona fide superstar, especially since the All-Star break last month. Fueled by that well-documented snub, he's averaged 33.5 points per game on 48 percent shooting from the field and 41.9 percent from downtown. Even more impressive, that coincided with a remarkable stretch in which Portland won 14 out of 16 games before hitting a three-game skid last week. The pinnacle of that was a spectacular 32-point drubbing of the defending champion Golden State Warriors on Feb. 19 behind a career-high 51 points from Lillard.
Of course, Lillard can't take all the credit. A big factor in Portland's unlikely run has been the stratospheric ascent of C.J. McCollum, who is the prohibitive favorite to take home the NBA's Most Improved Player award. Together with Lillard, he comprises not only the franchise's backcourt of the future, but also one of the most lethal guard combos in the entire NBA.
The truly ironic thing about Portland's Cinderella season is that it was by no means an accident. General manager Neil Olshey was clear from the get-go that the Blazers weren't about to tank away the 2015-2016 season. That sounded like little more than wishful thinking at the time, until you take a closer look at how carefully and deliberately he engineered this current roster.
When he signed Al-Farouq Aminu to a four-year, $30 million contract last summer, Olshey looked into his crystal ball and thought he saw the West Coast version of DeMarre Carroll, or if he squinted hard enough, a poor man's Draymond Green. Aminu's career averages won't blow anyone's mind, but he's the type of player everybody wants on their team. He goes hard on every single possession, and that blue-collar work ethic is infectious. He's the embodiment of the type of scrappy play that's been the catalyst for the Blazers' unlikely success.
If Olshey wasn't going to be able to lure superstar free agents to town last summer, he was going to make damn sure he'd sign the type of players who weren't allergic to hustle and hard work. Ed Davis is another prime example, who Olshey signed for three years, $21 million in the offseason. Like Aminu, Davis' per-game stats aren't anything to write home about. He's an undersized and offensively-limited big man, but he's a long 6'9 who crashes the boards, defends the rim, and plays hard-nosed defense.
Olshey is banking on the idea that both these contracts will look like bargain-basement prices as the money from new TV deals sends the salary cap skyrocketing over the next two years. Both of those salaries also serve a secondary function: they potentially make attractive trade chips that can be bundled together with other assets to swing a larger future deal.
Speaking of future transactions, Portland has a trio of restricted free agents that they'll have to reckon with this summer one way or another: Allen Crabbe, Meyers Leonard, and Maurice Harkless.
Two years ago, Stotts could scarcely afford to let Leonard sniff the court. He looked so legitimately lost and frightened out there that everyone watching just had to hold their breath and white-knuckle their way through whatever limited minutes he logged.
But he changed that narrative dramatically last season. The third-year big man showed up to training camp in the fall of 2014 having spent the summer working obsessively on his jump shot. After surveying the current NBA landscape, Leonard recognized that he'd have to severely minimize his limitations by adapting his game to the pace-and-space era, where there is a league-wide premium on versatile power forwards who can stretch the floor with their outside shooting.
Through his first two seasons, Leonard was a combined 3-of-14 from behind-the-arc. Last season, he took a whopping 112 three-pointers, making 47 of them (42 percent). In fact, he would go on to become perhaps the most unlikely member of the exclusive 50-40-90 club, finishing the season shooting 51 percent from the floor and 93.8 percent from the free-throw line. In the process, he went from target of ridicule to fan favorite practically overnight.
But there's no hiding the fact that Leonard has always been a liability on the defensive end and a below-average rebounder for a guy his size. He also has a tendency to get into foul trouble, as he did in the first half against the Wizards Tuesday night when he picked up three quick ones in the second quarter trying to hold his ground against the bigger, stronger Nene.
The good news for the Blazers is that they can ultimately let the market decide the value for all three of these guys. Leonard's game has plateaued this season after a big leap a year ago, and if some team decides to try and overpay him, the Blazers should feel perfectly fine about letting him walk.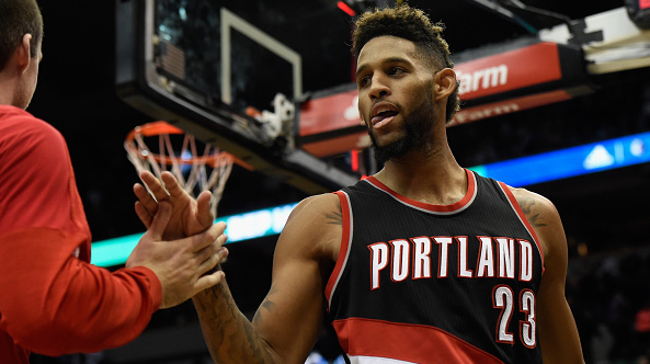 Letting Crabbe go might be a little harder to stomach. It's likely that several teams around the league have looked at what he's done with limited minutes in Portland and are eager to hedge their bets and offer him more substantial playing time and greater leeway to flesh out his game. The Blazers should think long and hard before letting him walk, as he appears poised to evolve into a potentially elite sixth man off the bench who brings energy and instant offense.
Two of the Blazers' deadliest lineups include Crabbe playing alongside two other guards in a decidedly small configuration. Those lineups boast a net rating of plus-16.2 and plus-12.5 respectively.
Harkless is easily the most polarizing of the three, since his raw numbers don't adequately betray his true value. He's logged just 6.6 points and 3.5 rebounds per game and has shot a tepid 30 percent from long-range during his four-year career. The Blazers brass will have to decide whether to trust the eye test alone, which can be deceiving. But every time Harkless gets some run, he always seems to do all the right things, which involves making things happen on both ends of the court.
In terms of their unrestricted free agents, things are a little more cut-and-dry. Gerald Henderson is finally feeling healthy again and has been much more productive, explosive, and efficient recently, but his bad habits keep rearing their ugly heads, namely a tendency to take far too many contested jump shots. Crabbe is undoubtedly the younger and better option here as backup shooting guard.
Chris Kaman hasn't been a productive member of the team since the middle of last season, and though the Blazers are light in terms of their point guard reserves, Brian Roberts is hardly a long-term solution. Stotts has mitigated that dearth brilliantly so far by mostly having McCollum take up the point guard duties when Lillard sits, although it'd be in their best interests to seriously consider bringing in a legit backup point guard.
The other elephant in the room is whether the feel-good playoff appearance the team is heading toward will have little more than a narcotizing effect. No matter how badly fans in Portland want to believe in miracles, the Blazers aren't going to win a championship this season. They're likely not even going to make it out of the first round. They'll be lucky to steal one or two games against their opening-round opponent. Consider who they're up against. If they playoffs started today, they'd face the Oklahoma City Thunder. They could also fall to the seventh or eighth spot by the end of the season, which would mean the Spurs or Warriors. Yikes. The only remote chance they have is if they get matched up against a severely-depleted Memphis team.
Pragmatically speaking, what would that accomplish? Sure, it'd offer some postseason experience for some of the younger guys on the roster, but several of those players may not even be on the team next season and some already have the "experience" of being bounced out of the playoffs in the first round, like they were against the Grizzlies last spring. But there are much worse consequences to consider, such as squandering their 2016 first-round pick. They get to keep that pick only if they end up selecting in the top 14 of this summer's draft. Making the playoffs essentially means they owe that pick to Denver (thanks to the ill-fated Arron Afflalo trade).
Remember three years ago when they lost a franchise-worst 13 straight games to end the season? That ultimately turned into McCollum. As good as this team has been playing, it's far too late for anything that brazen, although it's certainly still possible that they get knocked out of playoff contention altogether. Blazers fans should warm up to the notion that it might not be such a bad thing after all. But let's go ahead and count on them making the playoffs and forking over that pick.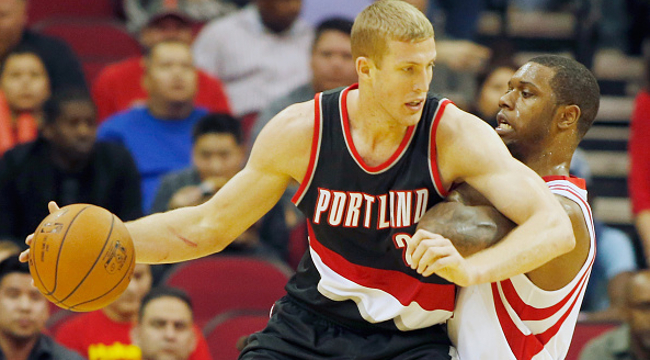 Now, Olshey once again has the unenviable task of trying to lure marquee free agents to Portland, which has always been a hard sell. First, they'll have to consider whether they see Mason Plumlee as a long-term solution at center, which is a complicated question with no easy answer.  He's a solid rebounder, but isn't very good at protecting the rim and has zero range outside the paint. In short, he's exactly the type of big man the league is trending away from.
But he's also become a capable passer and integral part of one of the Blazers' best small-ball lineups. When Crabbe comes into the game and Aminu slides over to power forward, you're looking at Portland's best offensive lineup, with a very solid defense, to boot. The front office won't be forced to make a decision on Plumlee until next summer or, depending on things pan out in the early part of next season, the February trade deadline.
Which brings us back to this summer.
So who can the Blazers realistically go after? Hassan Whiteside is one of the more intriguing centers hitting the market in July, and some team, possibly several, will throw a ton of cash his way. But Whiteside still doesn't quite fit the mold of a big man who can stretch the floor. It's at least partially why Miami allowed him to enter unrestricted free agency this offseason. He also doesn't fit the Portland mold in terms of attitude. Since the Jail Blazers era, the organization has been reticent about bringing on moody players with volatile personalities. Portland likes its players to have an edge on court, but they have little patience for any extracurricular nonsense.
Al Horford, on the other hand, seems like the most logical choice, given his rebounding, scoring, and ability to shoot from outside. He's a perfect fit for Stotts' system and has proven more than willing to assume a more complimentary role on a well-constructed team, as he's done with the Hawks the past few years. The question is whether Olshey will be willing to pony up and whether Horford would agree to come to Portland to begin with. Ryan Anderson is another guy who'd fit right in with the Blazers' run-and-gun style.
On the point guard end, there's Jeremy Lin, an uptempo player with historically good range for his career but who hasn't been shooting the ball particularly well this season. He has a player option this summer, and it's hard to see why he wouldn't become an unrestricted free agent, given the rising cap. Then there was Mario Chalmers, until he reportedly snapped his Achilles tendon Wednesday night. Ish Smith has been playing like a man possessed in Philadelphia, but seeing as how he's staked his claim as a starter with the Sixers, it's unclear whether he'd go back to a reserve role.
Of course, there's a real possibility that the Blazers could strike out in free agency and be left with little more than a few consolation prizes, sort of like they were last summer. Olshey's ethos of rebuilding on the fly (i.e. rebuilding without tanking) is admirable, especially when you compare it with the theater of the absurd that was the Sixers' so-called #Process before management was forced to step in and right the ship. But the Blazers' GM will have to make something bold happen sooner rather than later if he wants to get this team back into actual contention instead of just yet another pretty good season that ends with a first-round playoff exit.