Originally, Yahoo's streaming television comedy, Sin City Saints, was supposed to take place in Seattle. The alliteration would have still worked in the title, but there's a lot less sinning in Emerald City — even with legalized cannabis. The change to Las Vegas gave the star of the show, Andrew Santino, more time and opportunity to actually kick it with the former NBA players who joined him on the project. In fact, the partying you see on the show isn't that far removed from what they were doing behind the camera.
The first eight episodes currently streaming on Yahoo Screen, took two months of filming while Santino and the rest of the cast stayed in the Orleans Hotel and Casino. The Orleans is where the majority of the show was shot, so there weren't any green screens when you see the Nevada desert outside of Santino's fictional owner's office.
With Chris Hanson, Steve Ballmer and other tycoons in the middle of trying to relocate the Sacramento Kings to the former home of the Sonics, co-creator and producer Mike Tollin says "the very earliest incarnation was actually set in Seattle. But there was a sense they were getting a team."
We spoke with Tollin and Santino about the early stages of the show, and what it was like to cast and work with the NBA players who appear throughout the first eight episodes: Baron Davis plays a former star and burger chain entrepreneur; Rick Fox is the entitled GM with a few championships on his resume; John Salley doesn't have as much screen time as the other two, but he stopped by the set for a couple days to ad-lib some doozies as the fictional team's home announcer.
"We kinda get basketball in Vegas." – Mike Tollin
But before the NBA players came aboard, the show had to come to fruition.
"I started pitching [the show] later in 2012," Tollin recounts. "And it looked at the time like Steve Ballmer had his sights set on Seattle and the Kings might move. So we decided to steer clear of Seattle. We knew that Vegas has not only had the All-Star Game there, but Summer League. We did a two-hour doc for CBS on Summer League, two summer's ago. So we kinda get basketball in Vegas."
The problem was making a fictional show about professional basketball without overtly mentioning the NBA. Right now, an NBA team is a long way from the horizon, especially after the 2007 All-Star game in Vegas led to a "Hip Hop Woodstock" that still gives David Stern nightmares.
For Tollin, an NBA team based in the neon lights of the Nevada desert was "not that far-fetched, but it's not going to happen, certainly in the near future," thereby avoiding an overlap with an actual NBA team. "We should only be so lucky we run long enough that it collides with a real team," Tollin admitted on the phone.
So how do you keep it realistic within the Vegas setting even though they've never housed an actual professional basketball team? You hire three former NBA players, only one of whom has appeared in an All-Star game, but with the other two well-known enough to hazard a double-take during the show to recall when you saw them gallivanting around an NBA court.
[protected-iframe id="904a4c74abb1fd02a39f5e1a127fdea4-60970621-27345751″ info="http://screen.yahoo.com/sin-city-saints-official-trailer-190000976.html?format=embed&player_autoplay=false" width="650″ height="400″ frameborder="0″]
Mike Tollin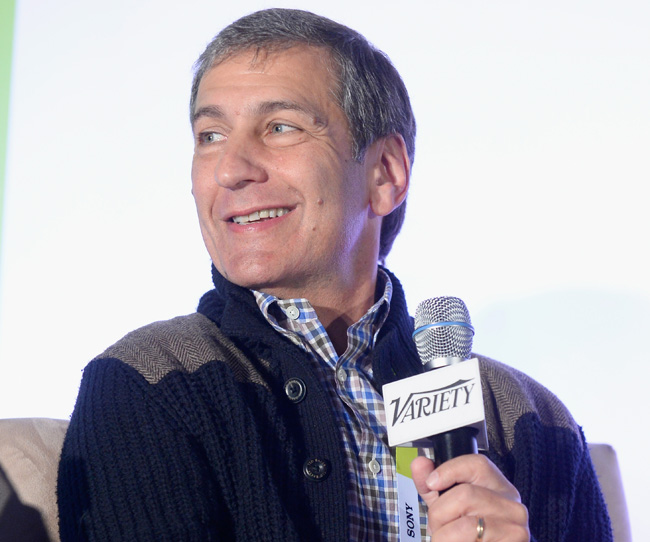 We primarily wanted to talk with Tollin about casting the three NBA players who appear in the show. Below is an edited portion of that chat.
Just a head's up, if you haven't seen the show there are a few spoilers throughout our discussion. You can still head on over to Yahoo and watch them before continuing.
On working and casting Baron Davis in a supporting role as Billy Crane, a burger joint entrepreneur, veteran player and eventually player/coach who appears in seven episodes:
"Baron is a really fascinating guy who has studied acting, who has studied screenwriting. [He] isn't entirely retired in his head.
[…]
We got to know Baron very well. He's incredibly talented, incredibly versatile. We talked about him playing a role and we decided the next step for him would be to play a legitimate role. Not Baron Davis.
It's like, we had seven seasons of Arliss and we had probably 200 cameos [Tollin produced and developed the sports-themed show for HBO). They all played themselves. That was the idea of a sports agent in the real world. This is a full-scripted show. It's a made up world. However loosely based on some reality, it's all fiction. And we kind of came up with this character together. That when LaDarius [Pope, the star of the fictional team] was out, then the team would be looking for a replacement. We made it in his zone, where it was believable: recently retired. In a world where truth imitates fiction, we've had discussions about franchising Billy's Burgers and turning it into a real chain.*
[*Billy's Burgers is the still-fictional burger chain Baron's character runs before he decides to come back and play for the Sin City Saints.]
That was the thing with him. He loved the whole idea. It was his line, 'burgers and fries are my pick and roll.' The whole hairdo is his thing. He improved a lot and we gave him a wide berth when he gets hired [in the show] to coach. Which coaches are we going to say that we don't want to hire, we had those discussions [with Baron offering input]. So we had a blast. You know [in the show] he had to make that three-point shot, and — depending on who you ask — it took him a few tries. I'll say that he was able to make the shot in a single-digit number of tries. But more than would suggest a solid shooting percentage from the arc. But he got it done, we celebrated and we had a blast with him."
On Rick Fox, who plays general manager Sam Johnson in four different episodes.
Rick has been acting for a long time. Rick had a serious, substantial character arc on One Tree Hill where he was throwing money and getting players to shave points in a One Tree Hill high school game. So we've known Rick forever.
"Again, I'm not going to name names, but that character was a combination of a number of general managers. He'll tell you who was in his mind [which GM he's patterned on], I'll tell you — [with fellow co-creators] Chris [Chase] and I and Bryan [Gordon] — had some different guys in mind. He created this sort of ambivalent character with one foot in the war room and one on the golf course. [The character's] got his three rings, and he's not bashful about showing them off.
He's [Rick the person, not the character he plays] primarily now doing work for Turner behind the desk and as a reporter, but he really has a love for acting and I think he does great in the show."
On John Salley, who plays the Saints' announcer, Tom. Salley only appears in four episodes, but they're brief flashes of fun:
I've known Salley forever. He was a commentator on Slam Ball, which was a sport we invented and had a lot of fun with…
We were kind of looking for two pros who we could just give a scenario to and they could ad-lib it. We loved the visual of Charley [Steiner] and John — who is more than a foot taller than Charley — they're friends, we knew they'd riff off each other. Charley's been a pal since the days he was announcing the games for Donal Trump's USFL team, and I was making the highlights — going back 30 years.
This is drawing on relationships, drawing from people whose career's moved forward in an interesting direction. I think we added a lot of credibility to the show."
***
Next up was Andrew Santino, the 31-year-old star of Sin City Saints. He plays protagonist Jake Tullus, the owner of the team. Tullus is a tech billionaire, but also a fan of the drinking and drugging, which conjoined nicely with the environs where the show was set. Santino says his on-screen persona has "got the brain of [Mark] Cuban, but the actions of [Donald] Sterling because…I don't know what's inappropriate and what's appropriate."
While you might not recognize his name, you'll probably recognize Santino from some of his supporting work. Sin City Saints was his first leading role, and it couldn't have come in a cushier scenario, one where he got to chill with "BD," Tom Arnold, Fox and Salley.
Andrew Santino
Santino talked a length about his "lovable, but hateable because he's an idiot," Jake Tulles character, but it was his appreciation for Baron Davis as a person and performer that really stuck out.
On Baron the actor:
"A lot of people will be surprised at how good he is at acting. A lot of people think that athletes can't act, and many of them cannot, for sure. But Baron had a lot of good stuff on the spot. He had this great joke about 'No,' like the word 'no' was my n-word. That was a joke BD threw back and forth with me, and I was saying 'No, the n-word is my n-word. I don't say that at all, like in general I don't say it.' So he came back and said, 'I've heard you say it bro.'
He's really good at improv. A lot of that stuff couldn't make the final cut. But he gets it. There's no dummy to him. He's quick."
Not all athletes are as natural on camera as Baron, though.
"I've worked with athletes at all sorts of levels," Santino says. "I did a web sports show for BBC called, 'Behind the Lights'… We got to meet a ton of different athletes. The San Diego Padres, the A's, the Edmonton Eskimos — the football team in Canada.
"But we went around and met all these guys and a lot of [them], when you try to get them on camera, they buckle. Their knees buckle. They can hit a baseball 96 mph, but when a camera's on, they can't speak English. I don't know what it is."
That wasn't the case for Rick Fox and John Salley though.
"Rick Fox was very very good. Rick has kind of adorned himself as an actor now and not just a Hall of Famer with [championship] rings [Ed. Note: Rick Fox is not in the Hall of Fame, but he does have three rings].
Santino also made it clear that John Salley came in for couple days to shoot his brief role and absolutely killed it.
"John Salley was the king of the show. When he showed up to be our announcer, all he did was play around and everybody loved it. I mean, I don't even know if he did his lines, he was just joking around the whole time. And 'cause those guys have such a good relationship, they joke on each other and it's all in good fun."
That joking came back to Salley's notorious endowment.
"When he walked by, he saw [Salley's] dick went all the way down and then out of the bicycle shorts." – Andrew Santino
"Tom Arnold gave me this great story about when he was working on The Best Damn Sports Show with John, and some of the stuff those guys would get into. John Salley notoriously has the biggest dick in the league, apparently, and would wear bicycle shorts, Tom said. When he walked by, he saw [Salley's] dick went all the way down and then out of the bicycle shorts."
Perhaps the finest example of the camaraderie Santino struck up with Baron Davis stems not from their time in Vegas together, but when they were doing a media tour for the show at SXSW in Austin:
"We were all out late. Partying, having a good time," Santino tells us. "We were just at a private party dancing and going nuts and Mark Cuban was there. QuestLove was DJing. And all of a sudden, I turn around and we're all pretty faded.
"Then the night came to a close and we went to go get tacos. Me and BD [Baron Davis] and some of the cast mates wanted to go get tacos. This fat drunk dude comes stumbling up to the table and being really aggressive. And he was like, 'you know who you look like dawg, you look just like Baron Davis.' And we're all kind of like laughing because this guy was sh*tfaced. Baron flips it on him and is just like, 'don't say that bro, I don't look like that dude.' And he was like 'wait what?' And [Baron] said, 'I don't look like that dude. That dude's ugly as f*ck. I don't look like that ugly-ass dude.' And the kid was like, 'Oh, I'm sorry bro. I didn't mean to make you mad.' And he's like, 'well then don't call me Baron Davis. I don't look like Baron Davis'
"Keep walking bro, I don't look like Baron Davis." – Baron Davis
"And we're all laughing. This guy was so f*cked up, he didn't even realize we were laughing at him. And he was just like, 'keep walking bro, I don't look like Baron Davis.' And he was just f*cking with the dude, but the guy was so drunk and dumb, Baron doesn't look anybody but Baron. What other 6-foot-4 230-pound black dude looks exactly like Baron Davis and is not Baron Davis? It was hilarious. We were cracking up eating tacos and Baron thought it was hysterical. Then the drunk dude just left and had no idea. At the end of day, this fat drunk idiot still thinks he mistook someone for Baron Davis.
It was nothing crazy, but I thought it was hilarious. Baron has a great sense of humor, and he know's how to not take himself too seriously. He was just messing with the guy, he wasn't being mean. He was just joking with him."
(YAHOO)