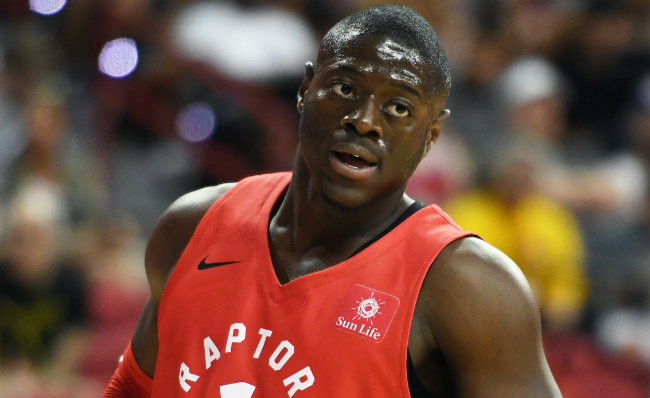 On the afternoon the Toronto Raptors opened their Summer League schedule in Las Vegas, some key members of the organization were missing. Back in Toronto, president Masai Ujiri and general manager Bobby Webster were holding a press conference to announce the re-signing of Fred VanVleet, the team's major success story from the 2016 Summer League. Then an undrafted free agent, VanVleet played his way to a small guarantee on a training camp invite. So far, that has paid off for both sides— VanVleet is a crucial part of the Raptors' rotation, was a Sixth Man of the Year contender this season, and this summer, the sides agreed to a two-year, $18-million contract.
And while VanVleet wasn't physically at the team's Vegas opener — he'd arrive later that day, coming out in support for games two and three — his story sat thick in the air for Rawle Alkins.
"The Raptors, when they called me on draft night, they explained to me how Fred VanVleet had the same thing," Alkins explained in Vegas. "He went undrafted, he showcased himself in the Summer League, and he proved that he was ready for the NBA. I think he just signed a big contract this year. You know, they kinda look at me on that type of level, and at the same time, I'm grateful for any opportunity and any opportunity that presents itself."
Alkins is in Vegas hoping to kick-start his career on the same trajectory. With the chips down after going undrafted, Alkins has little recourse but to bet on himself, to borrow from a VanVleet shirt (and hat, and backpack, and…).
This is an unexpected start to his NBA journey, to say the least. Alkins fully expected to be selected on draft night in June, having been projected as a potential second-rounder when he tested the waters as a freshman in 2017 and a potential first-rounder in 2018. What, exactly, kept that from coming to fruition is a little unclear, though a Jones fracture that cost him games early in the year and may have contributed to his offensive production plateauing was likely a contributing factor. So, too, is that Alkins' primary asset — his energy — is more of an in-game tool than one that thrives in a workout showcase.
Whatever the case, Alkins was unfazed despite the draft night disappointment. He says he locked himself in the gym and stayed off social media in the days that followed, but outside of a dose of humility, Alkins' attitude changed little. Where VanVleet has his Bet on Yourself mantra, Alkins has kept himself steady with an interesting perspective on the highs and lows of basketball life. It is, at the same time, a tad nihilistic and wise beyond his basketball experience.
"That's the thing: Expectations lead to disappointments," Alkins said. "So with me, I'm just gonna try to stay even-keeled. You know, never get too high, never get too low. Play my game, just try to play the best I can, and the rest is history. I'm always motivated. I guess you could say it's a humbling experience. I didn't really expect that. But when it happened, it's on to the next step. You can't just think about it throughout the process, you have to just keep moving forward."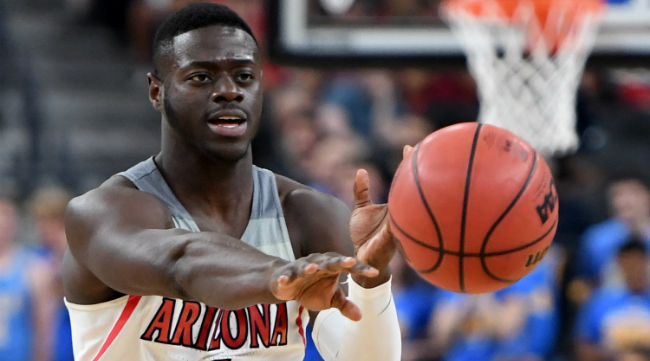 The next move forward came quickly. The Raptors expected Alkins to be selected, too, and when he slipped through the cracks, they moved swiftly on their good fortune. Shortly after the draft, Alkins was committed to the Raptors for Summer League.
"I've always liked him because he brings great energy to the floor and he's got a really good positivity about the way that he plays," Raptors assistant general manager Dan Tolzman says. "Always gives a ton of energy. He's still a developing player to where he's gonna have some ups and downs, but he never wavers on how hard he plays, which is awesome about him. He was one of the conversations afterward where we're kinda like, 'man, I can't believe he went undrafted.'"
That the Raptors had shown Alkins love throughout the draft process helped sell him on Toronto as a Summer League landing spot. He'd actually been in Toronto for a pre-draft workout in 2017, when the Raptors were high on him and tracked him throughout the season against that baseline, putting him high on their internal draft board.
They liked him so much, in fact, that they tried to sign him to an Exhibit 10 deal immediately, something that remains up in the air as Alkins looks for new representation. For Alkins, this represents the biggest bet on himself yet. Where he had little say in going undrafted, the choice to navigate free agency without an agent (for now) is a risk, as is holding off on an Exhibit 10 — which has an $85,000 downside if he were to be cut and stay in the G League — in hopes of an even greater opportunity.
He has some control here in how he makes the most of his Summer League opportunity — he's done a great job of doing that so far. In the Raptors' opener, he didn't see the floor until the second half. Almost immediately, he unleashed a beautiful crossover but missed the ensuing layup, making up for it with a monstrous double-pump reverse a little later. Never too high, never too low. He'd finish the game as the most impressive Raptor, scoring 12 points with six rebounds, an assist, and a steal in just 14 minutes.
"He was excellent, right?" head coach Nick Nurse said after the game. "He's growing quickly. His first few days in Toronto, practice, we weren't sure at all. But he's really making leaps and bounds. I was impressed because he came in in a situation where he had to produce quickly. He was like the 11th man in the game in a tough game and he had to make something happen. That can go one of two ways, and usually it goes the wrong way, and he made play after play after play. So, really impressed with that. Let's see if he can show consistency now."
The consistency hasn't quite been there, yet, though it has been when the opportunity allows. Alkins was a non-factor in an eight-minute cameo in the team's second game, then drew a starting nod Monday. He wound up the only Raptors starter with a positive plus-minus in his 25 minutes, and while he didn't shoot the ball well, he filled the stat sheet with seven points, five rebounds, a steal, two blocks, and three assists.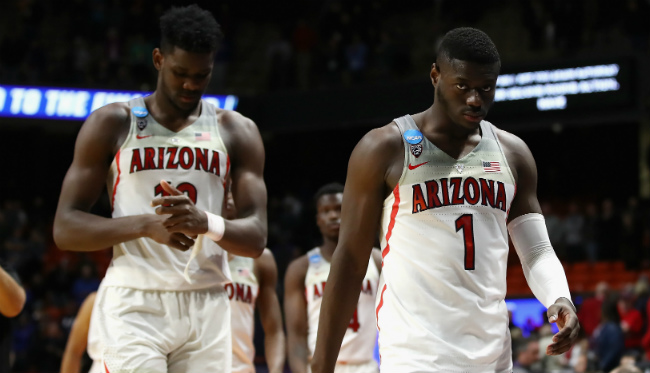 It's that playmaking that was a focus of Alkins entering pre-Vegas workouts and that has raised some eyebrows in the Raptors' organization since he arrived. He is a known commodity on defense and a terror in transition, and if the ability to create for others he's flashed is legitimate, it might change the thinking about his potential fit and role.
"We knew he could punch the gap," Raptors 905 head coach Jama Mahlalela said. "We didn't think he could find the right pass. He's showing he can do that, and that's really an intriguing thing for him. I think his defensive ability is obviously phenomenal. He uses his body well, his lateral movement is great, active hands, all those sorts of things that we knew were the case, he's showing them each and every day. But the offensive ability to make decisions is something that we didn't know was there and we're excited about."
There is still a long way to go. Alkins is competing with a lot of wings on the Raptors' summer roster for only a few potential training camp invites and maybe only one or two eventual contracts. Even if his first bet pays off and he makes the Toronto roster, there will be a road ahead that includes some development time in the G League, time waiting for an NBA opportunity, and the type of highs and lows his even-keel philosophy have prepared him for.
"I think he's wired the right way in terms of the guys that maybe have the unorthodox way of making it in the NBA," Tolzman said. "He's the type of guy that he'll figure things out and he'll be patient with the process, I think, and really know what's right for him to get to that next level. I think he really wants to be a player, and when he's given the opportunity to kind of figure out what he needs to work on and it's right there in front of him with high-level development coaching, I think he's gonna really gravitate to that and put in the work."
In that sense, he would seem a good fit for the Raptors' bench, which is heavy on players who were undervalued or underappreciated at some stage or another. It's also deep enough that minutes could be hard to come by, yet trusted enough that the Raptors wouldn't hesitate to turn to him if he earned the chance. In other words, the job might command a certain attitude.
"I learned to just stay even-keeled," Alkins said. "When you think you're at your worst, there's just something coming that's gonna get you better and get you on your best, and when you think you're at your best, something might possibly happen. So just stay even keeled. I'm just gonna try to showcase my best and then the rest is gonna be history. It's not how you start, it's how you finish."
Going undrafted wasn't the start Alkins wanted. As that chapter's finished, he's started the next off as well as he could have hoped. Not that he'll get too high about it.