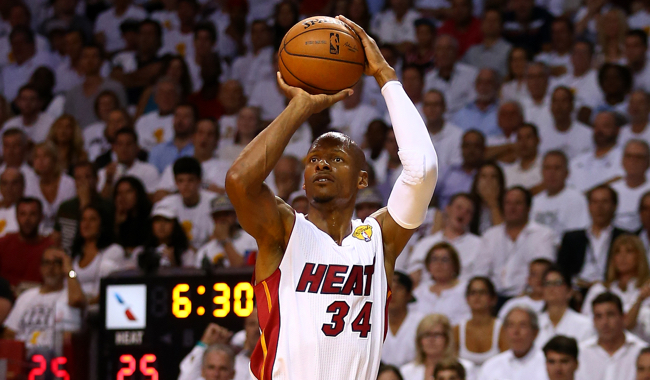 Ray Allen hasn't played in the NBA in two years, but he's never officially retired, leaving the door just enough ajar that rumors about a comeback won't quite fade away. The Miami Heat have tried to lure him back with no success, Spike Lee has been recruiting him to the Knicks, and he's reportedly put out feelers with the Warriors and Celtics. Allen's former coach in Boston, Doc Rivers, recently added more fuel to speculation of a return, telling the Boston Globe's Gary Washburn that he's spoken with Allen recently and indicating that the all-time leader in three-pointers made is open to a return if the right situation presents itself.
Allen is 41 years old, meaning a return to playing would make him the oldest player in the NBA. That, coupled with the fact that he's been out the last two seasons, makes it unlikely. But shooters tend to age well, and he would be a respected veteran presence in any locker room he's in. If all he's asked to do is come off the bench and hit open threes for 10 minutes a night, there's no reason to believe he couldn't still do that. When the Celtics formed their big three by trading for Allen and Kevin Garnett in the summer of 2007, they tried to convince Reggie Miller to make a comeback two years after he'd retired in 2005. It didn't happen, but Allen returning would be the same idea.
For Allen to come back, the situation has to be worth his while. He doesn't need the money — he's made almost $185 million in his career, per Basketball Reference. To give up retired life, he would have to be in a situation where he has a legitimate chance to win a title, and there are only two of those right now: Cleveland and Golden State. They each have one open roster spot, and Allen played with LeBron James in Miami. But Golden State needs big-man depth more than they need another shooter, and there wouldn't be a lot of minutes for Allen in Cleveland. It just doesn't seem likely that he'll actually come back. But the rumors stay out there.