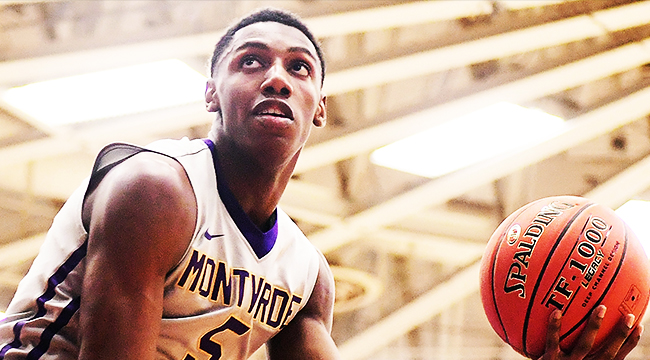 As practice for the Canadian senior men's national team came to a close, R.J. Barrett is shooting free throws on a rim on the side of the court. As the sounds of Drake bellow out from the speakers at Mattamy Athletic Centre in Toronto, Barrett quietly raps along, his eyes never breaking focus for the rim. It provides an interesting snapshot of Canadiana at the moment, the country's foremost artist bumping on the eve of the highly anticipated "Scorpion" double-album releasing and its foremost basketball prodigy on the eve of his biggest spotlight yet, an appearance with the national team in FIBA World Cup 2019 qualifiers at just 18 years of age, and on home turf no less. For Barrett, this is also a rare moment of calm on a court, the routine individual work marking the only time he's not outwardly competing with anyone but himself.
At this point, Barrett's star is well known. Last Thursday, the end of the 2018 NBA Draft made way for the first mock drafts for the 2019 edition, and Barrett is atop the most prominent boards. He was a five-star recruit, wound up ranking No. 1 on ESPN's recruiting board for the 2018 class (just ahead of future college teammates Zion Williamson and Cam Reddish), and ahead of his freshman year at Duke, he is already the presumptive No. 1 pick and a near-unanimous bet to be a franchise-level player at the professional level.
His talent is undeniable, with an incredible mix of footwork, balance, and body control and an array of crafty moves well beyond his age. He's incredibly athletic, with elite speed, explosiveness, and agility, traits that already make him a terror on offense and make his defense at 6'7 project as a potentially versatile weapon if the results can catch up with the tools. There is just so much to like at 18, and even if every skill doesn't reach its full potential — he needs to continue to work on his right hand, add strength through his lower half, extend his pull-up game closer to the college three-point line — Barrett is likely to be a star.
A lot of prospects are talented, though, and the impression of teammates and staff as Canada camp runs its course is that Barrett is also equipped with the sort of make-up that helps translate those skills to stardom. The words "amazing" and "incredible" come up in casual conversation, and inevitably the conversation turns not toward Barrett's natural talent, but his demeanor and approach. He knows how good he is, and he's as aggressive as his talent suggests he should be. As one trainer who worked with the team at their camp in British Columbia last week put it, Barrett is scared of no man and no moment. Head coach Jay Triano has another way to describe it.
"I think that's part of who he is," Triano says. "He's got a little bit of that, as they call it, the dog in him. He's got that. He's got that ability. When the game comes on, or if it's a competitive situation, he's gonna go all out."
That fire is not limited to game action, though Barrett clearly felt no sympathy for an overmatched China split-squad as he helped steamroll them in a pair of exhibition games last week. Throughout the week, Barrett's intensity in practice has helped set the tone for a very competitive camp that saw Canada have to whittle down a group of 17 to a roster of 12 with some tough decisions. Barrett's place was largely secured by that point — the bigger question was availability ahead of reporting to Duke, with whom he'll play a series of exhibition games in Canada in August — but that didn't keep him from pushing the intensity level, the high tide of his competitiveness helping lift all boats.
"Man, he's phenomenal," says point guard Kaza Keane. "I've seen some things in my day, I played with Andrew Wiggins, and there's a lot of similarities. Just the way he's just constantly going. He's just insane, how competitive he is all the time. I call him Mad Max, because he's just always ready to go, you know? He's always angry and always ready to play hard. I enjoy that. Trying to take him under our wing and hopefully he goes forth and does great things. And I know he will."
Aaron Best, Keane's teammate with Raptors 905 and another guard in camp, simply shook his head with a smile and repeated the word "man" several times before finding the words to describe his first intimate look at Barrett. For others on the team, this isn't their first time working with him, and the competitiveness is anything but a surprise.
Melvin Ejim is a stalwart of the program and a well-respected leader in the group, to the point that he's become somewhat of a mentor to Barrett in national team training and outside of it. Barrett's father knows Ejim well and has asked Ejim to take on that role the last few years, helping instill some of the values and approach elements that have made Ejim a successful pro. Ejim and Barrett refer to each other in brotherly tones, and the big brother-little brother dynamic occasionally comes with the need to try to introduce some hard lessens around the jokes and friendly competition.
"Yeah, exactly, I always kinda gotta let him know you might be talented but you're not the biggest or strongest," Ejim says with a bit of a chuckle. "So you've gotta develop other things, and trying to keep him as grounded as we can, because he is really talented and there are a lot of people in his ear. Just try to keep him as humble as possible. His father and his family do a great job of keeping him centered. He's a really humble kid. But whenever we can, we try and make sure that he's good."
That might mean using a size advantage to put some body into Barrett as he charges to the rim or simply pulling him aside for live instruction as he learns to better read the game and make others around him better. Barrett already thinks and sees the game at an incredibly high level for a teenager, and he's hungry to take coaching and get better. There are times when the leaders of the team want to slow him down just a little bit because the situation calls for it, but nobody wants to temper Barrett's fire with any regularity. It is what makes him as special as he is.
"I think people kind of get wrapped up in his dunks and his ability to score the ball," Ejim says. "I think that that stuff will show through, and I think it's already showing through. I think when he gets to the collegiate level and then the NBA, I think that will be one of his biggest defining characteristics. Everywhere he goes, he wins, and that's because he wants to win and he competes more than everyone else. He just has a great head on his shoulders and he's doing really well so far. His future's really bright."
This is a part of the plan for Barrett's growth, keeping him around professionals regularly and getting him experience against more advanced — or at least more physical and experienced — competition.
"It's very different, different speed, different physicality, even mentally you have to learn a lot of plays," Barrett says. "It's just a lot different playing with men than playing with younger people. You have to just get used to it, keep going and ask a lot of questions. If you don't know, you've got to ask (or) you won't succeed. Especially my first day or two, I was going really fast, trying to catch up but now that I've been here for a week and a bit, I'm starting to slow down, starting to just try to play."
That's a reasoned and grounded response, and even if Barrett's had some coaching — he's already fairly media-savvy — his answers mesh with what others say about him. "Humble" is a word that comes up often in asking about Barrett, and part of that surely comes from having grown up in the program, around professionals. At this point, he might be new to the senior team's roster, but he's not at all new to the faces around the team and the players he'll be playing with, many of whom have watched him grow into this uber-prospect.
"When he was young, he had feet that couldn't fit his body, he had big floppers, running around, flopping around with his feet," Cory Joseph recalls. "He was always talented. I just remember his dad putting him through drills and working with him and always playing with the older guys for countless hours, he loved the gym, loved to work and I just see how good he is now and he'll just continue to get better. You knew he was going to be special. Obviously he's shocked a lot of people with how fast he's grown his game, you know, and how he's expanded his game, but I expected it."
Friday and Monday, then, are a big moment for Barrett and a Canadian program that's known for years now that he would be a major part of it. His father, Rowan Barrett Sr., is actually the assistant general manager of the men's program, and as a player once left a Canada practice to be present for R.J.'s birth. Barrett was essentially born into the program, working with Steve Nash from an early age and leading Canada to new heights at the youth levels. Last summer, Barrett was a deciding factor in Canada pulling off an upset of the United States in the semifinal of the U-19 FIBA World Cup, ultimately leading the team to a gold medal. Canada's youth program now ranks second in the world in FIBA rankings, and Barrett's fingerprints are all over that ascension.
At the men's level, though, Canada ranks just 23rd. Last year, a record 14 Canadians played in the NBA, a number that's slowly been increasing in the post-Vince Carter boom years for the nation's basketball talent, but success hasn't come at the international level yet. An opportunity to qualify for the 2016 Olympics was squandered with a gut-wrenching loss to Venezuela at the 2015 FIBA AmeriCup, and Canada couldn't punch their ticket in a last-chance qualifier in 2016 with some poor player turnout. They haven't been to the Olympics since 2000, have only been to the World Cup once since 2002 (placing 22nd), and surely feel pressure for the obvious rise of Canada Basketball to begin producing meaningful international results. The depth of talent is difficult to question, even excluding Wiggins, who at this point seems removed from the idea. In Barrett, Canada has its first potential star since Nash, someone to mold the ample depth around and someone to turn to in tight situations, tethering their star to his.
"I think when we've watched his progression over the last couple years, we've known that he was gonna be part of the national team and he was gonna have a great basketball career in front of him," Triano says. "The fact that it's happening now is good for us. We're playing in our country, he gets a chance to play in his home city, which is great, and he's been really good so far."
It is perhaps here where Barrett's insatiable competitiveness will have its greatest impact. Canada doesn't want for good players, especially at the FIBA level, but Barrett has the chance to be their best yet, both from a skill perspective and with the requisite killer instinct to lead on the court. The FIBA qualifiers are only a small step as the program tries to establish itself as a threat at the senior level, and getting Barrett (and Andrew Nembhard, a 5-star point guard prospect who will attend Florida this fall) this experience now could pay further dividends down the line, helping improve his game and round into an even more complete prospect.
Not a lot of people can say they led a U-19 team to gold, were the No. 1 recruit in a class, or are expected to be the No. 1 pick in the NBA Draft. Barrett has all the talent in the world helping him achieve those lofty heights, and the fact that they only fuel him to keep getting better makes the ceiling for Canada's Mad Max limitless.