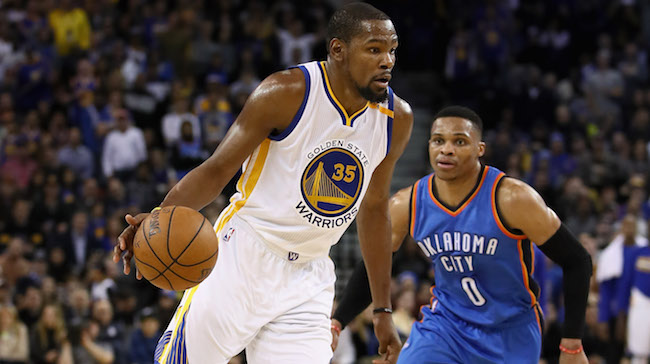 The NBA's greatest cold war of the moment might be finally ending as it seems Kevin Durant is officially ready to bury the hatchet with Russell Westbrook. KD sat down with Bill Simmons for The Bill Simmons Podcast for the second time in a few months and let loose, discussing everything from his injury, to the MVP race, and of course his return to Oklahoma City and his relationship with Russ.
Durant divulged how awkward it was for him at all-star weekend when his supposed spat with Westbrook became the story of the weekend. He called the entire situation "corny" and admitted that there were a few times he wanted to just talk to Russ and break the ice, but said he believes pride got in the way of that for both parties.
Eventually though, Durant says it was the media that ultimately stopped him from reaching out to Russell.

"I wanted to ask Russell, like, 'How's your family doing man? How do you feel?' Stuff normal people talk about," he said. "But there's just so many cameras watching, and it's: 'Oh, what are they talking about? They didn't look at each other, they didn't say hi.'"
It's quite the reveal, and just might open the door for the duo rekindling the friendship sometime in the future That is, unless the Warriors and Thunder clash in the playoffs some time this spring, because then it'll have to wait.
Check out the entire podcast below, including the Russell comments beginning at the 21:20 mark.