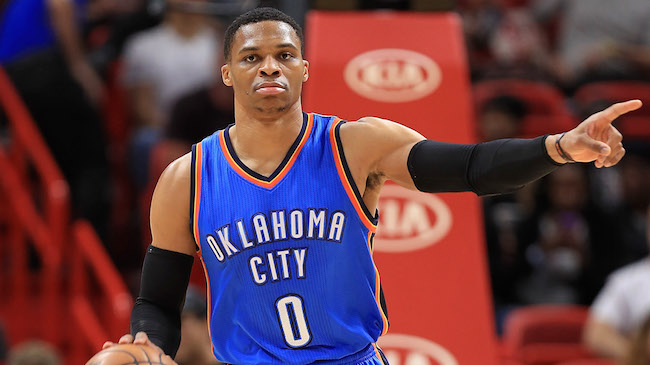 Mark Cuban is not one of Russell Westbrook's biggest fans. The outspoken Mavs owner has long questioned Westbrook's stature as one of the league's elite players. Most recently, he insisted that Westbrook is still not a superstar and doesn't belong in the MVP conversation with James Harden and LeBron James, despite averaging a triple-double per game.
Westbrook and the Thunder got to play the Mavs for the first time since those early March comments on Monday night, and Westbrook put up 37 points, 13 rebounds and 10 assists against Cuban's Mavs, while leading the Thunder back from a double-digit deficit late in the fourth quarter. Westbrook's final points came on the game-winner for Oklahoma City, as he capped off another tremendous individual performance with a shot to lift his team to victory.
After the game, Westbrook was asked if he had a little extra fire in him since he was going up against Cuban's Mavs, with the opportunity to make him eat his words a bit. Westbrook insisted that wasn't the case, and said he played this game like every other.
"I play every night the same way," Westbrook said. "I go out and compete. I go out at a high level each and every night, and what he says doesn't even matter to me. He's going to do his job and I'm going to do mine."
This seemed like a genuine response from Russ, not just a snarky, dismissive comment. I believe him when he says he doesn't care about what Cuban has to say — about him or anything else — and considering this was his 37th triple-double of the season, it certainly stands to reason that this was simply business as usual.
(h/t Complex)