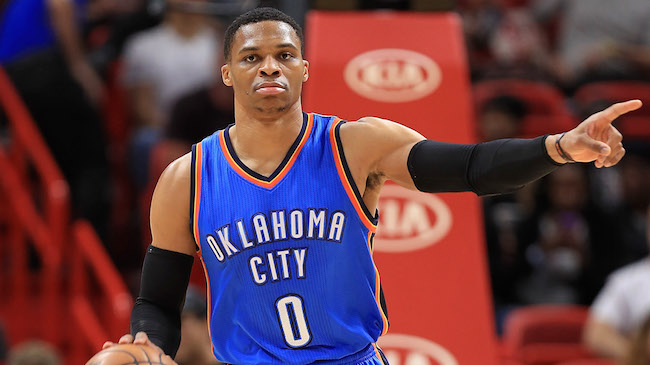 Now that the 2016-17 NBA season is over, it's time for us to look back on all the really cool stuff that happened over the course of this year. For example, it's been a while since we discussed the fact that Russell Westbrook put forth an MVP-caliber season down in Oklahoma City.
To be clear, I don't mean his overall year is worthy of the MVP, although he is probably the frontrunner after averaging a triple-double and setting the league record for triple-doubles in a season. No, I mean he put forward an MVP-caliber season when it came to the Shaqtin' MVP, given to the player whose performances on Shaqtin' A Fool were the most… uh, MVP-worthy?

Westbrook narrowly edged out Boston guard Marcus Smart for the "honor." This is kind of a perfect representation of Westbrook's season – he was so reckless at times that it made for a number of hilarious lowlights on a Thunder team that needed him to be great to win.
Of course, he was outstanding more often than not, which is why there's a good chance he walks away with the League MVP award in a few weeks. Until then, he'll be known as the 2016-17 Shaqtin' MVP. Hopefully he gets a trophy or something for this.

At the very least, he's being a good sport about it: