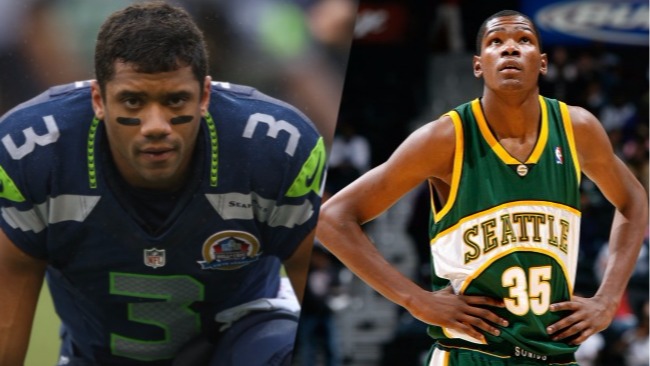 After Seattle's hopes of getting their basketball team back took a huge hit this week, the campaign to bring back the SuperSonics picked up a huge local supporter — Russell Wilson.
The Seattle Seahawks quarterback took to Twitter on Tuesday night to voice his desire to resurrect the Sonics, even suggesting that he wants in on a petition to bring the team back home.
Wilson's support is likely appreciated by the people of Seattle, but it's probably not going to do much. It certainly seems that there's no shortage of fan support for the possibility of a SuperSonics revival, but the actual process of luring the team and the NBA back to the city has hit quite a few bumps in the road over the past handful of years.
Regardless, the fact that there's basically been a campaign to bring the team back since it was moved to Oklahoma City back in 2008 is promising. The local support and love for the Sonics doesn't appear to be going anywhere, so the pressure is on the city to figure out a plan to revitalize the franchise.
Will Russell Wilson still be the Seahawks' quarterback and Seattle sports icon if/when that happens? Well, that's up for debate.