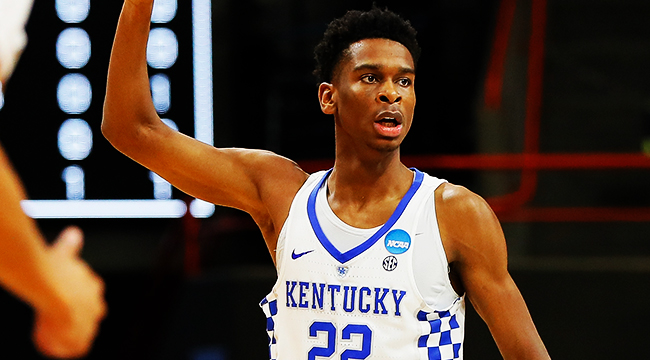 LAS VEGAS — It took a dose of The Starters to help bring Shai Gilgeous-Alexander back down. Minutes earlier, Gilgeous-Alexander had wrapped up a tremendous individual performance on his side of a fun tete-a-tete with Houston Rockets rookie De'Anthony Melton at Thomas & Mack Center at Las Vegas Summer League. It was one of the best head-to-heads of the tournament so far, and while Gilgeous-Alexander came out looking great — 25 points and a well-stuffed stat sheet around them — he was perturbed by a 104-90 loss.
"I don't even care about my good game," Gilgeous-Alexander said on the walk back from The Starters set on the upper concourse to the parking garage. "It wasn't worth it in the end, I guess you could say. I'd rather have a bad game and win than have a good game and lose. The ultimate goal is to win, and if I don't do that, I don't feel satisfied."
As they are wont to do, The Starters brought the necessary levity to allow Gilgeous-Alexander to put the loss behind him, at least momentarily. His fellow Canadians presented him with an ice cream cake for his upcoming 20th birthday, baited him to pander to his home country by choosing Tim Hortons over Starbucks (despite not being a coffee drinker), and opened him up about his trend-setting draft-night floral pattern.
Gilgeous-Alexander's charming smile got to take the stage for those few minutes, replacing a competitive scowl that still wasn't far from his mind as the segment wrapped.
"Yeah, it was fun," the Clippers' rookie said in retrospect. "Lighten up the mood a little bit, obviously just losing. But it was fun."
Clearly, Gilgeous-Alexander is not taking the attitude that wins and losses matter less here in Summer League. The Clippers are 1-2 ahead of the elimination rounds, making it tough for Gilgeous-Alexander to enjoy any of his own individual success, of which there's been plenty. This, more than anything — more than the length, more than his preternatural feel for angles and how to vary tempo, more than his defensive upside — is what drew the Los Angeles Clippers to the Hamilton-born guard and enticed them to use the No. 11 pick on him.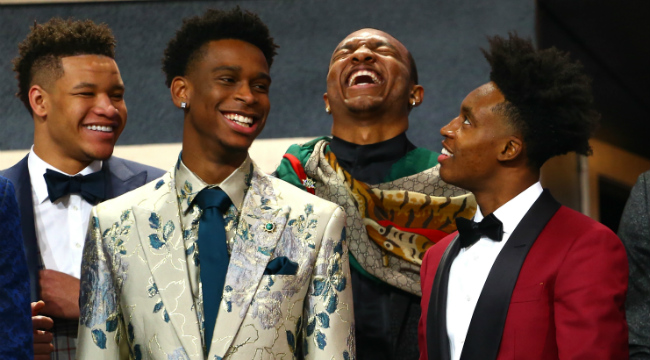 "He's a tough kid, man, and he loves basketball," Summer League head coach Casey Hill says of the young guard. "He's taking this very seriously. This is his profession. It's very apparent when you talk to him and when you watch him conduct himself in these early stages as a pro. He's got a long career ahead of him."
The Clippers knew early, too. Gilgeous-Alexander somewhat mysteriously stayed off the radar of the hectic pre-draft workout circuit, knowing early where he wanted to land. Adrian Wojnarowski of ESPN reported in the lead-up to the draft that few teams had been able to see him in a workout setting despite heavy competition at the point guard position in the lottery. Gilgeous-Alexander at least participated in the Draft Combine, wowing with a 6'11 wingspan to accompany his 6'6 height and posting a class-low three percent body fat, but the rest of his process remained in the shadows.
It worked out. Contrary to rumors of the Clippers potentially trading out or his hometown Toronto Raptors having interest, the Clippers actually surrendered a pair of future second-round picks to Charlotte to move up one spot and make sure they got their point guard of the future.
"I went to the place I wanted to go to, so that's always a good feeling," Gilgeous-Alexander said.
Maybe point guard of the future undersells just how ready Gilgeous-Alexander is for all of this. The Clippers are deep at the guard spots after re-signing Avery Bradley, who joins holdovers Lou Williams, Patrick Beverley, and Milos Teodosic (fellow lottery pick Jerome Robinson can play the two-guard, as well). If his spot-up shooting comes along, he can play alongside most of those names, and he's a particularly interesting defensive fit next to Beverley. Already, Gilgeous-Alexander looks like he's the best all-around guard on the roster, and the buzz around Summer League is that the Clippers will hand him the keys on day one if he's ready.
So far, so good in that respect. The usual Summer League caveats apply, but Gilgeous-Alexander has been the best rookie point guard in Vegas, averaging 19.7 points, five rebounds, 3.3 assists, two steals, and one block over three games. He hasn't shot terribly efficient thanks to a shaky first outing and an errant three-ball all week. That poor early shot selection was a little troubling and at the same time the encouraging type of crime of commission you look for from a point guard making the jump from NCAA to the NBA, where passivity can be a bad harbinger.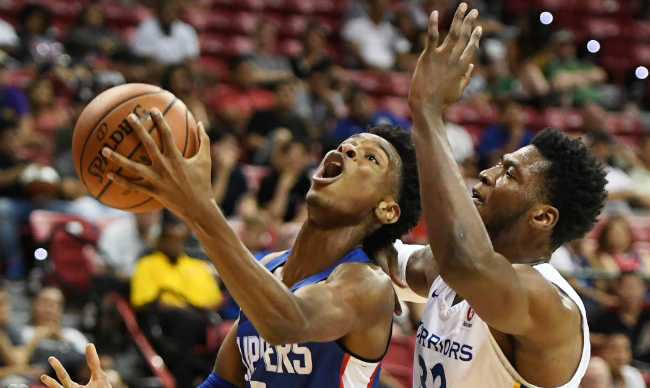 "There's a steak in there, but we have to trim a little fat," Hill offered with an all-timer analogy.
Those choices improved his next two times out, and he found pockets to unleash a nascent pull-up jumper. His feel for running an offense is obvious, and against Houston he struck the right mix of initiating for himself and finishing around the rim and using that penetration to spray out to teammates. In just a few short days, Gilgeous-Alexander's ability to navigate in the pick-and-roll and decision-making attacking in isolation have taken steps forward — he can get to the rim at will when he identifies a seam early, has elite body control on the move and in the air, and is very creative on the move — and as the game slows down further, the Clippers believe his feel for how and when to take over will let him be a general for their offense.
"I think that kind of experience for him is really what Summer League is all about," Hill said on Monday. "He kinda figured some things out tonight. We talked about it right after the game, I said, you flipped to another gear, which was great for him. We'll show him the film and hopefully it's something that he's found and he can get himself back to a little more often."
Meanwhile, his defense has come exactly as advertised. Gilgeous-Alexander gets his hands on everything, tipping passes and poking steals free to kick-start the transition attack. Even with Melton posting a strong game opposite him on Monday, Gilgeous-Alexander heats the ball up, getting into the chest of opposing guards, leaving little room to operate around his immense wingspan, and using his big hands to paw away and keep the opponent uncomfortable. He's slithery around screens, too, and is nearly as good off the ball as he is on it. All told, it looks like he could be the rare rookie guard who is a plus defensively despite some concern about his thin frame, and his intelligence at both ends makes him almost unfair in Vegas, where there is ample opportunity to punish mistakes.
The Clippers haven't told Gilgeous-Alexander exactly what to expect in terms of a role out of the gate in 2018-19. He's been told to focus on his leadership on and off the floor — legitimate potential strengths for an already well-liked, lead-by-example type — and finding the right balance between scorer and playmaker, something his freshman year in a shared lead-ball handler role at Kentucky expedited.
"They just want me to play basketball and do what I do, just make the right plays," Gilgeous-Alexander said. "I think the biggest thing is the pace and the physicality in this pro game. Just getting more adjusted to that each and every game is what's happening. I feel like I'm getting better each and every game. That's what I want to accomplish. Regardless of how the numbers look, and stuff like that, I just want to get better each and every day."
Through that lens, or any other, his first turn in Summer League has been a success so far. It might be unfair to expect Gilgeous-Alexander to hit the ground running quite like this when the NBA season gets underway. But if he makes the same type of progress as he quickly learns from mistakes and adjusts to speed at the next level, it's not going to take a visit with The Starters to have Clippers fans smiling through any bumps in that process.