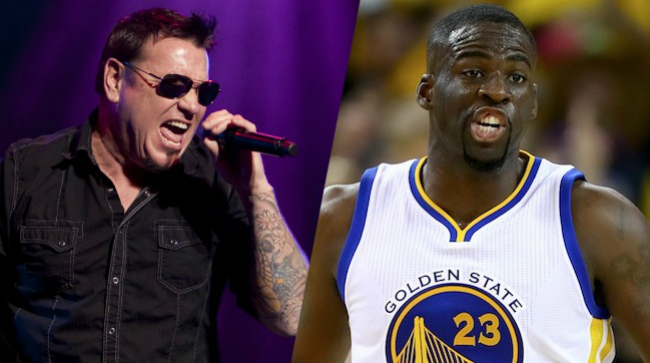 We're only seven days into 2017, but we already have a clear frontrunner for feud of the year. On one side, we have Draymond Green, a professional basketball player who is better at hoops than approximately 99.99999999 percent of all human beings. On the other, we have Smash Mouth, a band which once proudly proclaimed "I ain't the sharpest tool in the shed" and covered "I'm a Believer" for the soundtrack to Shrek.
Recently, Smash Mouth has undergone a transformation from "band that exists" to "angry Bay Area sports fans on Twitter." Most notably, the band has gotten into it with the Oakland Athletics, a feud which led to the Chicago Cubs subtweeting the As. It's been incredibly weird.
Anyway, the band is now setting its sights on Green. Why? Well, it seems like they take issue with Green yelling at Kevin Durant during Golden State's collapse against Memphis on Friday night.

Green is one of the NBA's most vocal players, both towards the media and with his own team. He is not afraid to get in a teammate's face when necessary, and this usually works out well for the Warriors.

But Smash Mouth was having none of this, going as far as to say that it may be time for the team to get rid of him and that someone should knock Green out. This is funny, of course, because every other NBA team would love it if Golden State got rid of its heart and soul. It's also a dang shame, because just a few days ago, it seemed like the two sides were on good terms.
Will Green respond? Is he even aware this is happening? Can we get a "Draymond vs. Everyone in Smash Mouth" fight at that event where Kenyon Martin is boxing Tim Thomas? We need this.
(Via SI.com)