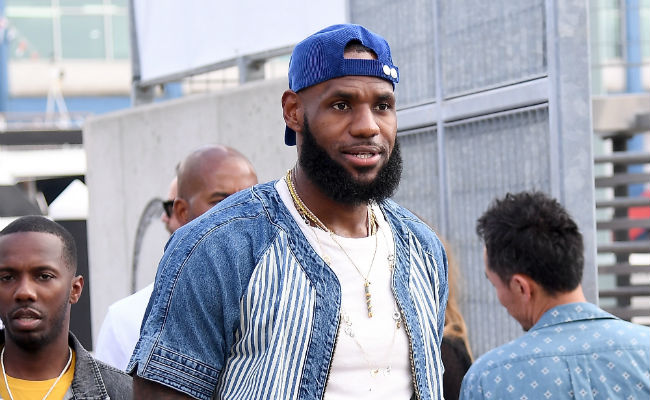 LeBron James has taken to life in Hollywood about as quickly as you'd expect from someone who has lived there for three years already. But now that his full-time job is based out of Los Angeles his other endeavors with SpringHill Entertainment have taken off as well.
The most notable of those endeavors is, of course, a new Space Jam movie. SpringHill officially unveiled that LeBron would star in the film alongside Bugs Bunny, and the huge get for production is Black Panther director Ryan Coogler, who will serve as a producer on the film. The biggest question, outside of which NBA stars will get their powers stolen by Monstars, is will one former NBA great — and hero of the original Space Jam — appear in Space Jam 2?
James and SpringHill have made it clear that the movie is not a sequel as much as a Space Jam film set somewhere in the Space Jam universe at, you know, another Space Jam Time. But whether that time involves both James and Jordan is very much up in the air. James spoke to The Hollywood Reporter in a lengthy profile that chronicled his involvement in the entertainment industry and his very busy summer.

The Space Jam 2 tidbits in the piece, however, focus on expectations for the film and whether Jordan will reprise his role as a very stretch-armed version of himself. And James friend and business partner Maverick Carter had a pretty great line: it's up to Jordan, who is allowed to do whatever the hell he wants.
"We'll see," says Carter, "Hopefully there will be a role for Michael if he wants it. But Michael Jordan is Michael Fu*kin' Jordan. It doesn't matter calls him, he's gonna do whatever the hell he wants, which he has earned that right to do." And then he adds: "LeBron and Michael are not sitting around talking about Space Jam."
Space Jam 2 was an inevitability when you consider the current landscape of professional athletes dipping their toes into Hollywood. Where Jordan's role in the live action/cartoon won't be decided by anyone but him. But Carter made it clear that the bar is set high for the second movie in the now-franchise.
"There's already been one that was good, we gotta make a film that's great," Carter told THR. For James' part, he seems to be taking his first ever lead role in a movie very seriously. The Laker spoke about the movie's impact on him and other kids growing up and said it's "humbling" to think of himself having a similar impact than Jordan.
There's still an entire NBA season to go before the movie will reportedly begin filming, but the hype would obviously go through the roof if Jordan did sign on to hang out with the Looney Toons like he did 22 years ago.