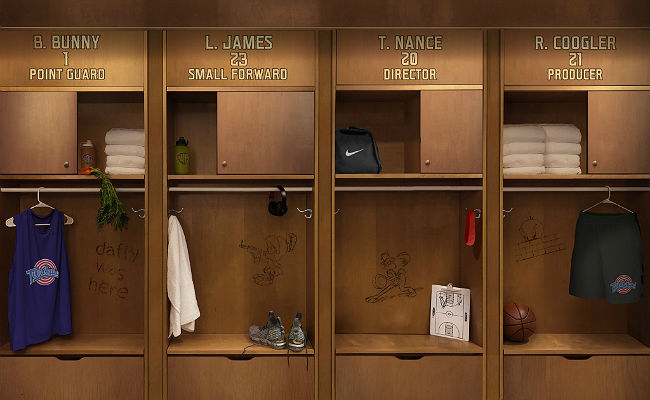 Space Jam 2 is finally happening, and LeBron James is indeed taking Michael Jordan's place in the role of NBA player saving the cartoon world.
James' SpringHill entertainment announced on Wednesday that the live action/cartoon feature starring Michael Jordan and Bugs Bunny is indeed getting another installment in the basketball/cartoon universe. The original Space Jam, released in 1996, quickly became beloved among sports fans. The plot centered around a retired Jordan, playing minor league baseball, getting kidnapped by and later helping the Looney Toons win a basketball game against The Monstars, who have stolen their basketball powers from some of the NBA's best players (and Shawn Bradley). Fans had long clamored for a sequel, and when James started appearing in movies the heavy speculation was that he could take over the franchise now that Jordan is in retirement for good.
Earlier in the year, SpringHill caused some speculation when it posted an image of the original Space Jam movie's website, which to this day remains active on the web. And on Wednesday, SpringHill's Twitter account posted a picture of a locker room with nameplates for James, Bugs and the director and producer for the movie, a clear indication that the highly-anticipated sequel to the beloved basketball movie is a go.
According to the graphic, Terence Nance is slated to direct and Ryan Coogler will produce the film. Locker room graffiti also indicates that Looney Toons characters Daffy Duck, Lola Bunny, Marvin the Martian and Tweety Bird will also appear in the film in some way. All were characters on the Toon Squad in the original film, so it makes sense that they all reprise their roles in some way.
Coogler, who scored big earlier in 2018 when he directed Black Panther, is a huge get for the project. And indeed, The Hollywood Reporter said on Wednesday that Coogler has been attached to the picture, "tentatively" scheduled to shoot in the summer of 2019. James, who spoke publicly about the importance of Black Panther to people of color shortly after the film's release, raved about Coogler and his involvement to the publication.
Getting Coogler, whose films also include Creed and Fruitvale Station, is a coup. The director is among the industry's most sought-after artists. Not only did Black Panther break ground as a superhero movie from a black perspective with a black cast, but it has set a number of box office benchmarks on its way to grossing $1.34 billion worldwide – including becoming the highest grossing film by a black director.

"I loved his vision" for Black Panther, James tells The Hollywood Reporter, noting that when he was a kid growing up in Akron, Ohio, there were no black superheroes. "So for Ryan to be able to bring that to kids, it's amazing."
James appearing in Space Jam and essentially replacing Jordan is another weird subtext to the never-ending debate about whether James is the greatest basketball player ever or if Jordan still retains that role. But LeBron told THR the movie is not about that debate, but for a new generation of kids to be influenced by what many hope to be an instant classic.
"The Space Jam collaboration is so much more than just me and the Looney Tunes getting together and doing this movie," says James, "It's so much bigger. I'd just love for kids to understand how empowered they can feel and how empowered they can be if they don't just give up on their dreams. And I think Ryan did that for a lot of people."
There's no word on exactly who will appear in the movie other than LeBron, but as NBA athletes have branched out into entertainment and film more and more the chances to get good acting performances out of charismatic stars seems high here. Even some of the stars of the first film have their own wish lists for the roles, which means the next few months of casting and filming will be extremely fun to watch play out.
It doesn't appear that the film is a true sequel, though, so James might not be truly taking Jordan's place in the universe.
Jordan appearing in the film would be a cool nod to those nostalgic for the first film, but it seems like that kind of role would be minor if he agreed to take part. For now, though, James is definitely leading the way in the Space Jam universe.