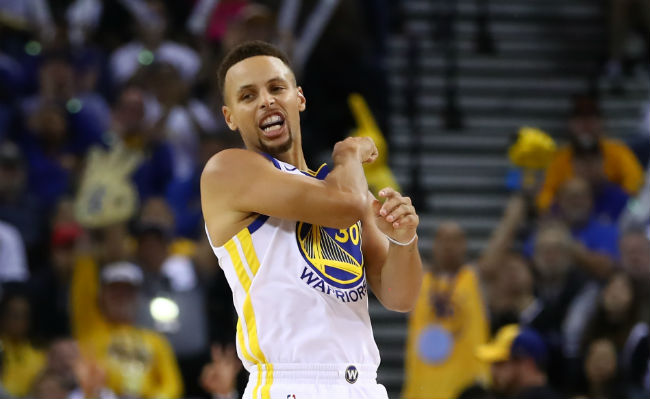 The Warriors suffered their second loss of the season on Saturday night in Memphis, falling to the Grizzlies 111-101 and dropping to 1-2 on the year.
It was, as one would expect, a frustrating game for the Warriors as they continue to seem sluggish to start the season, not executing at their accustomed incredible level. Whether the championship hangover or their preseason trip to China messing with their body clocks and conditioning, the Warriors aren't the Warriors right now.
That frustration boiled over towards the end of the loss in Memphis for two of the Warriors' stars, as Steph Curry and Kevin Durant both got ejected. Curry was the first to get ejected and earned his boot from the game in flamboyant and dramatic fashion, hurling his mouthpiece at an official after failing to get a call.

It's an incredible moment of aggression from the relatively mild-mannered Curry, and one that was certainly worthy of an ejection. Durant was then tossed for further arguing with the officials after Curry was thrown out, joining his fellow former-MVP teammate in the locker room early, and got into with a fan, telling them he's got a ring and pointed to his ring finger.
Durant clarified, for any questions (as we initially had) about it being a middle finger or ring finger, that it was indeed the ring finger he pointed to.

This isn't the first time Curry throwing his mouthguard have gotten him in some hot water, as he was fined for pelting a fan with a mouthguard that he threw in frustration after fouling out back in the 2016 Finals. One would expect another fine to be coming to both Curry and Durant for this outburst, and we'll likely know how much those fines are soon.