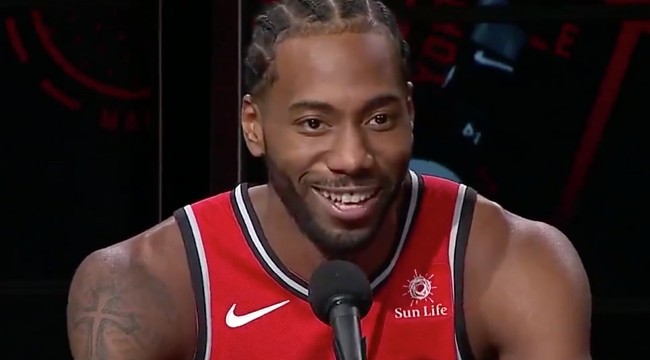 Kawhi Leonard's journey as a Toronto Raptor, one that could potentially end Monday night with the Larry O'Brien trophy held high above his head, began with a laugh. A terrifying, possibly not-human laugh.
At his introductory press conference during Raptors media day after being traded from the San Antonio Spurs, a reporter asked Leonard what he'd like people to know about him. Leonard answered by saying "I'm a fun guy," a phrase that has since been placed on t-shirts produced by New Balance, and finished with the now-infamous laugh that's been looped and memed into oblivion.
Klay Thompson gave the Kawhi Laugh new life when he appeared to imitate it during a recent media availability, and now Stephen A. Smith has done the unthinkable: made Leonard's chuckle truly horrifying. Sitting down for a chat with ESPN's Katie Nolan, the First Take host answered a question about what Finals player he'd want to commit a crime with, and what said crime would be.
https://twitter.com/stephenasmith/status/1138163739981754368
"Rob a bank. For tens of millions of dollars," Smith said. "And the person that I would choose to rob a bank with is Kawhi Leonard, because I don't have to worry about him telling a damn soul."
Nolan then asked Smith what it would sound like after the two had successfully pulled off the heist and were laughing and counting their money together and, well, just take a listen.
Thank you, Stephen A., for the nightmare fuel.