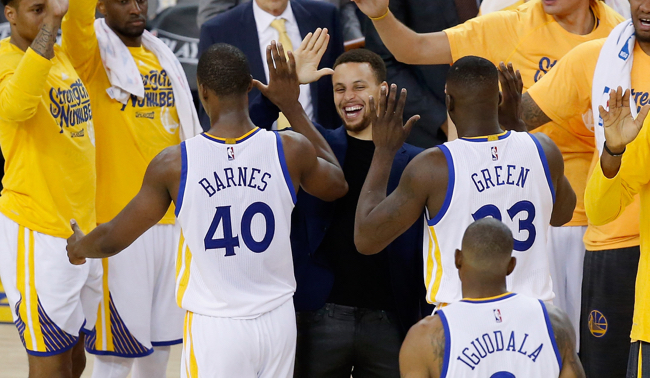 Steph Curry has already made it known that he'll try to play through his MCL injury, even if he isn't 100 percent. The question now is when that will be, exactly. Head coach Steve Kerr mentioned Curry did some stationary shooting over the weekend that there was a "slim" chance he would play on Tuesday for Game 2 against the Portland Trail Blazers. Those odds appear much greater for the Warriors in Game 3.
"To me they're pretty good, so I'll do anything I can this week to make that happen," Curry said via ESPN.com.
The initial prognosis was that Curry would be out for up to a couple of weeks with May 10 being the rough deadline for a re-evaluation (not even a return).
Still, the Warriors have been fine without Curry so far. The only blemish on an otherwise perfect record was James Harden's game-winner in Houston in the first round of the playoffs, and hell, his own teammates weren't happy with it. It speaks volumes that the Warriors have still been this good without the reigning (and likely repeat) MVP, but this is a team that's also shown some versatility in Curry's absence. What makes Curry so valuable is his role as a No. 1 in addition to his sharp shooting. Even guys like Draymond Green have helped out in ball distribution over the past several games.
Whether it's in Game 2 or Game 3, it appears Curry will play this series. What might be interesting to watch, however, is if Curry can't play and the Warriors still get out to a 3-0 lead. In that instance, Kerr might be content resting Curry again under the assumption that the Western Conference Finals would be right around the corner.
(Via ESPN.com)