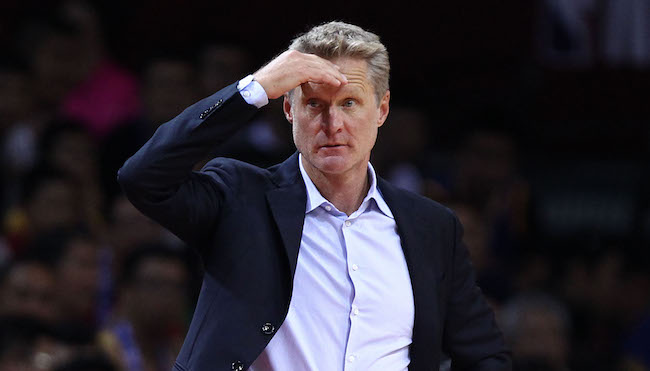 The antics of LaVar Ball have been a topic of conversation for months and, with his recent comments regarding Lakers head coach Luke Walton, the sideshow has moved to the main stage. Things escalated when Mavs head coach Rick Carlisle torched ESPN for writing about Ball's thoughts on Walton and, since then, Lonzo Ball, Kyle Kuzma and even Walton himself have been forced to weigh in on the entire saga.
On Monday evening, a very prominent member of the NBA coaching fraternity was prompted about Ball and, when Steve Kerr voiced his feelings, they were interesting in a number of ways. Not only did Kerr avoid blaming ESPN singularly for the ruckus, he compared Ball unfavorably to the Kardashian family and even took the media as a whole to task.
"This is not an ESPN judgement, it's a societal thing more than anything," Kerr said. "Where we're going is we're going away from covering the game and we're getting closer to just sensationalized news. It's not even news, really, it's just complete nonsense. But if you package that irrational nonsense with some glitter and some ribbon, people are gonna watch.

"I've talked to people in the media this year," Kerr continued. "I've said 'Why do you guys have to cover that guy?' They say 'Well, we don't want to, nobody wants to, but our bosses tell us we have to because of ratings, because of the readership.' So somewhere, I guess in Lithuania, LaVar Ball's laughing at all of us, people are eating out of his hands for no apparent reason other than he's become, like, the Kardashian of the NBA and that sells."
It certainly isn't a surprise that Kerr would not be on LaVar's side in this situation. With that said, his criticisms bring even more weight considering the time he spent in the media as a television analyst and, in short, these are feelings that many have expressed privately over the last several months.
LaVar Ball isn't going away but, with the way NBA coaches are feeling about him right now, the story has seemingly taken a turn.
Check out our DIME podcast this week with Jim Miller, author of ESPN the book. Subscribe on iTunes.
[protected-iframe id="977a8a9835979403c4646f34b2adbf70-60970621-10222937″ info="https://omny.fm/shows/the-dime-podcast/episode-14-jim-miller/embed?style=artwork" width="100%" height="180″ frameborder="0″]