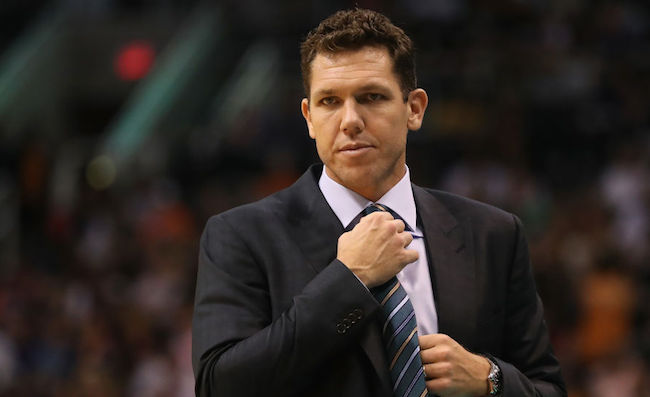 Sunday morning the NBA world woke up to a new interview with LaVar Ball from ESPN's Jeff Goodman, all the way over in Lithuania, in which Ball escalated his (until then) simmering feud with Lakers coach Luke Walton.
Ball basically called for Walton's firing, noting that he'd lost the locker room, had no control over the team and was too young to coach them going forward, especially if they were to land a superstar this summer. His comments sparked plenty of conversation, with little of it being about whether he was right or wrong (he might be!) and most of the discussion being about whether he should be talking about the coach on his son's team and even about whether ESPN should be running that story.
Lonzo shrugged off the comments when asked about them, choosing to say that was just LaVar being LaVar and noting he'll "play for anybody," which wasn't exactly a strong endorsement of Walton. The coach responded by defending himself and his stance with the team and organization, which the Lakers backed up by floating it out anonymously that firing Walton wasn't even under consideration. Mavs coach Rick Carlisle blasted ESPN for the story and there were even grumblings that coaches would push for credentials to be revoked for those that interview the Ball family patriarch.
In the end, the comments didn't seem to phase the Lakers in the slightest, as they put an end to their 9-game losing streak by crushing the Hawks (the only team in the NBA with a worse record than L.A.) 132-113 at home. Lonzo had 13 points, 10 rebounds and six dimes in the game, but Walton shook up his rotations just a bit, pulling Ball earlier in the first and third quarters than usual. After the game he was asked about that change and decided to joke about it being LaVar's fault.

"His dad was talkin' sh*t so I took him out early," is a pretty phenomenal line from Walton. Who made sure to quickly say he was just kidding and then went on to elaborate with an actual answer.
"Part of what we're trying to do is with the different groups, and now that Kuz is with the second unit that the two of them play really well together," Walton said. "So we've talked about getting him out earlier and in to start seconds, but he actually came up to me halfway through the first and asked for a sub. He said he was a little tired, so we put Tyler in. In the third it was the same thing, he looked tired. He didn't ask for one, but I called him over and asked him how he felt and he kinda gave me the head nod."
It's a good sign that Walton can make jokes about this, because it seems like to be able to deal with LaVar as the father of one of your star players you're going to have to have thick skin and the ability to laugh about some things, even when it's vitriol directed at you. Walton's joke went over really well in the media room, as you can tell by the laughter, but we'll have to wait and see for a reaction to it from the Balls, if there is any.
Check out our DIME podcast this week with Jim Miller, author of ESPN the book. Subscribe on iTunes.