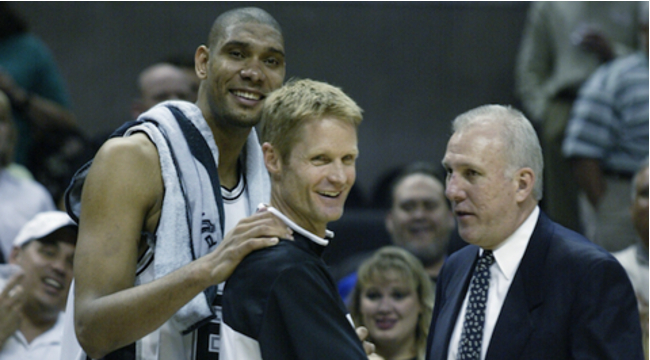 Monday night's showdown between the Golden State Warriors and San Antonio Spurs is probably the most anticipated game of the season so far (yes, even moreso than last week's anticlimactic Finals rematch). They boast the two best records in the NBA, have yet to play each other, and are the prohibitive favorites to meet in the Western Conference Finals, a series that many believe will ultimately determine who takes home the NBA title in June.
Monday's matchup features the league's best offensive juggernaut versus the league's stingiest defense, but according a report from earlier today, the Spurs will be without their frontcourt anchor Tim Duncan, who will sit out with a sore knee. That'll come as a disappointment to NBA fans everywhere. But for Steve Kerr, who himself recently returned from a prolonged medical vacation, the 39-year-old Duncan's absence isn't much of a surprise, seeing as how he's all old and whatnot.
Reminder: Duncan and Kerr were teammates in San Antonio for three seasons. They're friends.
Timing of the five-time champion's absence is curious, of course, being that Gregg Popovich has become notorious for resting star players in big games over the years, in many cases quite simply to make a point and exert his dominion over the inner workings of his team. Nevertheless, as Kerr pointed out, Duncan is, in fact, old.
And despite how much stock everyone put into that other over-hyped game last week, Pop and company all understand that an arguably meaningless regular-season game in January has little bearing on what will happen when they inevitably meet in the playoffs this spring.