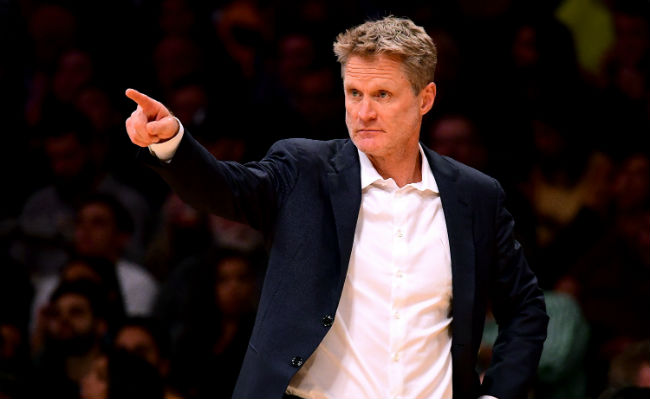 The Golden State Warriors have looked a bit out of sorts in the last few games. Any sign of weakness from the reigning NBA champion will draw some attention, but a string of ejections from games is certainly worth some discussion.
The latest incident happened on Monday night, when Kevin Durant was ejected along with DeMarcus Cousins in a game against the New Orleans Pelicans. The two reportedly had to be separated near the locker rooms after their ejections.
That would merely be a strange, out-of-character story for Durant if he hadn't already been ejected from a game in recent weeks. And Golden State Warriors head coach Steve Kerr appears to have had enough of his team's lack of focus.

Kerr told reporters after the game that the complaining the Warriors have done in recent games is "absolutely too much" and laid into them for not acting like a poised, championship team.
"We're not composed out there. We're a championship team," Kerr said. "We have to be poised and we have to execute out there. We're getting way too emotional, myself included. I have to do a better job of that, too. But you got to show some poise when things aren't going our way. Stop worrying about everything else and worry about the game."
It seems like everyone is frustrated with what's happening in Golden State, both the players and head coach. It seems like something that will work itself out eventually, but it definitely is strange to see this Warriors team so publicly volatile.