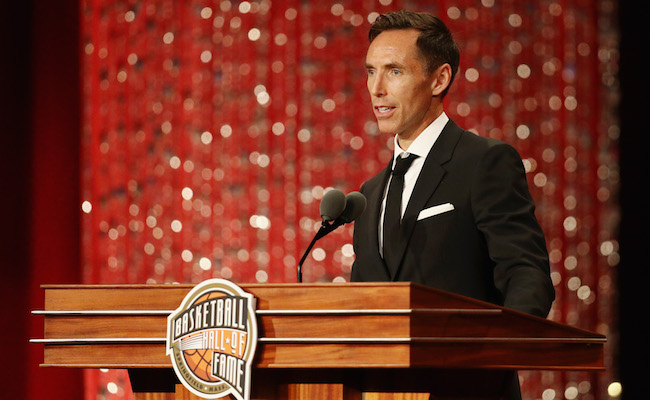 On Friday evening, the Basketball Hall of Fame welcomed a 13-member class with its annual induction ceremony. Headliners in the proceedings included Grant Hill, Jason Kidd and Steve Nash. And while the night was memorable in a number of ways — including some notable fashion choices — Nash stole the show with his induction speech.
He discussed his upbringing and introduction to basketball, including a late arrival to the sport and the influence of Michael Jordan.
Later, he had a special message for Dirk Nowitzki and Michael Finley from his time in Dallas.
And, of course, he had appreciation for his Suns teammates after spending MVP campaigns in Phoenix.
Finally, though, Nash delivered an inspiring message for today's youth after referencing and focusing on his own children.
"Find something you love to do," Nash said. "Do it every day. Be obsessed. Balance can come later. Use your imagination. Put pen to paper. Declare your intentions. Set small goals. Knock them off. Set more goals. Gain momentum. Build confidence. Grow a deep belief. Outwork people. Play the long game. You don't have to be the chosen one."
"The secret is to build the resolve and spirit to enjoy the plateaus," Nash continued. "The times when it doesn't feel like you're improving and you question while you're doing this. If you're patient, the plateaus will become springboards. Finally, never stop striving, reaching for your goals until you get there. But the truth is, even when you get there, even when you get here standing on this stage, it's the striving, fighting, pushing yourself to the limit every day that you'll miss that and that you'll long for. You'll never be more alive than when you give something everything you have."
Make no mistake, Nash was a tremendous athlete during his basketball prime but, in the same breath, he didn't necessarily possess the natural physical gifts of the typical Basketball Hall of Fame inductee. This is a window into his singular drive for success and, while not everyone can become a player with the type of wizardry he was able to display consistently throughout a legendary career, Nash's uplifting challenge is one that kids should take to heart.