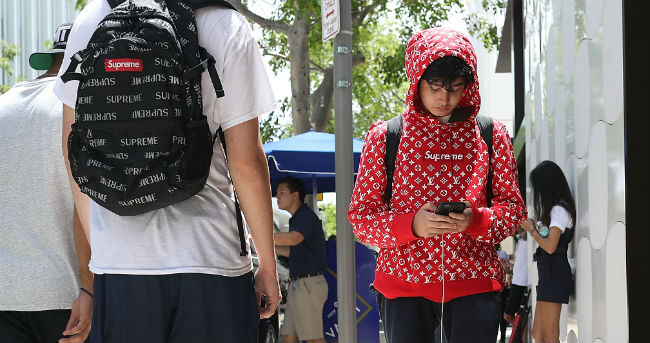 Supreme is a hot word on the lips of many in the NBA these days, but for some the brand has seemingly come out of nowhere. When Kelly Oubre Jr. sported a Supreme shooting sleeve made by Nike on Tuesday night, a certain subset of NBA fans on social media freaked out.
Many were perplexed by the look, or why he was asked to remove it and spoke out against the absurdity of his wardrobe change after the game. But the skateboarding company that was founded in 1994 is much bigger than a brand that's a hot commodity these days. In fact, the ridiculous lengths people go to get Supreme gear is a peek into the high-stakes world of fashion that's lingering just below the surface of life in the NBA.
J.R. Smith was also spotted in a Supreme shooting sleeve on Thursday night when the Cavaliers hosted Lonzo Ball and the Los Angeles Lakers. Once again, while many were focused on LeBron giving secret advice to Ball after the game, a huge portion of NBA Twitter was raving about Smith breaking out the Supreme X Nike gear in live NBA action. But why?

If you don't know what Supreme is or why it's such a big deal to NBA players, that's OK. You're probably not as out of the loop as you think you might be, you just don't shop vintage as aggressively as some in the streetwear community including Oubre and other NBA stars. The Score took a look at what makes Supreme so popular among NBA players and dove into just how difficult it is to get Supreme gear these days.
Today, it's become next to impossible to buy Supreme apparel at retail price. The brand releases new products every Thursday, which means lineups outside its stores in New York, Los Angeles, London, Paris, and Japan. The products are also made available online, but the most coveted items sell out in seconds.

Oubre discovered Supreme in high school, when it was easier to purchase what he wanted. Now, he visits vintage stores like Round Two and high-end online resale sites like Grailed to find the pieces he covets, even though it requires him to pay a premium.
Consider the now-sold out shooting sleeve Supreme put on sale recently. It went for $38 dollars retail and is now impossible to find. A cursory search on eBay reveals that the lowest bid for one is $40, and that's sure to jump up by the time the auction went final.
The point is that showing up on the floor with one like Oubre and Smith did gives them huge street cred in the style community, and in a league where style on the court is just as scrutinized as it is off it, skirting the NBA's rules for a bit of shine is a no-brainer. For Oubre, who simply concluded the sleeve was too "wavy" for the NBA to handle, getting rare Supreme gear is more of a way of life than a hobby.
"That's hypebeast," Oubre told The Score. "If you stand in line, you either really want the product or you're a hypebeast. I do it for the love."
Still, even Oubre has his limits. When Chris McCullough, a teammate, told The Score he'd pay upwards of $1500 for a Supreme t-shirt with its basic logo on it, the Wizards guard had found his breaking point.
"He's crazy," Oubre said. "The box logo is the wave, I love the box logo to death, but at the end of the day, I would rather pay $1,500 for a nice coat, something I can keep for a long time because T-shirts, they shrink and stuff."
Even a hypebeast, it seems, has his limits.