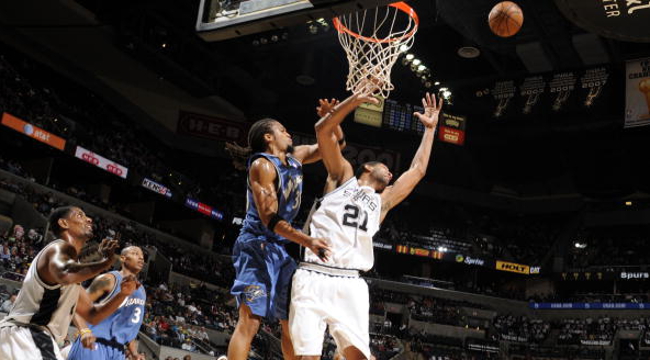 It's a bittersweet day in the NBA. After Tim Duncan announced his retirement, capping off a brilliant 19-year career that has solidified his place as one of the greatest players of all time, the tributes came pouring in. Still, the five-time champ leaves the game as something of a paradox.
He was one of the fiercest competitors in league history, but he was also one of the most stoic, understated players we've ever seen, that supremely rare breed of reluctant superstar who shied away from media attention and who betrayed precisely zero interest in developing his personal brand (one of my very favorite Onion articles is about Duncan signing a shoe deal with Florsheim).
Everyone he's ever played with has gushed about what a phenomenal teammate he was, but apparently that generosity of spirit sometimes extended to his opponents as well. Former NBA journeyman Etan Thomas posted the following story about Duncan on his Facebook page today to commemorate the Big Fundamental's illustrious career, and it almost feels like another one of those Onion headlines.
Only Tim Duncan would be kind enough to dole out tips to an opposing player on how to get a shot off against him more effectively, which might hint at a post-playing-career option as a player-development coach.