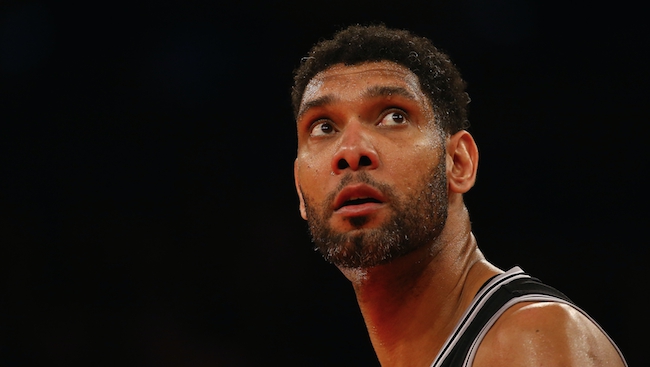 Times they are a changing for the NBA. In the wake of Los Angeles Lakers icon Kobe Bryant hanging it up for good at the conclusion of the 2015-16 season, another legendary member of the old guard has officially played his last NBA game.
Tim Duncan retired on Monday morning. The San Antonio Spurs announced the news in a release on their website.
San Antonio Spurs forward Tim Duncan today announced that he will retire after 19 seasons with the organization. Since drafting Duncan, the Spurs won five championships and posted a 1,072-438 regular season record, giving the team a .710 winning percentage, which is the best 19-year stretch in NBA history and was the best in all of the NBA, NFL, NHL and MLB over the last 19 years.
Rumors of the 40 year old's likely plans began surfacing early last week. Though Duncan was noncommittal on his future following the Spurs' loss to the Oklahoma City Thunder in the Western Conference Finals, his substandard performance suggested the end of his career had come – especially considering what Gregg Popovich told USA Today's Sam Amick earlier in the season.
"What [Duncan] has told me," he said, "is that the minute he feels like he's a hindrance to his team or he's not on the positive end or helping him, he's going to walk right off the court."
Duncan, by the way, was the linchpin of San Antonio's historically dominant defense in 2015-16. He ranked second in the league Defensive RPM, and his 93.8 defensive rating during the regular season was basketball's lowest mark among regular rotation players.
The future Hall of Famer played 19 seasons with the Spurs after being selected with the No. 1 pick in the 1998 NBA draft. As the cornerstone of San Antonio's two-decade dynasty, Duncan led his team to five championships and won three Finals MVPs in the process. He finishes his career as a 15-time All-Star, 10-time All-NBA First Team honoree, eight-time All-NBA Defensive First Team selection, and two-time MVP. Duncan, remarkably, never won Defensive Player of the Year despite his status as perhaps the most consistently impactful interior defender in the game since Bill Russell.
We'll miss you, Timmy.
(Via Spurs)