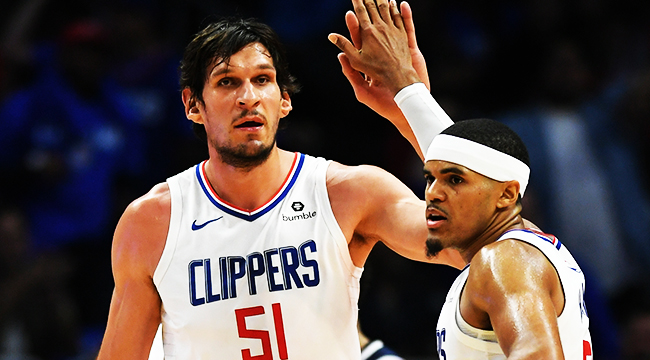 The NBA is a brotherhood. For every long-running beef — like the one between, say, Chris Paul and Rajon Rondo — there are dozens upon dozens of dudes that view one another as members of the same family. While there are guys who have been friends for a longer period of time, no friendship has captivated hoops fans quite like the bond that has formed between Clippers forward Tobias Harris and center Boban Marjanovic.
The two became teammates in Detroit and seemed to hit it off right away, as both players are oversized personalities (or, in Marjanovic's case, just oversized everything) that mesh perfectly with one another. The pair were traded to Los Angeles with one another in the deal between the Clippers and Pistons that sent Blake Griffin to Detroit and, ever since, hoops fans have fallen in love with the guys affectionately known as Bobi and Tobi.
Their friendship isn't just evident on the court, on their social media accounts, and in the video series the Clippers put out this summer. Thanks to Subway and its Golden Ticket Sweepstakes, the pair are put on display on Instagram Live every Friday until the sweepstakes ends on Nov. 15, competing against one another in trivia while fans get the chance to play along.
Prior to taking to IG Live one week, Harris and Marjanovic sat down with Dime to discuss the Clippers, trivia, and NBA's most entertaining friendship.

Did you remember thinking right away "I'm gonna get along with this dude"?
Tobias Harris: Yeah, this is my friend, so when we first met, I knew that he … I've seen videos of him when he was in San Antonio, and I was like "Ah man, this guy's pretty cool." He has a great personality, which made us even better friends, and he's a good basketball player, too, at the same time. That made us better friends.
Boban Marjanovic: I remember Tobias from the beginning, when I started to watch the NBA. I really knew him before I came to the United States, I watched him, I know his game, I know what he does, and basically when we played with San Antonio and Detroit, I remember him because he played really well.
You're both dudes who have moved around a fair amount in their careers, whether it's been Boban abroad and in the NBA or Tobias during his NBA career. How easy is it to relate someone who knows what that's like?
Tobias: It's easy to relate. I think for any NBA player, it's the grind and there's a respect factor to being in a different situation and knowing guys on different teams, so I think that kinda helped us become better friends, we were both in a pretty new situation when we were in Detroit.
Boban: You try, you travel around to new cities, to play for more teams than one. You try to know more people and you basically get more friends. It speaks to a person, how many friends they have, and if you're a good person, how many friends you have and how many people like you. Me and Tobias have become really good friends, he helped me a lot in everything — not just in basketball, but life, explaining something that is really hard for me to understand in English. If I feel bad or you get nervous or something, you need to go in a game, he is there to say "relax and do your thing."
Did that make getting traded to LA easier, knowing you're getting traded with a teammate you're close with who also happens to know any emotions you might have after getting moved?
Boban: When I found out I was going to get traded, basically, I was like, "Wow." You get traded, I don't know how I'm feeling at the time. Then Stan [Van Gundy] called me and said "You're not going by yourself, Tobias and Avery [Bradley] are going with you," and I was like, "Yeah! They'll go with me! Perfect!" In one way you're sad because you leave your teammates at the time and everybody else, but now, when I found like I'm going with Tobias… I really like it here, Tobias, too, and I think we've really had fun so far.
Tobias: It was good to get the call and hear that we're getting traded together, it makes that transition easier. That was fun when I heard that Boban was in the trade with me.
Let's talk hoops for a second. I think the perception of the Clippers this year is that the team is looking to figure its post-Lob City identity. What would you guys say the team's identity is this season?

Tobias: Right now, just a hard, scrappy team that's gonna play together. It's gonna be a tough team to play against just by how intense we are as soon as we step on the floor. We had our first game yesterday that we lost, and there's things that we can take away from the game to help us improve, and we're excited for that. Everybody on our team is a really good basketball player and person, and we just look to kind of build off one another and be a team that's gonna be a tough team, mostly by just having the best chemistry.
The Lakers have, obviously, gotten most of the attention for an LA team this year. As guys on the Clippers, what's been the biggest benefit of that?
Tobias: I would say, honestly, we're not worried about all the attention on the other team. For us, it just keeps us locked in and focused on the things that we need to get better and keep us, also, kind of under the radar in regards to being the team that is kind of being slept on or whatever. But we know that if we handle our business, good things will come, so we're just ready for that.
Boban, I gotta ask after what you did last night: I have never dunked, so what's it like to be able to throw your arm in the air and dunk on professional basketball players like it's nothing?
Boban: Try one Subway sandwich and find out. [laughs]
I will do that tomorrow and if I can't do that, I'll get in touch with someone.
Boban: You'll get extra power, believe me.
That leads in nicely, what do you guys have going on with Subway?
Tobias: So with Subway right now, Bobi and Tobi have partnered. They're doing the Golden Tokens Sweepstakes, which is giving away all these cool prizes to the NBA All-Star Game, NHL All-Star Game…
Boban: …Daytona 500 and Rose Bowl.
Tobias: With us, we're all about just excitement and bringing excitement and good times to people. We look at this sweepstakes that's going on as something that's gonna be exciting for people to get involved in, be a part of. We believe we're the perfect people for bringing people enjoyment and excitement, and it has a lot to do with sports. Right now, we're just doing … every week, we're doing trivia from social media platforms and being able to find different ways to give people way awesome prizes. So we're loving it.
Boban: Yeah, and to make you work, trivia. I have one question for you: Who invented the game of basketball?
Dr. James Naismith.
Tobias: Thank you! Thank you for knowing, because that was one of our trivia questions today and he didn't know.
If you two are going head-to-head in trivia, who's gonna end up winning?
Tobias: It depends what topic we go on. If we're talking about TV shows like Friends, then this guy's gonna win. But if we're talking about basketball, then probably me.
Who's the best guy in the Clippers locker room at just knowing that insane, random trivia?
Boban: Tobias.
Tobias: I would say, uh…
Boban: Tobias.
Tobias: No, I'm gonna actually say…
Boban: Tobias.
Tobias: I'm gonna say…
Boban: Tobias.
Tobias: [Danilo] Gallinari.
What's his area of expertise?

Tobias: I'd probably say entertainment.
I imagine when you're on the road as much as NBA players are, you're heading to places like Subway for quick bites to eat before and after games. Where are the places you guys like to hit the most?
Tobias: Subway is definitely one of the places, because obviously you can just get a quick bite and stay on the healthy side, I'm a healthy guy. Anything from the Veggie Delight, whole wheat bread, Boban over here … what do you get, again?
Boban: Chicken Teriyaki.
Tobias: He actually orders two sandwiches instead of one, like normal people.
Boban: Fill up with energy.
Tobias: Part of this partnership that we really enjoyed was the fact that when it was coming about, Boban was saying that when he came over to the U.S., this was the first place that he would go eat at. It's a good thing that we're being able to do this and we're excited for it. We, every now and then, earn cheat day, we're gonna go to Subway and get some more cranberry and white chocolate cookies.