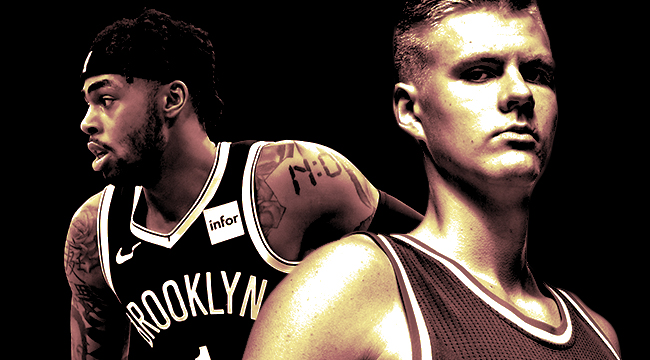 Not since Carlos Boozer jettisoned the Cleveland Cavaliers to sign an offer sheet with the Utah Jazz in 2004 has restricted free agency garnered so much attention as to what's on the horizon this upcoming summer. It's for good reason, though, because the 2019 RFA class is especially good.
Headlined by Kristaps Porzingis and featuring guys like D'Angelo Russell, Malcolm Brogdon, and Kelly Oubre Jr., a handful of NBA franchises are going to have some awfully tough decisions when it comes to retaining key pieces of their teams … or making an aggressive play and hoping to add a young standout to their roster.
Here are some of the top restricted free agents of 2019, and the situation their current squads find themselves in.
Kristaps Porzingis
The prize of the 2019 restricted free agent class, Kristaps Porzingis has yet to play this season as he continues to rehab back from the torn ACL he suffered last year. There's already been reports of tension between Porzingis and the Knicks organization over whether or not Three 6 Latvia should play this season, with Porzingis expressing his desire to return to the hardwood and the Knicks remaining hesitant to play him at all this season. That's like blood in the water for teams interested in signing Porzingis to an offer sheet this summer, and it's already been reported that the San Antonio Spurs have significant interest in doing just that.
Of course, the Knicks can match any offer sheet presented to their star, and can offer Porzingis a five-year, $158 million contract, per Bobby Marks, compared to the max offer sheet of four years and $122.1 million other teams can bring to the negotiating table. The reports of tension may be something to monitor, but barring something unforeseen, it's hard to imagine Porzingis ending up anywhere other than the Big Apple.

Terry Rozier
When Terry Rozier and the Boston Celtics couldn't come to an agreement on a contract extension for the backup point guard in October, it set the stage for a potential departure this summer. Rozier, who was vocal early on in the 2018-19 campaign about his dismay over a lack of playing time, is shooting just 37 percent from the floor and averaging fewer than three assists in only 22.7 minutes per game, down from the 26 a night Brad Stevens game his last season. It's a justified move, though, as the Celtics offense grinds to a halt when Rozier is on the court, dropping from an offensive rating of 113.9 when he sits to 103 when he plays. That's brutal.
ESPN's Zach Lowe recently reported that both the Phoenix Suns and Orlando Magic, two teams in need of a point guard, have expressed interest in the man known as Scary Terry.
D'Angelo Russell
D'Angelo Russell, once shooed out of Los Angeles, is having a career year for the Brooklyn Nets. He's averaging highs in both points (19) and assists (6.4), and is shooting a career-high 37.4 percent from deep while taking the most attempts from beyond the arc in his four years in the NBA.
Russell's success has put the Nets in a difficult situation. Everyone in the league knows that the Nets have positioned themselves to be a big player in free agency this summer. In order to snag one of the premier free agents, it's going to be incredibly hard for the Nets to hold on to Russell and his $21.1 million cap hold.
That leaves the Nets with a couple options: They could trade Russell soon, when his value is at its peak, netting a decent return with their eyes totally focused on free agency. They could simply renounce his cap hold, making Russell an unrestricted free agent. Or, they could decide Russell is a big part of their future and match any offer sheet a team signs him to this summer. The Nets can go over the salary-cap to re-sign Russell. They'd then have to get creative in moving money around to still snag a big name this summer.

Malcolm Brogdon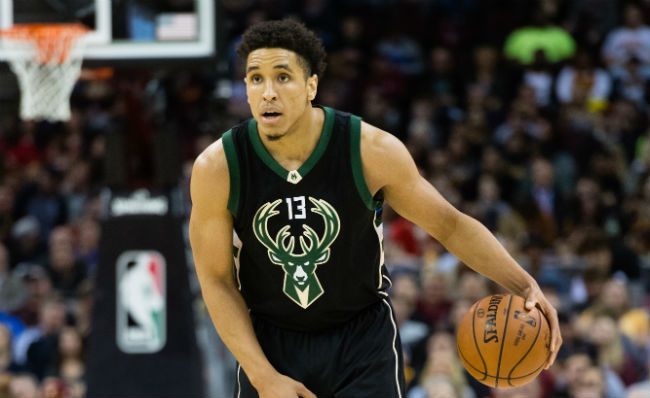 Is Malcolm Brogdon a max player? That's the question the Milwaukee Bucks have to ask themselves as they look ahead to the summer of 2019. Brogdon is having himself a heck of a season for the East-leading Bucks, shooting 52 percent from the field, including a scorching 42 percent from deep. His defense on the perimeter has been been a huge part of why the Bucks lead the NBA in defensive rating this season.
But the Bucks have a lot of roster decisions to make. Eric Bledsoe will be a free agent. Brook Lopez will be a free agent. Khris Middleton, the team's second-leading scorer, will most likely opt out of the final year of his contract, and should demand a max deal in the range of five years, $190 million. So where does Brogdon fit into the Bucks plans in terms of priority, especially when multiple other teams will certainly come calling with offer sheets to acquire his services?
Kelly Oubre Jr.
Despite being in his fourth season in the NBA, Kelly Oubre Jr. is still only 23. Traded from the Washington Wizards to the Phoenix Suns in early December, Oubre has been a serviceable wing in the desert, averaging 14.5 points in 17 games with the Suns and shooting a robust 37 percent from deep.
He'll continue to get a chance to play more minutes and showcase his ability alongside an extremely young core in Phoenix, and at 6'7 with the ability to guard multiple positions, Oubre remains the type of modern wing teams covet, even if his development hasn't been as speedy as people thought. He'll attract multiple offer sheets this offseason, and the Suns, of course, have the right to match all of them. Oubre has a fun summer ahead of him.

Willie Cauley-Stein
[]
If you Google "Willie Cauley-Stein," you'll find two articles, one on top of the other, arguing on opposite sides of Cauley-Stein's worth to the Sacramento Kings. One praises his ascension in the absence of DeMarcus Cousins, and recommends the Kings sign their former sixth overall pick to a long-term deal. The other, written by the same author a month later, opines that the Kings should be "leery" of signing Cauley-Stein long-term.
Therein lies the dichotomy of Cauley-Stein, and the decision the Kings will have to make when he becomes a restricted free agent this summer. While the former Kentucky big man is averaging career highs in points (13.4) and rebounds (8.8), his defense has stagnated somewhere below average. He sports a defensive rating of 107.5 so far this season, and while the Kings aren't a good defensive team in general, you'd expect a little more impact out of a guy with Cauley-Stein's height and wingspan.
Another thing to consider? Cauley-Stein has been vocal about wanting to get paid. Do the Kings want to give upwards of $15 million a year to a guy that feels like he may never reach his true ceiling and be the impact player you expected to draft at No. 6 overall? Or do you bet that the 25 year old still has plenty of room to grow?
Stanley Johnson
Four years into his NBA career, Stanley Johnson remains something of an enigma. He's had a nebulous existence with the Detroit Pistons, tantalizing enough in size (6'7) and potential ability to give off the illusion that he should be a coveted wing when he hits restricted free agency this summer. But he's yet to shoot 40 percent from the field in his career, and he's shooting a career-low 27 percent from deep so far this season. He doesn't rebound very well, and he's never averaged more than 1.6 assists in his career.
Johnson doesn't seem long for Detroit, and with those kind of numbers, it'd be shocking if the Pistons held on to him. However, a team will take a chance on the idea that a change of scenery will help Johnson get his mojo back, and he's still just 22 years old. He can be an above average defender on the perimeter, and those shooting numbers have nowhere to go but up.
Jordan Bell
When the Golden State Warriors snagged Jordan Bell in a trade with the Chicago Bulls on draft night in 2017, NBA Twitter uttered a collective groan. How could a team as stacked as the Warriors end up with another player seemingly tailor-made for their system? Early on, it appeared as if Bell was going to be a terror streaking up and down the floor alongside Kevin Durant, Steph Curry and Klay Thompson, blocking shots and finishing lobs.
But Bell has seen little playing time during his sophomore season, averaging just 10 minutes a game even as the Warriors searched for a serviceable big man to play while they awaited the return of DeMarcus Cousins. Now, with Cousins back, Bell's playing time looks set to shrink even more. There will be ample opportunity to pry Bell away from the West Coast this summer.