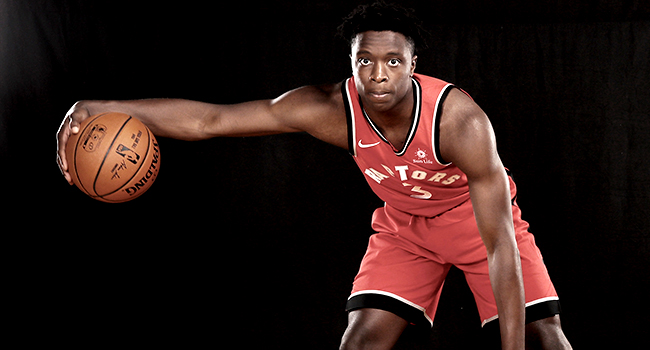 It was an impossible ask. In the past two postseasons, the Toronto Raptors had cycled through role players, specialists, and everything in between for the job. For a decade and a half, the entire NBA had filtered through potential solution after potential solution; in the last seven postseasons, the Eastern Conference has had no answer, and the occasional Western Conference solution — a zone defense before he could really shoot, ultra-defender Kawhi Leonard, NBA Finals MVP Andre Iguodala — was fleeting or required serious reinforcement to be repeatable. It is the league's most unreasonable request of even the most polished, gritty, or experienced.
Yet here the Raptors were, on their third consecutive attempt to topple the Cleveland Cavaliers, turning the most difficult defensive assignment in basketball over to a 20-year-old rookie selected outside of the lottery. OG Anunoby would be the primary defender on LeBron James, and nobody was batting an eye.
"I've got a lot of faith in OG," Raptors point guard Kyle Lowry said before the series. "I have faith in him to go out there and do what he's done all year: play well. The way OG is, his mannerisms, the way he carries himself, he's a quiet confident kid. I know he's looking forward to the opportunity."

He was looking forward to it, even if he was not particularly willing to talk about it in a pre-series scrum setting. He conceded he was "pretty confident," said that James is "pretty strong but I feel like I'm strong, too," and downplayed the idea of the matchup being anything that would get in his head and alter his approach. (In speaking to Dime, Anunoby bristled at having been asked positively framed questions about James [like where he ranked on his list of favorite players], saying "I'm not gonna love on him while we play him.")
He was willing to admit to being excited about the challenge in his trademark detached delivery, though.
"I am, because we want to beat them. That's our next opponent," Anunoby deadpanned. "Me personally, I want to play him. He's one of the best players to play … I have no reason to be nervous."
His Raptors teammates have come to adore that stoic part of Anunoby's personality, and it's a source of their confidence in him. His quietness off the court is somewhat overstated, they say, and it consistently comes up just how unique Anunoby's antics are away from the cameras. But there's no duck analogy here; Anunoby is not calm on the surface and hyperactive beneath it. His even keel is a central part of his on-court game, too, and not even the specter of James was worth disrupting it. The Raptors were going to leave well enough alone and let Anunoby treat the assignment as business as usual.
"You don't rock the boat for no reason," C.J. Miles said. "You just got to continue to play hard, and continue to do what he's doing. You talk about tendencies, coverages, places you want to send him, and making him work, but OG knows. He's got a TV."
And so the Raptors set out to finally beat James and the Cavaliers with a rookie forward getting the ultimate trial-by-fire.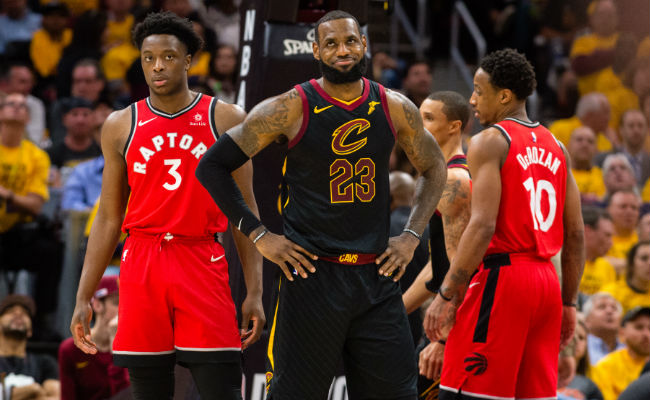 As we all know, the Cavaliers swept the Raptors. Again. It was unkind and painful and led to Dwane Casey's dismissal as the team's head coach. James was tremendous, and it appeared at times as if his purpose was as much to break the Raptors as it was to win the series. It was a sweep that left very little room to be positive about Toronto.
There was, however, an exception. Squint beyond the stat line and Anunoby did an admirable job with the weighty task laid at his feet. He was physical, he fought James for his spots on the court, and for a lot of the series, James was at least giving the Raptors the poison they had chosen in the Morton's Fork that James represents. The results weren't quite there, but the effort and process were enough to earn high praise from James himself.
"I think he has a bright future and his future is now, actually," James said after completing the sweep. "You look at the rookie class from this year, it's probably the best since 2003."
To be clear, Anunoby did not exactly play the role of LeBron Stopper, which isn't really a thing on this plain of existence. James averaged 34 points, 8.3 rebounds, and 11.3 assists, shot 55.3 percent from the field, and was a +55 while on the floor. Evaluating how someone guards James requires more nuance than his final stat line, and there's only so much any one defender can do, especially in a scheme that was primarily calling for straight one-on-one coverage when Anunoby was on the floor. On the long list of Raptors' problems in the series, Aunoby's individual performance was toward the bottom.
"I thought Anunoby had an excellent series," Casey said. "I know he didn't feel like it but to go against James in tough situations and battle him, I guarantee you he learned a lot and will grow a lot from the experience."
Things started off fairly well. James shot 12-for-30 in the series opener, and while he tallied a triple-double in an overtime victory, James called it "probably one of my worst games of the year." Anunoby wasn't willing to rest on that, pointing errors he made on a post-entry pass that allowed James a path to the rim for a dunk and an instance where James got him to bite with a rip-through for a soft shooting foul. He thought he could do a better job of making it tough for James to get to his spots and that the team made too many simple mistakes in general, a common refrain after the tough loss. James thinking he had a bad game and Anunoby seeing ample room for improvement aren't mutually exclusive.
"I mean, maybe he's just saying stuff, you know he says stuff," Anunoby told Dime. "I take pride in it, but I thought I could have done better. I did pretty well. I contested a lot of his shots, didn't give him anything easy. He made some tough shots. Made some mistakes but next game I can learn from it."
Standing out was a near-impossible shot from James late in the fourth to force overtime. Anunoby conceded some floor position as James backed him down, only for James to drill a difficult fadeaway.

"That was a crazy shot," Anunoby said, shaking his head. "Good defense but better offense. He made it. Tough shot. But we want to make them take shots like that. Nothing easy."
That would not be the last time Anunoby had to tip his hat to good shot-making, and that 11-footer was, in retrospect, a harbinger. Game 2 of the series saw James embark on a mission to make the Raptors regret allowing the difficult mid-range shots they wanted him to take. He'd finish with 43 points on 19-for-28 shooting, including an unfathomable 17-for-26 on contested shots (the most contested makes ever in a playoff game, per ESPN Stats & Info). James drilled seven fadeaways in the second half alone, hitting more non-paint twos than the now-mid-range avoidant Raptors even attempted.
"Well, I pretty much know the scouting report on me is going to be to dare me to shoot jump shots and keep me out of the paint," James said, later adding a layer of psychological warfare with the claim that "two points ain't two points, that's a lie."
For Toronto's defense, it was the ultimate test of process against results. There was so much to clean up against non-James Cavaliers, and James was taking — and making — the preferred shots on the spectrum, if he's going to take any at all (and again, the Raptors were trying to avoid overloading on him, so the volume was something they were openly accepting). An offense punishing solid defense can be exhausting, and by the end of Game 2, the Raptors looked to be on the ropes, having squandered both home games.
"That drains you mentally and physically," Casey said. "I really thought OG was playing him as tough as you possibly could."
If they weren't on empty yet, James' heroics in Game 3 finished them off. To cap a 38-point outing, James ran the length of the court and hit an impossible buzzer-beating game winner. The Raptors had intended to trap but weren't prepared for the Cavaliers to inbound under their own basket, James was able to keep the ball as a result, and Anunoby could only run the floor with him and get a late contest as James' body contorted in several directions, the shot released at a ridiculous height and angle. According to his teammates, James called the bank.

"How do you decide you want to shoot that shot?" Kyle Korver said. "How do you decide with the game on the line, drive left, go off one foot, palm the ball, shoot it off the glass? Incredible shot."
Adding an additional layer to the game-winner: It came right after Anunoby had tied the game with a clutch three-pointer of his own. Instead of having his first highlight on a major NBA stage, Anunoby was on the wrong end of the elusive non-dunk poster.
"I saw the pictures. I saw it on Instagram, everyone's tagging me in it. That's what happens," Anunoby said. "I didn't even know when to contest it, because he was dribbling and usually he stops to take his jump shot, and I can contest. But he just ran and just jumped. And my contest was, like, I didn't know how to contest. I was running with him and he just jumps out of bounds, so I just did this (stretches out arm). I don't know, I guess he had in his mind he was gonna do that."
At that point, Game 4 was a formality, though James would of course flirt with a 30-point triple-double again. Sometimes, the biggest lesson is the limitations of your own endeavor.

Anunoby finished the series averaging eight points a night with strong shooting numbers. His efforts were rewarded with a plus/minus of -29. He was the primary defender on James for 170 possession in the series, per NBA.com's somewhat noisy matchup data, more than twice the amount any other Raptor spent on him and more than half of James' total possessions in the series.
As you might expect with the series James had, the results were a mixed bag. James scored slightly less frequently per-possession when Anunoby was his primary check and shot a lower field-goal percentage. More generally, James scored less efficiently in the 107 minutes where Anunoby was on the floor (almost always as his main defender).
The bar, of course, is extremely low there — James posted a 59.3 true-shooting percentage on 37.6-percent usage when Anunoby was off the floor to "just" 57 percent on 35.7-percent usage when Anunoby played. Instead, the Cavs' assist rate spiked from 48.3 percent to 57.3 percent. Despite the Raptors trying their best to stay at home on James' support and not send help to Anunoby, the rookie's presence shifted more play-making and possessions to James' teammates (James' individual assist rate barely moved).
James also opted to be more of a jump shooter than attacker in those minutes, saving most of his forays to the rim for when he could goad switches against the Raptors' contrary intention.

"Only thing you can do is just live with the results," said Jeff Green, a former postseason James defender-turned-teammate. "You go out there and play your hardest, but you gotta realize it's not just an individual thing, it's always a team effort. You know, you live with the results. He's the best player in this game for a reason, so you just have to go out there and just play hard. You always learn. You learn from everything. From guarding anybody, you always learn, not just LeBron. You know, you learn from every experience."
All told, Anunoby's impact points somewhat nebulously in a positive direction. The Cavaliers scored 121.5 points per-100 possessions when Anunoby was on the floor to 140.9 when he was off, and James' net rating dropped from plus-31.1 to plus-7.4. There's more noise here still, and Anunoby was roasted to the tune of 1.39 points per-possession on isolations for the playoffs as a whole. (Contrary to his reputation, Anunoby's main playoff impact came largely on the offensive end.)
On the surface, it was nothing spectacular. The James' nod of respect resonates, though, and Anunoby's refusal to flinch at the very least points to the sort of toughness the Raptors have been found lacking in for the most part.
"I wish I would have done better," Anunoby told Dime after the season ended, noting in particular that he'd have been more aggressive searching for steals if he had his druthers. "I don't know. I was trying, I was defending him, and he got to his spots pretty well. He was making good passes, his drives, he still got me a few times, but he stopped posting up. He's a good player, a really good player. He hit some crazy shots."
Anecdotally, he continued to build on a strong rookie season that saw the Raptors post a 102.2 defensive rating and 10.2 net rating with him on the floor. Anunoby graded out as a +0.53 in Defensive Player Impact Plus-Minus (per Jacob Goldstein), a strong mark for a rookie with such consistently difficult assignments. Offensively, he erased concerns about his shooting (37.1 percent on nearly three attempts from behind the arc per game) and redefined his ceiling with nascent playmaking and flashes of an ability to create his own shot. The Raptors' four other starters all had a noticeably better net rating with Anunoby than without, and Anunoby was a top-10 rookie by most advanced metrics.

"I think he's very confident in who he is and what he is and his role. He understands his role and who he is and what he can do," Casey said. "I think that's a lot of the maturity factor that you see is the confidence he has in himself, which is a good thing. I haven't seen it shaken yet, so hopefully it continues and continues to grow. I think this year has been great for the young man. He's done everything we've asked him to, he's grown in so many areas. This is only the beginning for him."
It truly is just the beginning. Not only is Anunoby still just 20, he's a young 20 in experience terms, having lost the second half of his sophomore college season due a torn ACL that also limited this past offseason to mostly set-shooting. That grew rote and annoying at times, even if it lead to results, and Anunoby is eager to be able to take a multi-faceted approach into his first unhindered summer of development. A day after elimination, the focus had already turned forward.
"I guess I'm in shock the season's over," Anunoby said. "I'm disappointed, but I'm really optimistic for next year."
Most of the keys to raising his ceiling will fall on the offensive end, where Anunoby can change his projection from elite 3-and-D prospect to something more dynamic with improved ball-handling and playmaking. Defensive improvement is tougher to prescribe a plan for — speed and burst drills, lateral quickness work, timing exercises, and so on, can all help — and if he's to take another step on that end, a series trying to check the best player in the world can only be instructive.
Presented with James' praise of his future – Anunoby's first time hearing the comments – he was finally willing to take James' words at their face. Hardly a cause for self-satisfaction, Anunoby instead wants to prove James correct about the wattage and immediacy of his future.
"That's really cool coming from a guy like him," Anunoby says. "It just makes me want to work harder. Just seeing how good he is, it makes me wanna be better, you know what I mean? I don't think I should be satisfied with being a rookie and he still had 30 points, he was still scoring efficiently. I can't be satisfied with that. I've gotta stop him. That's the goal."