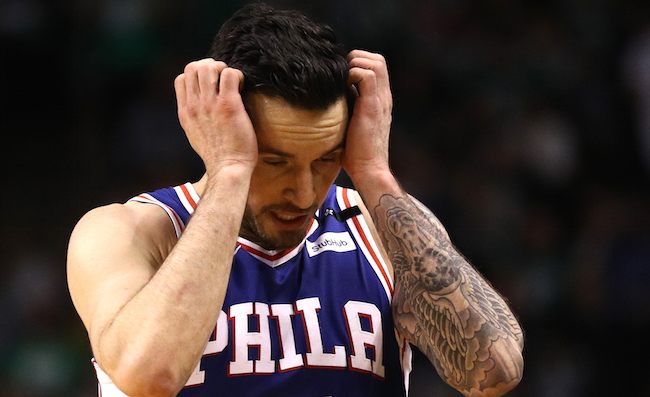 The wildest story of the 2017-18 NBA season (which has featured plenty) came to light on a night when no basketball was being played. The Ringer published a report from Ben Detrick about multiple Twitter burner accounts that appeared to be tied to Bryan Colangelo, which stunned NBA Twitter and caused fans, media, NBA executives, and even Joel Embiid to lose their collective minds over the possibility Colangelo was bad-mouthing his own players and other teams on secret Twitter accounts.
Nearly 24 hours after the report dropped, Sixers Twitter has been hard at work trying to determine who exactly is behind the accounts. There's plenty of reason to question whether Colangelo himself, ostensibly a busy man being an NBA executive, would have time to operate five separate Twitter accounts just to defend his honor. However, the information used by these accounts, namely "Eric Jr," was so detailed with regards to information that would only be known by someone very close to the organization made it seem that, at best, these were accounts run by someone close to Colangelo.

Some Twitter sleuthing from Rich Hofmann of The Athletic Philadelphia revealed the Eric Jr account was active during a Colangelo press conference, replying to others, which would seem to rule out Colangelo himself as the operator of that account, which had the most aggressive tweets.
However, Twitter user @legsanity has spent much of Wednesday digging through that account and the Colangelo family tree to figure out who it could possibly be and has put together a very compelling case that it was Colangelo's wife, Barbara Bottini — you can read his reasoning in full here. The biggest breakthrough came later in the evening when the phone number attached to the account (found via account recovery), as well as the email, appears to match that of Bottini (which they ultimately found through Upper Canada College Parent's Organization).

This is obviously not confirmed, but it would be quite the coincidence if it isn't her number. The math on it all adds up given the information tweeted by the account and all of the accounts it followed, not to mention it would make sense that Colangelo's wife would want to defend him to the ever-present criticism after he took over.
The Sixers are investigating the matter as well and now we will be waiting to see if they come to the same conclusion as Sixers Twitter. If that is the case, how they proceed will be fascinating to watch, because even if it wasn't Colangelo firing off those fuego takes about Embiid and others, it certainly isn't a good look for someone so close to him to be doing it and publishing sensitive information, either.