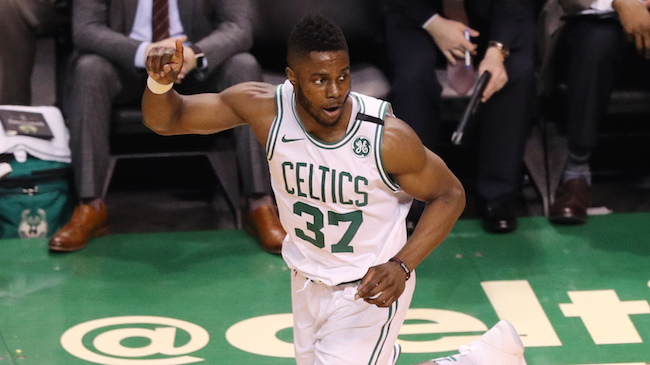 Once again, the Eastern Conference Finals were dominated by the home team, as the Celtics cruised to a 96-83 victory to regain a 3-2 series lead over the Cavaliers and pull one game away from the NBA Finals.
To think the series has seen some dramatic shift in Game 5 would be silly, this has been the pattern the entire way, with lopsided games being dominated by the more comfortable home team throughout the series. However, Boston made some adjustments for Game 5 to shorten their rotation to just seven players, and that clearly caused some problems for the Cavaliers.
Coach Tyronn Lue admitted as much after the game when asked why Kyle Korver, who was Cleveland's second-best player in the Game 4 win, was relegated to just 19 minutes of playing time in Game 5. According to Lue, the plan was for Korver to matchup with Semi Ojeleye, but the Celtics never deployed the king of combat muscles, which Lue struggled to adjust to.

It's never good when a coach admits to being "thrown for a loop" by the decision of the opposing coach in a playoff series, especially when the change in question was "not playing their eighth or ninth man." That the game plan for playing Korver hinged on Ojeleye's minutes is fairly astounding, considering as Twitter user @crabcolson points out, Ojeleye's minutes in the playoffs have been wildly erratic.

That Lue wasn't able to adjust to this change and get Korver in the game more, instead allowing J.R. Smith and Jordan Clarkson to combine for 41 minutes, won't do much to help him against arguments that he's significantly overmatched with Brad Stevens in this series. However, heading back to Cleveland figures to cure much of what ailed the Cavs in Game 5 as their role players have all played better at home and the Celtics have been a disaster offensively on the road all postseason.
The bigger question will be, should the Cavs prevail in Game 6, whether Lue can make the adjustments on the fly that will be asked of him in a Game 7 on the road, or if he'll get bogged down in his predetermined game plan and leave a crucial piece marooned on the bench for too long.