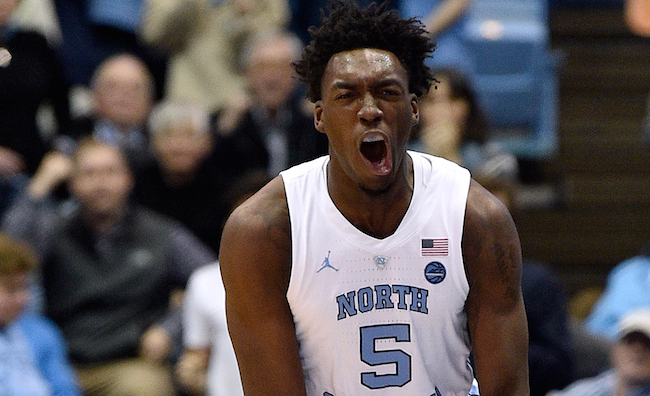 No. 8 North Carolina's visit to Cameron Indoor Stadium last week to face No. 1 Duke was the most anticipated game of college basketball's regular season as it was supposed to be Zion Williamson's introduction to the storied in-state rivalry.
Instead, 30 seconds into the game Williamson went down with a sprained knee after tearing through his shoe and the conversation about the game became almost exclusively about Zion and his future. Williamson is expected back relatively soon, as he's listed as day-to-day, which is good news despite the debate over whether he should shut it down for the remainder of the year to prepare for the NBA Draft.
Lost in the Zion knee scare was North Carolina going on the road and thumping the Blue Devils by 16, who, even without Zion, have two top prospects and a fourth potential first round pick in Tre Jones. UNC freshman Nassir Little and fellow lottery-caliber prospect isn't thrilled with the way the conversation has completely been about Zion's injury and not UNC's comprehensive win.

Little told The News & Observer that he thinks the media, namely ESPN, has picked Duke and Zion as their favorites and as such aren't giving Carolina the credit they deserve for going on the road and getting a big win.
"Me and Zion are friends, but I felt some kind of way," Little told The News & Observer in what was initially a conversation that was not intended to be published. Little later agreed to have his comments published. "We win a game against the No. 1 team by 16 — I hate to see Zion go down — but that's not the story now. The story is Zion gets hurt. Should he leave college? It's like we get no credit."

"ESPN, they select their guys, who they want to be the guy, and they just kind of ride with it or whatever," Little said Saturday. "I don't think that's fair and I don't think sports should be like that."
Little's frustration is understandable. UNC dominated throughout and while, yes, Zion's injury is a huge deal there should be more praise given to the Tar Heels. However, as frustrating as it may be, on a national level — which is what ESPN cares about — people care about Zion more than anything else that happened in that game.
Carolina was great and should be given praise. ESPN, which is a major partner with the ACC, should do that and likely could've done more to do that, but it shouldn't be a surprise that Zion dominated the conversation and coverage given that the most casual basketball fans at any level — college or NBA — care a lot about Williamson. Beyond that, the visual of Williamson's foot exploding through his shoe was incredible on its own.
Still, Little stands by his comments and won't be backing down on his criticism of ESPN.