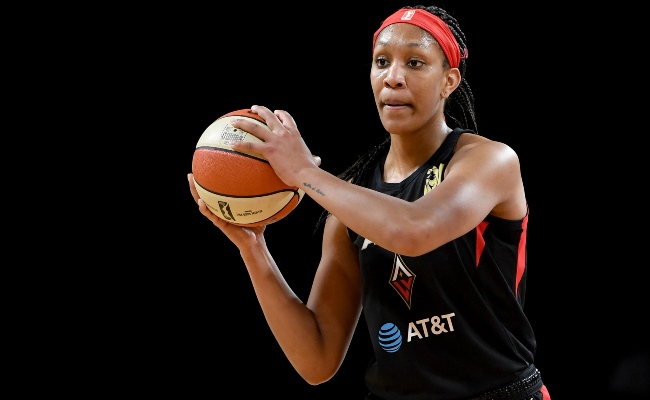 The WNBA season is upon us, ladies and gentlemen. There are stars aplenty, an incredibly talented rookie class (more on them shortly), and a product that connects with their fans with a level of engagement you rarely see in other sports. For me, in an effort to be completely transparent, it's an opportunity to fully embrace a sport that should've gotten my full-time attention a while ago.
If you're anything like me, you probably love basketball more than most things and were a little bummed out that the Toronto Raptors-Milwaukee Bucks series ended on Saturday night. The series ending in six meant five days without NBA basketball. That can feel like an eternity for a hoops junkie; for an NBA Twitter user, that can feel like cruel and unusual punishment considering what normally happens to the timeline with extended gaps in games.
One convenient thing about the Eastern Conference Finals schedule is how it fit pretty cleanly between the WNBA's opening weekend slate. Two games on Friday, three on Saturday, and one on Sunday. Thanks to the scheduling and League Pass (it's only $16.99 for the season, folks!), I was able to watch all six games from the weekend and it proved I really should've been in on this a long time ago.
This is my first season committing to not only watching, but also analyzing the league. I want to be upfront about that. I'm not going to pretend I'm some sort of WNBA authority. Still, as I've learned, if you haven't given the WNBA more than a cursory glance, I'd highly recommend doing so this week. To help catch you up on anything you might've missed from the opening weekend, here are my main takeaways of what we learned from the start of the season.

Do the Aces Even Need Liz Cambage?
Yes. The answer is yes.
On a more serious note, we (read: I) may have underrated the depth of the Las Vegas Aces.
While many were disappointed in Cambage's absence on Sunday night, the basketball world was still treated to the dominant A'ja Wilson. The 2018 Rookie of the Year finished with a smooth 21 points and 11, sprinkling in a nice mixture of face-up middies and interior finishes against Maria Vadeeva. Sharpshooting forward Kayla McBride (20 points, seven boards) constantly burned the Sparks off of screens. They struggled to track her for most of the night, and she had no issue making them pay.
The star of the night was backup Dearica Hamby. The fourth-year forward struggled from the field (3-for-12), mostly struggling to finish over the length of the Sparks' bigs, but it was easy to look past that because of the energy she brought on the floor.
Hamby finished with 12 points, 14 rebounds, three blocks, a pair of steals, and was a game-high plus-20 on the night. To say she locked down the paint would be an understatement; Sparks players shot 1-for-9 from the field when defended by Hamby, per Synergy. Here is 6'7 rookie Kalani Brown getting stonewalled on a post-up by the 6'3 Hamby:

Though the Sparks were without superstar Candace Parker, it was an impressive win for the Aces, though I still found myself a little irked with their shot selection. Only 28 of their shots came at the rim or from three, a low figure for the kind of talent they have on their roster. We'll have to see if the addition of Cambage shifts that math for them moving forward.
No Maya, No Problem
Speaking of teams missing superstars, the Minnesota Lynx were without Maya Moore in their opener. They'll be without her for the entire season, which Moore announced before the year citing personal reasons. Replacing her intensity and scoring prowess will be a challenge, though it didn't look like it on Saturday night against the Chicago Sky.
Their 89-71 drubbing of the Sky was mostly impressive. The game was a bit of a turnover fest throughout the first 15 or so minutes, but the Lynx were able to settle in and take control of the contest. They won the second and third quarters by a combined 22 points behind strong transition attacks by Danielle Robinson and a pick-and-roll masterclass by talented newcomer Odyssey Sims.
Of course, the star of the night was rookie forward Napheesa Collier. The former UConn Huskie ripped the Sky apart from all over the floor, scoring a game-high 27 points on 8-for-10 shooting from the floor. She drained three triples, and converted eight of her 11 shots at the foul line.
Collier blew past Chicago's front-line with strong drives. Without the ball, she set strong screens to free guards and also found creases to attack as a cutter. Her constant deep seals kept pressure on the Sky, and allowed her to get to the free throw line with regularity because they couldn't stop her.
If it wasn't Sims or Robinson pressuring the Sky with their dribble penetration, it was Collier or star center Sylvia Fowles (16 points, 10 rebounds) lighting them up inside. It's kind of hard to overstate just how bad the Sky's defense was in this game, which is why I want to hold off on the "They won't miss much of a beat without Maya" take. It does appear clear that there's an inside-out dynamic on this team that can be pretty effective.

Don't Sleep On The Champs
Stop me if you've heard this before: many questioned how this team would fare in the absence of their superstar. The Seattle Storm are without MVP Breanna Stewart for the year by virtue of a torn Achilles. Future Hall of Fame inductee Sue Bird is unavailable as she awaits knee surgery, leaving them very much shorthanded. Missing two key staples of their team and opening the season against the Phoenix Mercury looked like trouble on the surface. It, uh, turned out to be okay.
The dazzling play of second-year guard Jordin Canada helped fill the void left by Bird. Natasha Howard shook off a cold shooting start to finish with a team-high 21 points and as many rebounds (16) as the Mercury got from the Brittney Griner-DeWanna Bonner duo combined.
What stood out the most was the Storm's half-court defense. They were able to limit the Mercury to 14 shots at the rim behind a series of on-time double teams. Griner shot 4-for-5 at the rim because she's that good, but the Storm were able to make her more of a passer than she wanted to be (two assists, six turnovers). That put more of the scoring onus on the Mercury's other players. Aside from Bonner, who finished with a game-high 31 points, nobody else was really up for the task. In fact, Griner and Bonner combined for 42 of the Mercury's 61 shots. They shot 19-for-42, while the rest of the team went 8-for-19.
This Rookie Class is Absurd
Collier had, by far, the best performance from a rookie this weekend. She wasn't the only one that balled out, though. Her teammate, forward Jessica Shepard, was an elite gap-filler off the bench. Shepard didn't make a shot (0-for-3), but she grabbed 13 boards, dished out six assists, and set a bevy of physical screens to get her guards downhill.
Former Mississippi State star Teaira McCowan only played 13 minutes off the bench in her debut but certainly made the most of them. She used every inch of her 6'7 frame to put constant pressure on the New York Liberty. Her ability to leverage deep positioning didn't lead to a lot of buckets (though it probably will moving forward). It did lead to the bucket of the game, a buzzer-beating layup after putting Bria Hartley in the torture chamber after a switch.
Liberty guard and number two overall pick Asia Durr finished with eight points on 3-for-8 shooting in her debut. She mostly served as a ball-mover, seemingly trying to find her place in the offense without stepping on toes. Even during a pretty conservative outing, she was able to showcase her vision in pick-and-roll and her ability to create offense for herself. That'll come in handy moving forward.
The number one pick, Aces guard Jackie Young, also had a feel-it-out debut. She mostly deferred to the Wilson-McBride duo, but made her mark in the second half with an 8-point surge on a perfect 4-for-4 clip. Add in her impressive on-ball defense, and it's easy to count her debut as a success.
Even the rookies that struggled, like Kalani Brown, had their positive flashes. Brown had her issues with Hamby, but still managed to grab five boards and block two shots in her 16 minutes. Dallas Wings guard Arike Ogunbowale struggled from the field (5-for-16 shooting) against the Atlanta Dream, but generally got to her spots and made some nice passing reads in pick-and-roll.
It's pretty wild how good this rookie class is. As they get more accustomed to the speed and physicality of the WNBA, they're going to look even better than they did this weekend. For anyone facing the Lynx, that's an absolutely terrifying thought. Seriously, think about what a Maya Moore-Napheesa Collier pick-and-roll is going to look like next season.
The league is good hands, folks.

Other Quick Thoughts
— The matchup between the Atlanta Dream and Dallas Wings was a fast-paced, sloppy game. I will say, the energy the Dream played with defensively was awesome to watch. I didn't even play and I think I got my shot blocked about four times. The Elizabeth Williams/Jessica Breland/Brittney Sykes trio combined for 10 swats on the night
— They aren't sisters, but can we just call Alyssa Thomas and Jasmine Thomas the Thomas Sisters for the sake of convenience? No? Makes sense. Just know that they combined for 36 points, 11 rebounds, and 10 assists in the Connecticut Suns' 84-69 victory over the Washington Mystics. Alyssa Thomas carved up the Mystics on the interior; Jasmine provided her usual drive-dish-defend impact.
— On a related note, it's pretty clear the Mystics missed Elana Delle Donne. Kristi Tolliver did what she could with shot creation duties (11 points on 5-for-10 shooting with three assists to one turnover) but there was only so much she could do.
— For the love of God, can somebody tell the Aces that it's okay to shoot threes? I'm sorry, I had to rehash that again. Their shot chart from last season looked like something Adrian Dantley would be proud of. Something has to give there if they want to maximize this roster.