The summer of 2016 was a wild time in the NBA. The salary cap took a massive leap as the new national television contract kicked in and it left teams scrambling to hand out contracts to fill this new found cap space.
The result is some of the most bizarre contracts in NBA history, as there was never a better year to hit free agency as a middling player than in 2016. Teams that had legitimate stars come up for deals came out better than those that wanted to make a splash with a potential rising star because the misses in those cases are so spectacular.
Two of those misses came in the form of veterans who were once All-Stars in Chicago that each got the exact same deal from New York and Los Angeles respectively in Joakim Noah and Luol Deng. Both are essentially out of their teams' rotation, particularly Deng who has played in one game this season for the Lakers, and both teams want to move on from their contracts. The problem is, no one wants to take on the money they are owed without landing a major asset as well because they still are under contract for two more years past this season.
The rumors of the Lakers and Knicks not being able to find anyone willing to trade for Deng and Noah got us thinking about what the worst deals from that summer of 2016 are now that we're almost two years removed from those signings. As we found, there are a lot of contenders, but below you'll find the ten worst as well as those that deserve honorable mention.
It's important to note that a bad contract doesn't necessarily correlate with a useless or bad player, but simply that the money doesn't come close to matching up with the production levels of the player. It's also not the fault of the player for taking a big contract, but that of management for offering it. As you'll notice, the list is made up of all four or five-year deals with one exclusion. Teams wise enough to see that the cap jump would create long-term problems when handing out four-year deals avoided disaster by giving out some large two-year contracts instead and those are far less detrimental than those that will haunt teams until 2020.

10. Allen Crabbe (4 years, $75 million): Crabbe is the first of two Blazers signings to make the list, as they were very active that summer in an unfortunate circumstance. After overachieving as a playoff team the season prior, Portland foolishly decided their best course of action was locking everyone on the team up to long-term deals and expecting no one to regress and everyone to continue developing. Two years later, the result is a capped out team and a somewhat frustrated superstar in Damian Lillard. Crabbe is now in Brooklyn, the team that originally offered him this deal, but the Blazers still aren't anywhere close to out of the woods.
9. Dwight Howard (3 years, $70 million): Of all the players on this list, Howard has produced the best raw stats and, thus, some might squabble with his inclusion. However, there are a few reasons this contract belongs here. First is that the Hawks gave Dwight Howard $23 million a year for three years because they didn't want to a 5-year max deal with Al Horford, who has gone on to continue being an All-Star in Boston. They then decided Howard was so bad to have in the locker room despite solid production that they shipped him to Charlotte for two bad contracts in Marco Bellinelli and Miles Plumlee (who you'll see later on this list) and a move down in the second round of the draft.
8. Solomon Hill (4 years, $48 million): Hill struggled to produce much in his first season in New Orleans and now a hamstring injury has sidelined him for the entire 2017-18 season to this point. The Pelicans have handed out some adventurous contracts over the past couple years and Hill might not be the one they regret the most, but to this point, things have not panned out as hoped when they added him to the wing rotation.
7. Evan Turner (4 years, $70 million): The second Portland signing to find his way onto our list is Evan Turner. After a solid 2015-16 season he cashed in on the Blazers desperation to keep the band together and has been just about the same player, with slight downticks in almost every category of production, but nothing dramatic. Turner is what he's been, the problem is he was given money like a player who was expected to take a leap going into his seventh season and has not.


6. Miles Plumlee (4 years, $52 million): It is still fairly stunning that Plumlee raked in a $13 million a year deal after a career year in which he averaged 5.1 points and 3.8 rebounds per game. He, like Turner, simply never took that step forward and has since been traded twice, once to Charlotte and then this past summer to Atlanta in a swap of bad deals with Howard.
5. Bismack Biyombo (4 years, $72 million): After a nice year in Toronto, the bench big man cashed in with a big deal from the Magic that was a head-scratcher then based on roster fit and has only gotten worse. Like most others on this list, Biyombo's deal was a failed gamble on him taking the proverbial leap and he remains a fairly useful big man that should be paid like a rotation player, not a top-level starter.
4. Nicolas Batum (5 years, $120 million): One of the more defensible signings at the time has turned out terribly for all parties (other than Batum's bank account). The Frenchman has simply not been able to produce as Charlotte hoped he would as a 3-and-D centerpiece alongside Kemba Walker and company. Batum has seen his three-point shooting crater to a dismal 28.7 percent this season as he has returned from injury and not been the same guy.
3. Ian Mahinmi and Timofey Mozgov (4 years, $64 million): A pair of just awful signings here. The Mozgov deal was ridiculed from the jump, and he was eventually shipped off to Brooklyn along with D'Angelo Russell because the only way to unload his contract was to send out a former No. 2 overall pick who has legitimate star upside. Honestly, I think the Mozgov deal is seen a little better now by Lakers fans simply because they got the pick that became the steal of the draft in Kyle Kuzma back, which makes it seem like they got way more value out of that trade.
Mahinmi's deal was questionable at the time, but not thought to be the disaster it's become. On a hopeful contender like Washington, that kind of deal really hurts their ability to make any kind of moves because they're stuck with him being that they don't have a young asset they'd be willing to ship off with him in a trade. He's averaged 4.6 points and 4.1 rebounds per game since joining the Wizards, playing just over 15 minutes per game.

2. Chandler Parsons (4 years, $94 million): There was a report that the Grizzlies were hoping to get Parsons to retire this year, which he denied but tells you all you need to know about this contract. Parsons was fine in Dallas and Memphis hoped he could be the perfect wing complement to Gasol and Conley, but this was a lot of money at the time and with Parsons battling injuries throughout his tenure in Memphis it's become one of the worst deals in the league.
1. Joakim Noah and Luol Deng (4 years, $72 million): There was never any doubt that these two would sit atop the mountaintop of bad contracts from that summer. These were bad at the time and have somehow gotten worse, to the point they are literally immovable. What's incredible is the Deng contract might end up being the thing that keeps L.A. from being able to land two big free agents this summer, which might prohibit them from landing even one.
Noah is now apparently frustrated with coach Jeff Hornacek and his status with the team is being "evaluated," so the Knicks may end up just biting the bullet and using the stretch provision to pay him for the remainder of his contract without it hitting their cap so hard. Who could've imagined an injury prone plodding center on the back end of his career having played a ton of minutes would probably not be worth a massive four-year deal? Most everyone but Phil Jackson, apparently.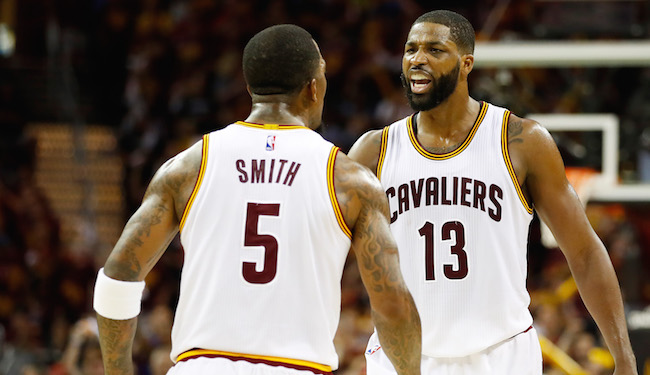 Honorable Mentions:
The Cleveland Cavaliers (Tristan Thompson, 5/82 and J.R. Smith, 4/57): These deals were made in October, not July, but they still count and are causing just as many problems for the Cavs as any other teams are having with their bad contracts. At the time, these were justifiable as they were both key players in the Cavs' title run, but now they are causing a cap crunch for the Cavs and making things very difficult when it comes to bringing in help in Cleveland.
Maurice Harkless (4/40): The Blazers really just threw money around in July 2016. It's rather incredible. Harkless is the only player that plays major minutes with a worse on/off net rating than Turner. At least he doesn't make as much.
Jon Leuer (4/42): Leuer secured the bag and, like so many others, simply hasn't taken the leap. Detroit's stuck with him and some other odd deals, but none of them as crippling to their cap space as the ones that made the list.
Kent Bazemore (4/70): This was a contract destined to look bad. Every graduate of Hawks University has been overpaid and this time it was Atlanta that fell for their own tricks. Bazemore is a good player. He's a useful player. He's not a $17 million a year player, and that's OK. The Hawks now are looking to get out from under this one as well, but it is more movable than some of the others.

Evan Fournier (5/85): Another player that's been solid to good in Orlando, but just makes a lot of money. This one is better than most of the others, but still sticks out on the page a bit when you see it.
Ryan Anderson (4/80): This looks much better this year than it did this summer when they couldn't move him. Anderson isn't worth $20 million a year but he is really good for this Rockets team so while I'm sure they'd rather be paying him $15 million a year, they'll live with this as he's flourishing alongside Chris Paul and James Harden.
Mike Conley (5/153): The Grizzlies had to sign Conley to this deal and before he was injured he was at least making it look maybe worthwhile. However, his injury issues make this look bad alongside Memphis' clear need to reset.
The Milwaukee Bucks (Mirza Teletovic, 3/30 and Matthew Dellavedova, 4/38): If we tack on Tony Snell's deal from this summer you have a triple threat of weird deals that aren't horrible but also aren't good. Milwaukee wanted to add depth and while it's not a failure, it certainly hasn't gone how they hoped with these two.
Rajon Rondo (2/28): This doesn't make our list because it's only a two-year deal, but why on earth did the Bulls think $14 million a year for Rondo in 2016 was a good idea?
Al Jefferson (3/30): This seemed like a weird fit and it just hasn't worked especially well despite the Pacers' great success this season. Jefferson's just kinda hanging out with the bench unit and plays too slow to really crack the main rotation, averaging just 14 minutes per game.