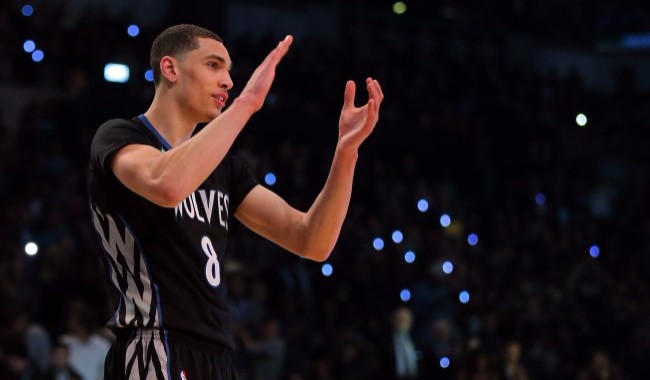 Zach LaVine has had a busy offseason. He's been working to recover from a torn ACL that ended his 2016-17 season, he was traded to the Chicago Bulls on the night of the NBA Draft, and in a few weeks, his deal with Nike that he signed when he was a rookie with the Minnesota Timberwolves will come to an end.
According to Nick DePaula of ESPN, LaVine is something of a hot commodity in the sneaker world — Nike is going to try and re-sign him, adidas is expected to make a strong push, and a trio of China-based companies in Li-Ning, Anta, and Peak will reportedly all try and bring the Bulls guard on board. And the best part? LaVine's agent, Nima Namakian, is doing some serious work to sell his client.
Citing the fact that LaVine went from "the third option in a small market to the primary option in a legacy market" due to the Bulls trade, Namakian gave a wonderful quote about the power of the market and LaVine's fit in Chicago, which he believes makes him a big-time sneaker free agent.
"He's now in the same market that former MVPs Michael Jordan and Derrick Rose created their legacies in," Namakian said. "Being the focal point in Coach [Fred] Hoiberg's up-tempo offense, focused on movement and spacing, plays to Zach's strengths and should elevate his overall game and performance to an elite level."
LaVine is a good basketball player, but comparing him in this manner to Jordan and Rose is some delightful agent work from Namakian. It's kind of funny and definitely admirable, and at this point, I am hoping that Namakian's able to get him the most lucrative sneaker contract of all time, because this rules.
(Via ESPN)