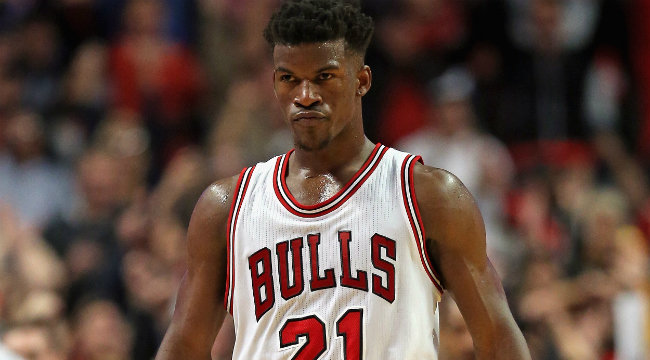 While the 2017 NBA Draft was just getting underway in Brooklyn on Thursday night, the Chicago Bulls finally pulled the trigger on a Jimmy Butler deal, sending their star swingman to the Minnesota Timberwolves, as reported by K.C. Johnson of the Chicago Tribune.
https://twitter.com/KCJHoop/status/878036501598175232
The Timberwolves will send the No. 7 pick in the 2017 NBA Draft, Zach LaVine, and last year's fifth overall selection Kris Dunn in exchange for Butler and this year's No. 16 pick.
The Bulls were reportedly high on Dunn going into last year's draft and get guards of the future in Dunn and LaVine with Rajon Rondo and Dwyane Wade leaving after next season. By moving up to No. 7 in this year's draft, they assure themselves of one of the top players in a draft that many believes drops off significantly after the 10th pick. That pick ended up being big man Lauri Markkanen out of Arizona.
LaVine's health coming back from his ACL tear will likely be the biggest decider in how well the Bulls come out in this trade. LaVine had shown significant improvement prior to his injury in 2016-17, averaging 18.9 points per game, and if he gets back to that level then he could become a centerpiece of the Bulls' impending rebuild, although he'll come at a cost when his rookie contract comes up after next season and he hits restricted free agency.
Sam Amick and Marc Stein both confirmed Johnson's report.
Minnesota gets the star on the perimeter that they have been needing to take the next step into playoff contention, and will have him under contract for at least the next two seasons. Alongside a pass-first point guard in Ricky Rubio, Butler can be expected to carry the scoring load on the perimeter for the Wolves, which should fit his style of play.
With an emerging superstar at center in Karl-Anthony Towns coming off a sophomore season in which he averaged 25.1 points and 8.7 rebounds per game, the Wolves have a dynamic duo on the outside and inside.
The trade also reunites Butler with his old Bulls coach Tom Thibodeau, who coached Butler for the first four years of his career. By getting the No. 16 pick along with Butler, the Timberwolves can continue to try and add depth to their team that is suddenly looking to become a playoff contender in the West. The Wolves used the 16th pick to select Justin Patton out of Creighton.