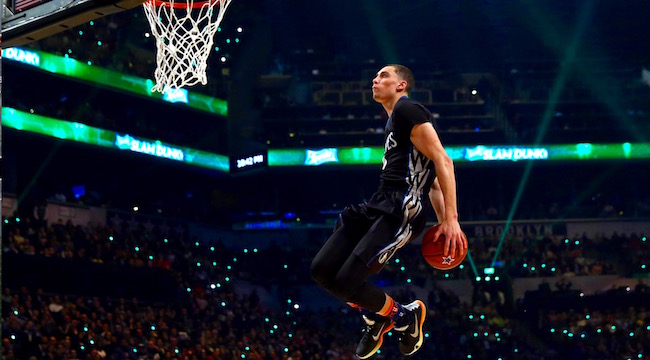 Zach LaVine recently returned to practice for the first time since tearing his ACL last season, and subsequently joined a Bulls practice for the first time since being traded to Chicago during this June's NBA Draft.
The Bulls dealt away star Jimmy Butler to acquire LaVine from Minnesota as the centerpiece of the trade that also included point guard Kris Dunn and move up in the draft to take Lauri Markkanen. The move was curious to say the least, for a variety of reasons, but the uncertainty of how LaVine would look after his knee injury was among the chief concerns from fans.
On Tuesday afternoon, we got our first look at some footage of LaVine in action and it's a welcome sight for Bulls fans. LaVine looks bouncy as ever, gliding through the air with an effortless windmill dunk over the simulated contest of a coach to get him used to dunking in traffic again and trusting that knee.

The reverse angle really shows that vintage LaVine bounce that earned him his two Dunk Contest titles.
LaVine emerged as a quality scorer last year in Minnesota, proving himself to be more than just a sensational dunker. The rest of this season, whenever he comes back, will be an audition of sorts before he hits restricted free agency this summer. LaVine could very well command a max deal in 2018 if he proves to be his old self, and that would force the Bulls to make a decision. Part of the allure of moving Butler was to clear some space and kickstart a rebuild, but all of that money (and more) saved on trading Butler would have to go to LaVine this summer.
That's an issue Chicago's front office has to figure out over the coming months, but for now, we can be grateful that one of the league's most exciting leapers appears to be back to 100 percent and close to returning to real action.