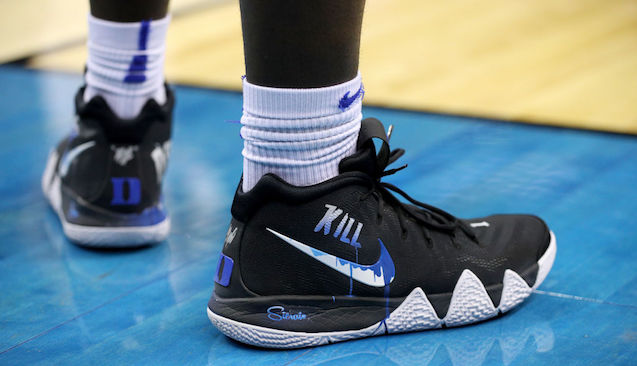 Ever since ShoeGate, in which Zion Williamson's foot exploded through his pair of Paul George signature sneakers against North Carolina, Duke's star has been rocking a customized version of the Kyrie 4, one that Nike literally sent some of its top people to China to construct. Those shoes have held up just fine since Williamson returned from injury, with the South Carolina native calling them "amazing."
Williamson's sneakers have had customized designs on them, with the latest one coming on Friday.

Williamson rocked a black and blue pair of Kyries in Duke's thrilling win over Virginia Tech in the Sweet Sixteen on Friday night, customized with phrase "killers kill" across one side of the pair of shoes, and "Duke" across the other.
"(I got) 'killers kill' because that's what my mentality is going into the game," Williamson said postgame.
"Killers kill" has become a catchphrase of sorts for Williamson, who used the phrase when he was asked what Duke's mentality was going into the NCAA Tournament. Williamson had been wearing another pair of custom Kyries, ones with the phrase "airplane mode engaged" and "takeoff imminent" written on the sides, for Duke's first three tournament games.

It's fairly surprising that the NCAA would let one of their athletes wear shoes with that sort of language on it, knowing the type of pointless things the NCAA likes to get up in arms about, but Williamson transcends the typical college athlete. Williamson is well on his way to securing an enormous bag from whatever shoe company, Nike or otherwise, decides to throw at him once he hits the NBA.