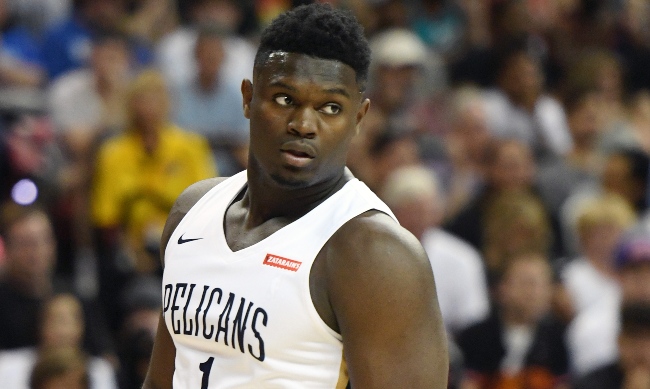 Zion Williamson will enter his rookie season with as much hype as we've seen in nearly a decade, as the former Duke sensation is must-see TV every time he steps onto a basketball court.
Williamson's athleticism is, truly, something to behold and is even freakier in person than comes through on television. The 6'7, 285-pound Williamson soars through the air with the ease of Zach LaVine but with the forcefulness and power of Shaq. He's truly unique, but his weight has long been a topic of conversation and whether he can sustain success at as heavy as he plays now.
Many felt Williamson looked even bigger and heavier in his one half of basketball at Las Vegas Summer League, where he put on a show but also showed where his game needs to go to reach the superstar status so many expect of him. While some have gotten hung up on how much he weighs, Pelicans VP David Griffin wants to focus more on his conditioning rather than setting a target weight for his young star.

There's good reason for this, as Griffin explained to Jeff Duncan of The Athletic, as Williamson is still growing and will get taller, which means setting a target weight right now is a fool's errand.
"Yeah, I don't know that we can determine a weight yet," Griffin said. "Zion's still growing. One of the things that's lost in this whole process is that, like Jaxson Hayes, Zion is still getting taller. We're not exactly sure what he'll look like in the end. So a playing weight is not what you look for. What you look for is to be in top condition, to have the kind of core strength and stability that you need to control all of the incredible torque that his athleticism can generate…. So what you have to do with him is do everything you can from a core and stability standpoint to give him more ability to control what he already has in terms of strength and speed."
One of the biggest questions for Williamson has been what position he'll play at the NBA level given he's got a center's strength but a small forward's height. There's little doubt he needs to be inside, but adding a couple more inches would certainly be a help to Williamson playing against taller bigs in the NBA.
The Pelicans have a fascinating young tandem of bigs in Williamson and Hayes and it appears both are far from done growing physically — ironically, one of the big stories the last time the Pelicans had the top pick was that Anthony Davis was also still getting taller. New Orleans believes they have their frontcourt of the future in place, we just don't know how tall either will be once they hit their primes.