Welcome to Comedy Now, a weekly column cataloging what comedy fans should know about what's available in the streaming world. Whether it's a brand new special, an old classic, or the oddball show that defies categorization, we'll list as many as we can for your enjoyment right here. Who knows? We may even throw in a few non-streamable bits on occasion, like tour announcements from our favorite comics. You can check out the previous column here.
What's New
Untitled Ali Wong Special (Netflix)
Most audiences will recognize Ali Wong as Doris in American Housewife, while others more familiar with her comedic sensibilities may recall her work as a writer on Fresh Off the Boat. However, anyone with a Netflix subscription will surely know Wong from her brilliant 2016 stand-up special Baby Cobra, which she performed while seven months pregnant. Last week, she announced she would be recording a brand new special for Netflix at the Winter Garden Theatre in Toronto. "I don't know when it's going to premiere. Sometime in 2018," she exclaimed in the video. "These motherfuckers don't tell me anything."

Christina P: Mother Inferior (Netflix)
When Christina Pazsitzky isn't too busy podcasting with her fellow comedian (and husband) Tom Segura, she's hitting the road with her latest and greatest. Hence Mother Inferior, the Canadian-American performer's new hour out at Netflix on Tuesday, October 10th. In the special, Pazsitzky "discusses the taboos of motherhood, gleefully recalls the rage she felt towards her husband while having their child, [and] unflinchingly reminisces on growing up with a crazy mom and a dad raised to show no feelings." She also "sheds light to why she thinks people hate millennials and how Gen X survived without selfies."
Dinner with Don (YouTube)
Soon after the death of Don Rickles, AARP announced it had filmed a new web series with the legendary insult comic titled Dinner with Don. 13 episodes were shot, edited and published online earlier this week, including one with late night host and longtime friend Jimmy Kimmel. "When you were a young comic, who did you look up to?" Kimmel asks. "To be honest, I loved me," Rickles answers without missing a beat. Other notable conversations with fellow comedians and comedy actors include Sarah Silverman, Zach Galifianakis, Amy Poehler, Judd Apatow and Billy Crystal.
Untitled Marlon Wayans Special (Netflix)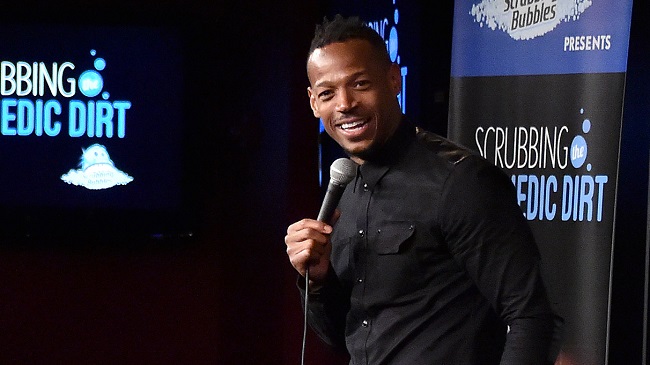 While older brother Damon Wayans busies himself as the new Roger Murtaugh on FOX's Lethal Weapon series, Marlon Wayans is starring in his own self-titled NBC sitcom and Netflix's recent Groundhog Day-esque Naked. Per The Hollywood Reporter, the younger Wayans brother will also debut his very own stand-up special on the streaming giant sometime in late 2017 or early 2018. The untitled special will film the comedy special in Washington D.C. this fall, though neither a specific date or venue has been announced.

Heidi Gardner, Luke Null and Chris Redd Join SNL (NBC)
In addition to announcing an entirely live coast-to-coast season, Saturday Night Live also replaced departing cast members Bobby Moynihan, Vanessa Bayer, and Sasheer Zamata with three new wonderful talents. Heidi Gardner (SuperMansion), Luke Null (iO Chicago) and Chris Redd (Popstar: Never Stop Never Stopping). The long-running sketch variety show also hired Sam Jay, Gary Richardson, Erik Marino, Andrew Dismukes, Steven Castillo, Claire Friedman and Nimesh Patel to join its storied writing team.
The Problem with Apu (truTV)
The legendary Mel Brooks doesn't think political correctness is good for comedy. He probably hasn't listened to Hari Kondabolu's "Feminist Dick Joke," which is one of the best comedy routines in recent memory — because it strives for political correctness and humor. Such is one of the hallmarks of the South Asian-American comic's work as a stand-up, podcast co-host and — with the upcoming truTV movie The Problem With Apu — documentary filmmaker. Kondabolu's new film, which dives into the use of racial stereotypes (and racism) in The Simpsons, premieres Sunday, November 19th at 10pm ET/PT.
What's Heard
Inbox (Podcast)
[protected-iframe id="0e8aa99de757421d37234e8b60e57eed-60970621-76566046″ info="//embeds.audioboom.com/posts/6336200-inbox-preview/embed/v4?eid=AQAAAP5lzlnIrmAA" width="100%" height="300″ frameborder="0″ style="background-color: transparent; display: block; padding: 0; max-width: 700px;" scrolling="no"]
From the minds of comedy writer Nicole Drespel (who's credited with inspiring The Chris Gethard Show's celebrated Dumpster episode) and fellow Upright Cititzens Brigade member Matt Stroup comes the podcast Inbox. Beginning Tuesday, October 3rd, the pair will "invite celebrity guests to the show, then riff on the emails they find in the guest's inbox. The show will also "do some funny chat reenactments, make the guest read the oldest email in their inbox, look at the last thing they sent to their parents, and more" embarrassingly entertaining activities.