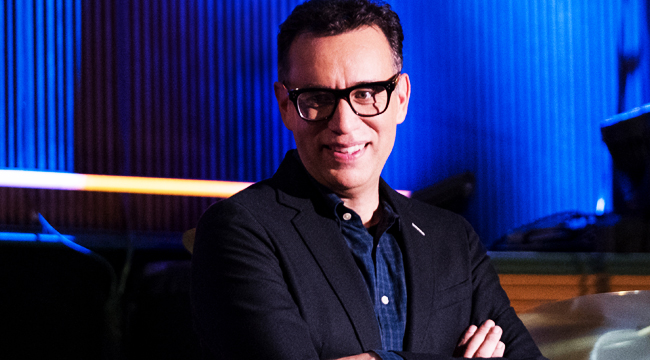 Welcome to Comedy Now, a weekly column cataloging what comedy fans should know about what's available in the streaming world. Whether it's a brand new special, an old classic, or the oddball show that defies categorization, we'll list as many as we can for your enjoyment right here. Who knows? We may even throw in a few non-streamable bits on occasion, like tour announcements from our favorite comics. You can check out the previous column here.
What's Now
Fred Armisen bangs the drums for Netflix
If you're a fan of Fred Armisen's work in sketch comedy from his days on Saturday Night Live or his final foray into the world of Portlandia, chances are you'll enjoy Standup for Drummers. If traditional stand-up comedy — in which comics primarily stand on stage and tell pre-written and crowd-tested jokes — is more your bag, then Armisen seguing from various impressions to drum solos might not work for you. Either way, the comedy actor/musician's first-ever stand-up special is definitely one of Netflix's odder entries so far in 2018. If you're a drummer, however, then you'll probably better appreciate Armisen's material than most.
The Nerdist podcast is no more (because it's ID10T now)
If you're still a regular listener of Chris Hardwick's Nerdist podcast, you probably noticed its new name: ID10T. Along with co-hosts Jonah Ray and Matt Mira, Hardwick announced the change last week with a special "final" episode of the podcast, which was quickly followed by the new program's "first" official episode this week. Even so, to paraphrase Mira, "nothing's changing." In an exclusive interview with Uproxx, Hardwick explained his reasoning for the name change, what it means going forward for his fans, and his thoughts about the future of the podcasting medium.

Letterman lines up George Clooney for Netflix's My Next Guest Needs No Introduction
Having David Letterman back on television is great, even if it's only once a month for a six-month period in 2018. The only example critics and audiences alike have had so far was the January episode with President Barack Obama, but that changed today when the George Clooney episode began streaming. Future guests include Malala Yousafzai, Jay-Z, Tina Fey, and Howard Stern.
What's New(s)
Love, Gilda will open the 2018 Tribeca Film Festival
When Gene Wilder died in 2016, many recalled the passing of Gilda Radner, the Saturday Night Live star who married him. Radner, who died in 1989 from ovarian cancer, was one of the founding SNL cast members and one of comedy's greatest lights before her untimely passing. To celebrate her life and her contributions to the art form, the 2018 Tribeca Film Festival will open with director Lisa D'Apolito's new film Love, Gilda. Featuring interviews with Chevy Chase, Bill Hader, Amy Poehler, Maya Rudolph, Cecily Strong, and others, the documentary highlights the "trailblazer for female comedians."
Chelsea Peretti ponders the effects of #MeToo on streaming comedy specials
On Monday's Conan (after Bill Burr complained about people complaining about Janet Jackson's Super Bowl snub), Brooklyn Nine-Nine star Chelsea Peretti brought up an interesting point about #MeToo and Time's Up. "A weird thing that I've noticed is an uptick in people watching my one-hour special," she told O'Brien, "and it feels like they're searching for people who aren't rapists to watch their stand-up." Peretti was obviously saying this for laughs, but it does pose difficult questions about subscribers' viewing habits, which Netflix keeps secret. As of today, they've released no new female-led comedy specials this year.

The Joel McHale Show wants to know who drew the dicks on Netflix
Meanwhile, Community star and former The Soup host Joel McHale's new Netflix series, The Joel McHale Show with Joel McHale scored a second teaser and a guest list for its premiere episode on Sunday, February 18th. "You guys just superimposed a bunch of dicks on me, didn't you?" he asks his off-camera crew in the above teaser. Sure enough, McHale — standing in front of a green screen while wearing green clothing — is a cornucopia of pixelated male genitalia. Dick jokes notwithstanding, the first episode will feature Kevin Hart, Alison Brie, Jim Rash, Mike Colter, Paul Reiser, and Jodie Sweetin.
What's Later
2 Dope Queens "Hair" episode (HBO)
Following last week's premiere "New York" episode, the second entry in Jessica Williams (The Daily Show) and Phoebe Robinson's (Broad City) podcast-turned-HBO series 2 Dope Queens airs tonight at 11:30 pm ET. Focusing on "Hair," the epside features Sarah Jessica Parker (Divorce) dropping by to riff with the co-hosts about everything from Sex and the City to their cultures' stylistic differences. After that, stand-up comedians Aparna Nancherla, Rhea Butcher, and Sheng Wang drop by to regale the crowd at the King's Theatre in Brooklyn.