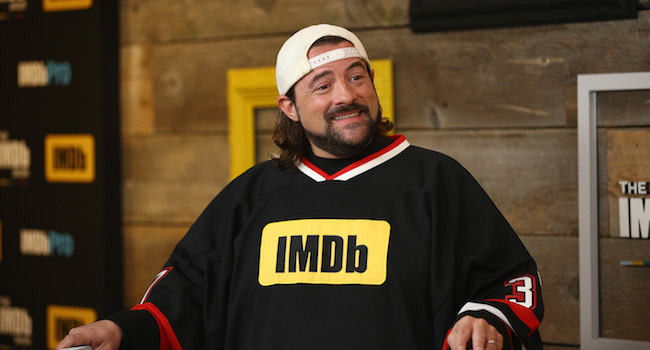 While recovering from his heart attack earlier this year, Kevin Smith decided to make himself feel better by writing a four-issue comic arc targeting Hollywood's sexual predators. The result, The Golden Rage of Hollywood, starring the adolescent vigilante Hit-Girl — best known from the Kick-Ass franchise — will begin hitting stands in January of next year.
Smith's run was announced in May, three months after his health issues hit. Today, Hit-Girl co-creator Mark Millar revealed the initial cover art, which you can see at Deadline.
Hit-Girl is a perfect fit for Smith, with her yen for blades and for four-letter words. Created by writer Mark Millar and artist John Romita Jr., the 12-year-old hero, aka Mindy McCready, regularly upstages the slightly older Kick-Ass. She stole the movie versions, too, in which she was played by Chloë Grace Moretz, with Nicolas Cage as her Batman-ish father. Recently Grace Moretz shot down talk of her returning for a third Kick-Ass, apparently having detested the second.
In Smith's arc, Hit-Girl ditches the criminal underworld for the arguably seedier underbelly of Tinseltown. There, she'll find — and gorily dispatch — untold sexual predators lurking in the heights of Hollywood. Even as he takes on current La La Land, Smith will pay homage to the Golden Age; according to Deadline, each issue will nod to a different era in American cinema. Smith penned the stories while Pernille Ørum did the art.
"I wrote most of The Golden Rage of Hollywood Hit-Girl arc while recuperating after my health scare, so it was Mindy McCready and her bloody thirst for justice who helped me mend my broken heart," Smith told Deadline of his project. "Telling tales with Mark's toys was an absolute pleasure, but having Pernille bring it all to life makes this a must-read for me! Pernille's style is like hot cocoa for the eyes and soul, so I'm ecstatic she opted to lend it to our pint-sized, pre-pubescent Punisher!"
Over his long career, the comic fanatic-turned-filmmaker has done more than dabble in comics himself. Characters from his View Askew film universe have made it to the page, including Jay and Silent Bob and their comic-within-the-movies doppelgangers Bluntman and Chronic. He's also guest-written comics for Daredevil, Spider-Man and Batman.