You've heard the phrase "love at first sight," but what about "love at first sound?" Netflix's hit show Love Is Blind sets out to answer that question with a social experiment. A group of single men and women date each other, fall in love, and get engaged — all without seeing the other person. Follow along as Uproxx ranks each couple and recaps the best tear-jerking and cringe-worthy moments from season 4.
(WARNING: Spoilers for up to episode 8 of Love Is Blind season 4 will be found below.)
Netflix has delivered three new episodes of Love Is Blind season four for us. The newly-engaged couples have returned from their honeymoon in Mexico and they are now back home in Seattle. It's here that they will get used to living with each other for a short time before the wedding and meet each other's families and friends. This goes well for some and it causes problems for others, but that's nothing out of the ordinary for Love Is Blind. What is unusual is two proposals from the same man to different women in the same season (you'll see what we mean in a second).
Now that these episodes are available to stream on Netflix, we're here to give you a recap of what went down in each episode. After that, we'll leave you with our biggest takeaways from the three episodes ahead of the next trio of episodes Netflix will release before the finale. So, let's get into it! — Wongo Okon
Episode 6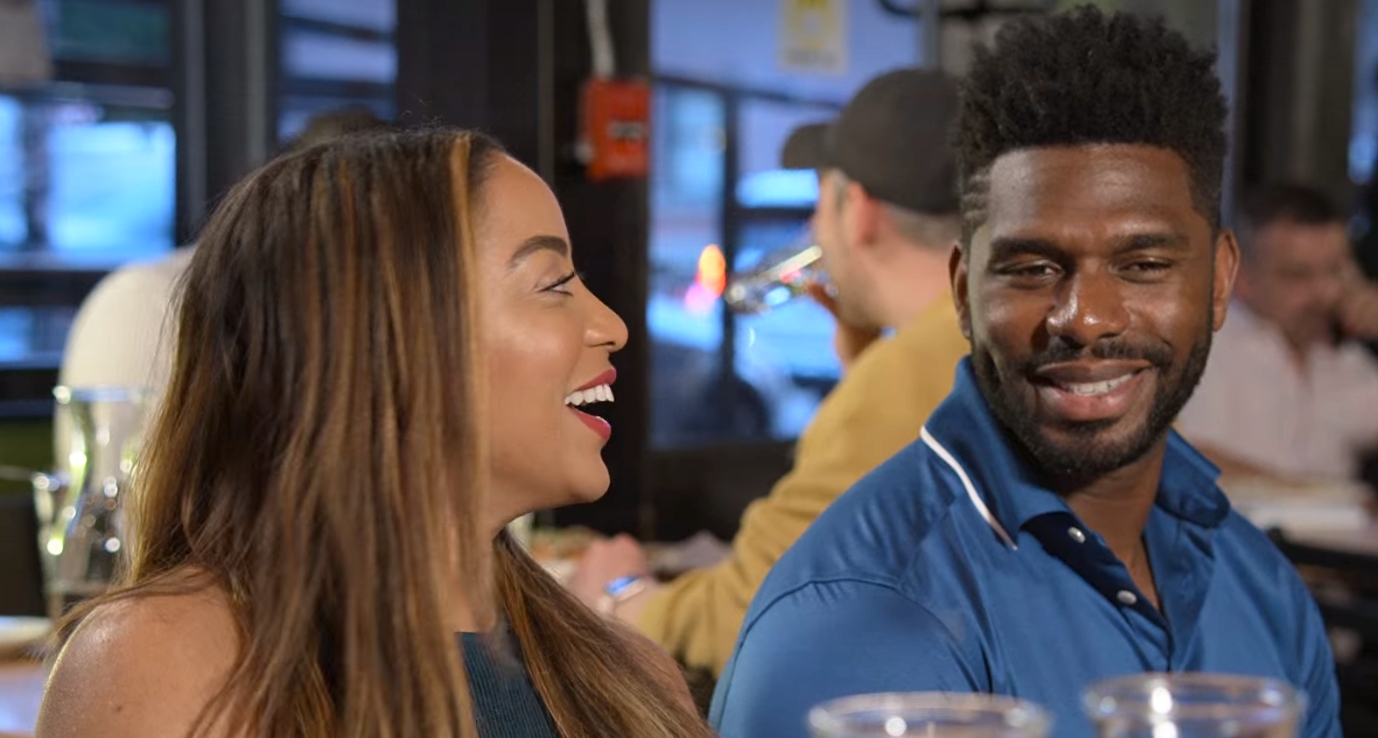 The couples are officially out of paradise and back in Seattle, sharing an apartment together and learning if they're suited to live together long-term. There's already been a few discrepancies, including Kwame and Chelsea having very different standards of cleanliness. Granted, seeing how messy Kwame's apartment was in episode 7, this is clearly going to be more than a one-time conversation.
Micah told Paul that Irina has a crush on him — which she said made her question her own relationship with him — and later confronted Irina about it directly. While Irina did admit that being flirty with Paul wasn't something a good friend would do, I personally never heard the words "I'm sorry," so the jury is still out on whether or not that was a legit apology. Paul later told Zack he thinks Micah meets the "minimum criteria for a perfect woman," which is a very odd way of saying he's into her.
Who else was totally bawling when Tiffany's friends met Brett for the first time? They are so clearly in love that I'm going to be beside myself if they don't make it past the altar. Tiffany's friends did say she's a chronic napper and that she has fallen asleep on them before, so it seems like Brett isn't alone on that one.
The biggest event in this episode was Zack and Bliss meeting for the first time. They both seemed nervous at first, but Bliss' positive response to his question about his intense eye contact sealed the deal for him. Their date was actually a legit blind date and I think that meeting up in this way takes some of the pressure off of the "reveal" at the end of the pods. It makes me wonder if more couples would last if the show allowed for casual dates after the pods, rather than jumping right into co-habitation. — Carolyn Droke
Episode 7
Kwame met Chelsea's dad, which kicked off the episode on a lovely note. However, things get a little tense when he calls his mom and she winds up being less-than-accepting about the unique engagement process of the show. This might prove to be a defining factor of their altar decision. That, and their struggle to compromise on a moving plan as Chelsea doesn't work a remote job in Seattle, but Kwame does from Portland.
Then, we have the newly-reformed Zack and Bliss, who are a better pairing but still sort of awkward. She shows up to help him make some steaks and shrimp for dinner — but he accidentally destroyed some of the food. "Oh no, it's a sign," she says. "I should just go home." There were also a few things that bugged me about his apartment, from the tiny wooden table they both tried to eat the remaining, non-wrecked food at, to the painting of two owls hung right over it that watched them. I have many questions about the people on this show, which typically reduce to just… Why?
While we're on the subject of the ladies seeing their men's apartments for the first time, Kwame's is introduced by a shot of his dead plant and a pack of IPAs, as Chelsea still keeps it nice by telling him, "It's so cute in here." His clothes are strewn around. There's toothpaste and other… objects on the living room table. He has a thing called "Mindful Moments" on his desk. Arguably the biggest red flag is when he opens to show her his fridge, which only has eggs, various sauces (mustard, ketchup, etc.), and what seems to be an unopened bottle of rosé. (This alone is a red flag for any man that has rosé on hand in their house.) No real groceries or gameplan, just pure frat bro vibes going on in Kwame's apartment. She doesn't seem to mind it though.
In contrast, Paul's plants are mostly alive, but he has a strong, strong preference for wooden furniture and Micah immediately hates it.
Tensions run highest for Marshall and Jackelina in this episode, as she breaks down from the stress of the process — just before his family is expected to show up to meet them both. He tries his best to be as comforting to her, but she fires back that his energy is adding to her negative pressure. She puts on an overall good face during the family meal.
The episode closes with Bliss and Zack starting their boat date with a confusing-but-hilarious conversation about the movie Gremlins. As someone who relates to Gizmo, I was a bit obsessed. Their thought process fascinates me because it eventually switches to a ranking of fruits and hating PB&J. And then, a cliffhanger of the moment some might have been waiting for — Zack's second proposal. — Lexi Lane
Episode 8
Well, it's official! Zach has effectively saved himself from Love Is Blind exile now that he and Bliss are officially engaged. Despite all the drama that surrounds them, you know, like Zach being engaged to a whole other woman a few episodes ago, Bliss says that her new relationship with Zach "feels right." Things are somewhat going well for Paul and Micah. They get Micah's parents' blessing for their impending marriage, but Micah's best friend Shelby is not a fan of Paul. She flat-out disapproves of Paul, something she determines in her sub-10-minute meeting with him. This crushes Micah as she greatly values Shelby's opinion. Amber, who Paul broke up with in the pods, also makes an appearance at the end of the episode. Paul briefly freaks out over her appearance, but he's able to steer clear of any drama there.
Marshall and Jackie get into a heated argument in this episode. In Marshall's words, Jackie claimed that he was not "man enough" for her, but Jackie corrects him and clarifies that she just wants him to be more aggressive with her, specifically in the bedroom with initiating sex. Marshall tries to explain his side, but his argument and any chance of being understood go away when he calls Jackie and their growing relationship a "project." Marshall quickly clarifies his point and gets his feelings across to Jackie and ends it by telling her "I f*cking love you." Josh, Jackie's former love interest from the pods, also returns in this episode. He wastes no opportunity to drunkenly express his true feelings for Jackie while also throwing shade at Marshall by calling him "NBA CryBoy."
Kwame and Chelsea still have plenty of things to work through. In this episode, Kwame accompanies Chelsea to help her get her dog Rocky washed. I wish I kept count of how many times Kwame said "I love Rocky," because it was said in such as self-assuring way that essentially proved how much he doesn't like Rocky. Kwame later hints that he's not quite ready to jump into parenthood and would like to do so in a few years (maybe longer) after traveling the world with Chelsea and having their relationship to themselves. He then makes a point about how much he's compromising in their relationship, especially with his impending move from Portland to Seattle. This idea of compromising in love is something Kwame discusses with a few Love Is Blind castmates at Chelsea's birthday celebration, so clearly it's something that bothers him more than he lets on. It's also there that Kwame has another conversation with Micah where he gushes about their "seamless connection" and more.
Last and certainly not least, there's Brett and Tiffany who continue their reign as this season's favorite couple. They enjoy lunch together and make cheeky jokes with each other. Brett effortlessly calms Tiffany's worries about the wedding, and Tiffany finds resolve in their relationship's potential because of the relationship her grandparents had. There's not much to recap with Brett and Tiffany from this episode, and that's a good thing for them. With all the drama that goes down, it's good that they're able to steer clear of it all and just fly under the radar in love. — Wongo Okon
The Biggest Takeaways From Episodes 6-8
Zack managed to make not one but two proposals extremely uncomfortable.
Jackie has a lot to work through and Marshall has to let her do it.
Brett & Tiffany are the only sign of peace and normalcy this season.
Kwame needs to learn how to sleep on a mattress like a normal adult human being.
Micah treats Paul like a shiny new action figure — a trophy husband at that.
Paul's mother probably knows Micah's blood type.
Kwame hates that dog.
Brett & Marshall and Zack & Paul have awesome bromances.
Several contestants' parents were absolutely not on board with this experiment.
'Love Is Blind' season four is currently available to stream on Netflix.