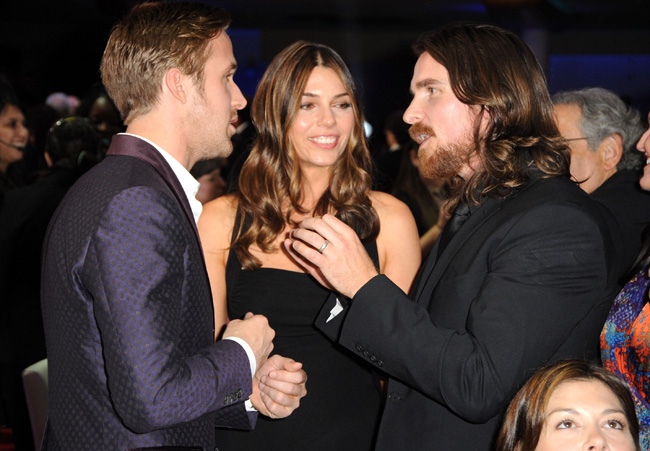 Hollywood is rushing to put together the next disappointing film adaptation of a great Michael Lewis book in The Big Short, and now it has the handsomest cast ever. Baby Goose, C-Bale, and Pittsy have all reportedly signed on for The Big Short, with the previously-announced Adam McKay (Stepbrothers, Anchorman 2, The Other Guys) writing and directing.
The book follows several key people who played a role in creating the disastrous credit bubble. The feature adaptation will likely feature several A-list actors who have similiar-sized roles, similar to the cast of "Traffic" or "The Counselor." [Variety]
No word yet on who Pitt, Bale, and Gosling will be playing, but some of the biggest characters in the book were Michael Burry, a former medical student who started his own hedge fund and is blind in one eye and has Asperger's, whose ability to wade through the mind-numbing fine print on sub-prime loans and derivatives gave him a special ability to see the crash coming; Greg Lippman, a dickish, misfit Deutsche Bank trader with Elvis/porn star sideburns; and Steve Eisman, another money manager who bet against sub-prime.
At least, those are the book's good guys. The beauty of The Big Short's structure was that it told the financial crisis through the eyes (or eye) of guys who were actively betting against sub-prime, so that you ended up actually rooting for the crash to wipe out all the jackasses who caused it. It's a great book, and I'm not entirely sure how to feel about the guy who filmed Will Ferrell putting his nutsack on a snare drum handling it. Then again, sub-prime was sort of the financial equivalent of putting your nutsack on a snare drum, and Hollywood probably couldn't castrate a Michael Lewis book worse than "Yer changin' that boy's lahfe" or Billy Beane's daughter singing him a song from a jeans commercial.
At the very least, it will be worth it to imagine the three of these handsome f*ckers drawing straws to see who gets to have Asperger's.