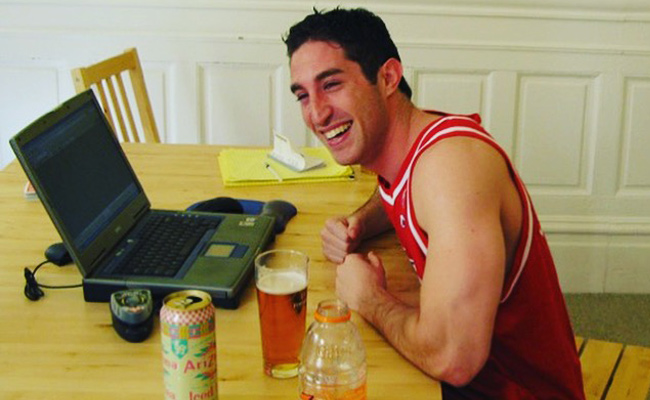 What's up, Frot-fans. We have our first Patreon patrons-only episode, which should be available to anyone who donated any amount (Patreon should've emailed everyone who donated an RSS link which should have this episode as the only Patrons-only post). There's no link here because you have to go to Patreon to donate/download.
As most of you know, our original co-founder and host Ben Kaplan passed away in December, and we'd been meaning to do a tribute episode ever since. I reached out on Twitter and Facebook for the listeners to email us their favorite Ben moments from the Frotcast, and I got those clips together and most of the OG Frot crew in the same room — me, Matt Lieb, Brendan, and even Bret came out of hiding. Laremy joined via Skype, where he belongs.
We'll be donating the proceeds from this episode to 826 Valencia, which helps teach kids to write. A cancer charity might've been a more obvious choice, but Ben loved to make fun of the idea of raising awareness, and since he was a dude who more than anything wanted to drop out of the corporate rat race and spend his life creating stuff, we figured a writing charity would be more fitting.
Anyway, we got together to play old clips, reminisce, and basically just do the best throwback episode we could put together. Hopefully you enjoy it. If not, no refunds.
Frot on, Ben, wherever you are.
EMAIL us at frotcast@gmail.com, LEAVE US A VOICEMAIL at 415-275-0030.
SUBSCRIBE to the Frotcast on iTunes.
DONATE at Patreon.com/Frotcast.